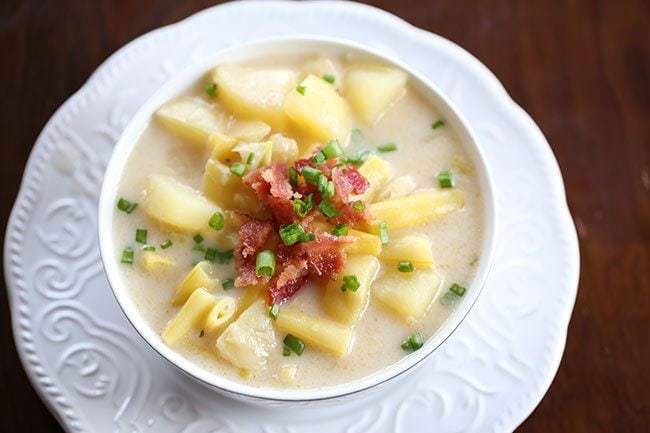 I think that you all need soup, stat. I'm so cold the past few days and that says something.  I've put flannel sheets on my bed and actually turned the furnace on once this past few days. I might actually have to put away my flipflops, which saddens me to no end. I hate shoes and socks.
Hello September in Alberta, how I've missed you.
If you are like me, you might still have an abundance of yellow beans in your garden since it hasn't (TOUCH WOOD! Yes, I just screamed that in all caps because I really don't want to jinx us all) frosted yet. I plant yellow beans more than once during the season to ensure I have these gorgeous yellow beauties fresh from my backyard for as long as possible.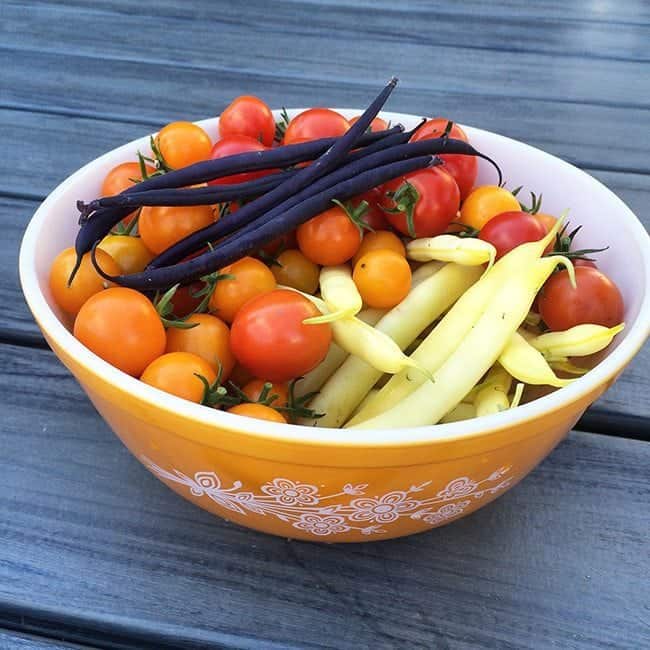 This soup is something my grandma used to make all the time when we were kids. She had a massive country garden and yellow beans featured heavily in the yield. She would blanch and freeze bags upon bags for meals, stocking up on her favorite bean to last her family through the harsh Manitoba winters.
While I never have any extra beans to freeze, we enjoy them for months during garden season. Every year I vow to plant more beans and freeze some for winter and every year I simply run out of space. My garden is large for a city garden, but when you grow potatoes, carrots, beans and squash and more, there's a lot of food to fit into one space!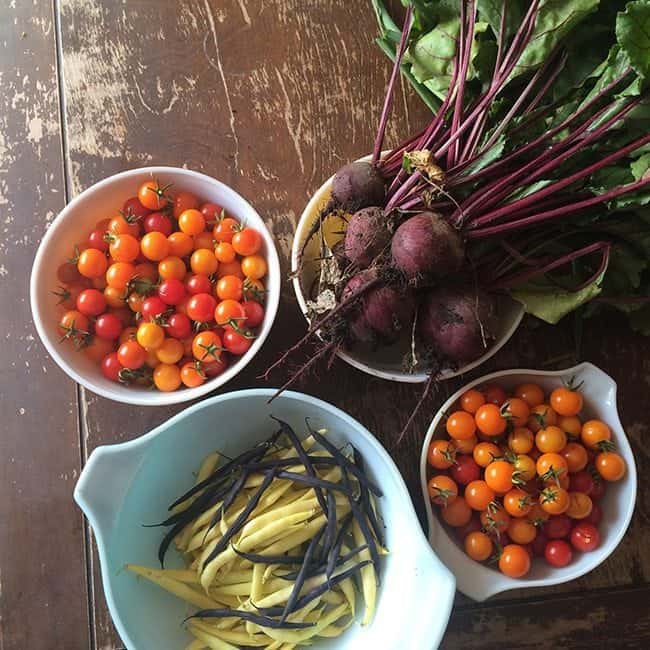 My grandma's version of this soup had no potatoes in it, which lends it a light summery feel. A bowl of her version made for a delicious, lighter midday meal.  I wanted a hearty, warm-up-your-bones soup that would be great for dinner, something more filling that would stick to your ribs. The potatoes from my garden did the trick.
I also love adding green onions onto the top of soups for an extra zing and bacon? You'd be surprised how delicious it is with yellow beans and potatoes. It adds a bold flavour to what is a lovely mild soup, just that little extra salt and punch that a cream soup can need.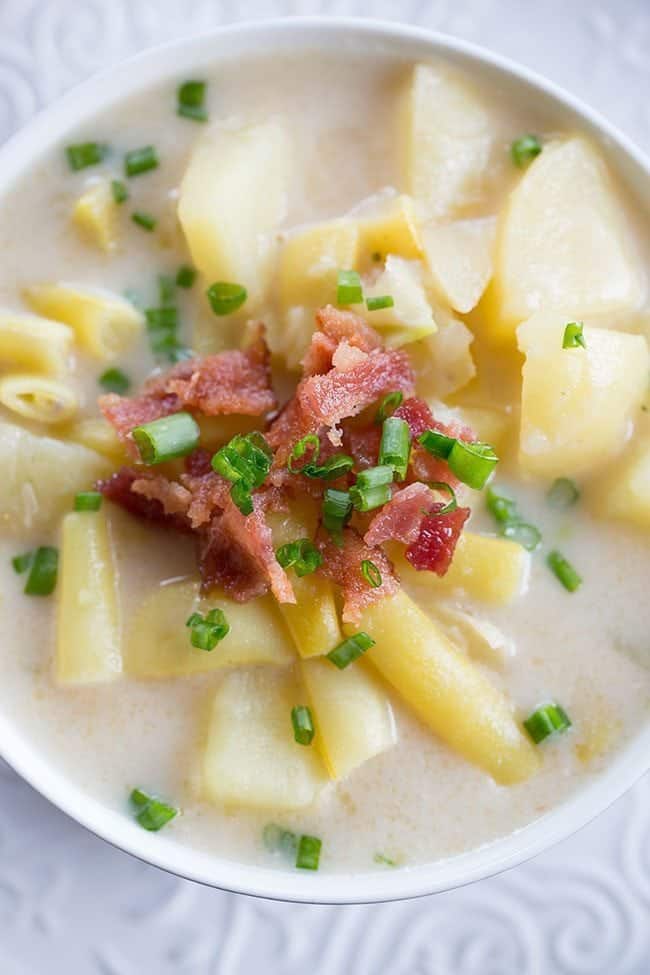 Yellow beans are so often overlooked when it comes to soup. I suspect that it's from the fact that very few grocery stores ever carry them while they are in season, leaving us with the options of buying them at the local farmers market, growing them ourselves or using canned. Unless you freeze up batches like my Grandma did, it's canned beans for us the rest of the year.
If you don't have fresh yellow beans, you can definitely use canned ones. If you are using canned however, remember that they are already cooked and you simply have to warm them up. Add them in at the end when you are thickening the soup and it will be perfect.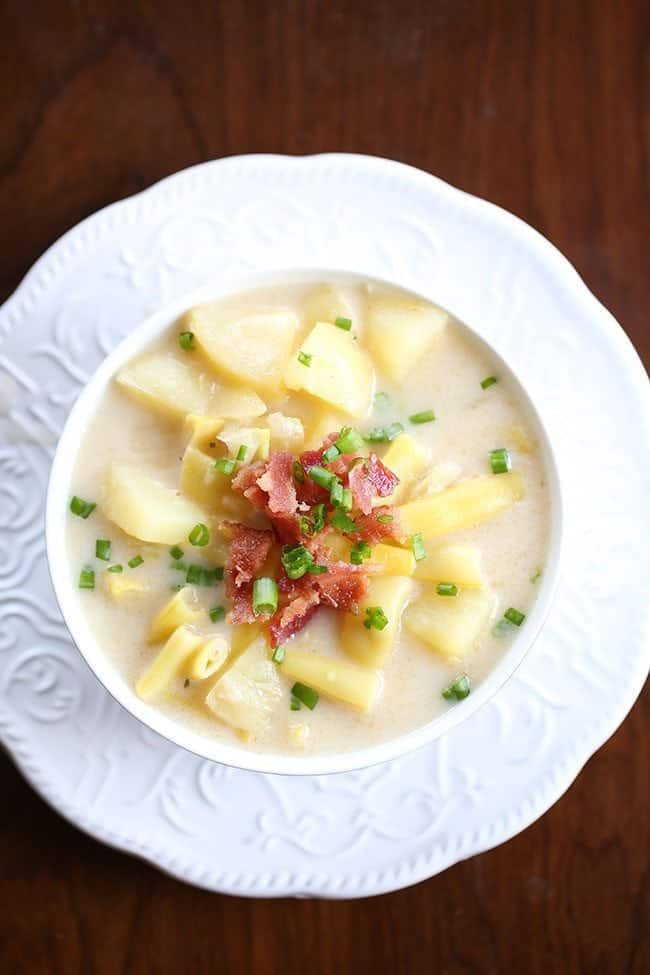 Happy cooking everyone! What are you up to this rainy fall day? We are off to get some last minute school supplies and clothes for the kids, then I think that I will hunker down in my flannel sheets and a few episodes of House on Netflix!
Love you more than chocolate,
Karlynn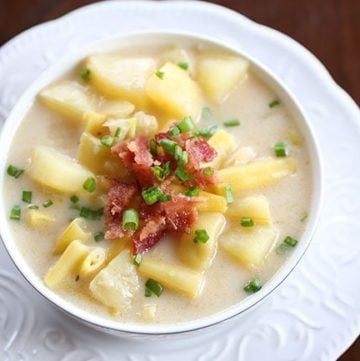 Creamy Yellow Bean & Potato Soup
Just like my Grandma used to make! Creamy yellow bean and potato soup!
Ingredients
2

Tbsp

butter

1

cup

of white onions chopped

4

cups

yellow wax beans cut in 3

4

cups

of peeled & chopped russet potatoes bite sized

6

cups

of chicken broth

1 1/2

cups

) milk

3

tbsp

cornstarch

2-3

tbsp

chopped grren onions to garnish

2-3

tbsp

cooked bacon to garnish

Salt and pepper to taste

Fresh chopped chives to taste
Instructions
Sautee the onions in butter in the bottom of a large soup pot until tender.

Add in the beans, potatoes and chicken broth. Bring to a low boil on your stovetop then simmer until the potatoes and beans are tender.

Whisk the cornstarch into the milk, then whisk into the soup quickly.

Cook for another 5 minutes until the soup has thickened.

Ladle into soup bowls and top with green onions and bacon.
Nutrition Facts
Creamy Yellow Bean & Potato Soup
Amount Per Serving (8 g)
Calories 0
* Percent Daily Values are based on a 2000 calorie diet.
0