My Grandma's yellow bean soup was one of my very favourite dishes from my childhood and one that not many people have even heard of! She most likely invented the recipe to use up her bounty of her yellow beans – she grew the most plentiful garden of beautiful yellow beans that I have ever seen- and I remember sitting at her table in her small farm kitchen relishing bowls of this all summer long. I have changed it to a Creamy Yellow Bean & Potato Soup recipe for the website, but feel free to use only yellow beans for a really nostalgic taste!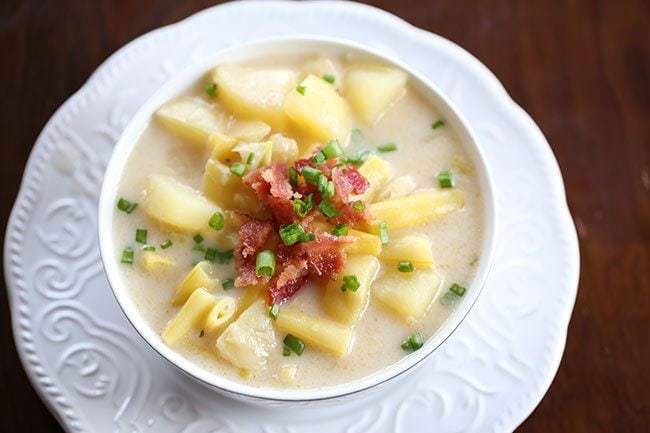 Creamy Yellow Bean & Potato Soup
Yellow bean soup is a must try for any yellow bean lover. Bean season is upon us and if you've had a hot summer like we have here in Edmonton, you are going to have a bounty of beans to use up! If you are like me, you might still have an abundance of yellow beans in your garden. I tend to plant yellow beans more than once during the season to ensure I have these gorgeous yellow beauties fresh from my backyard for as long as possible.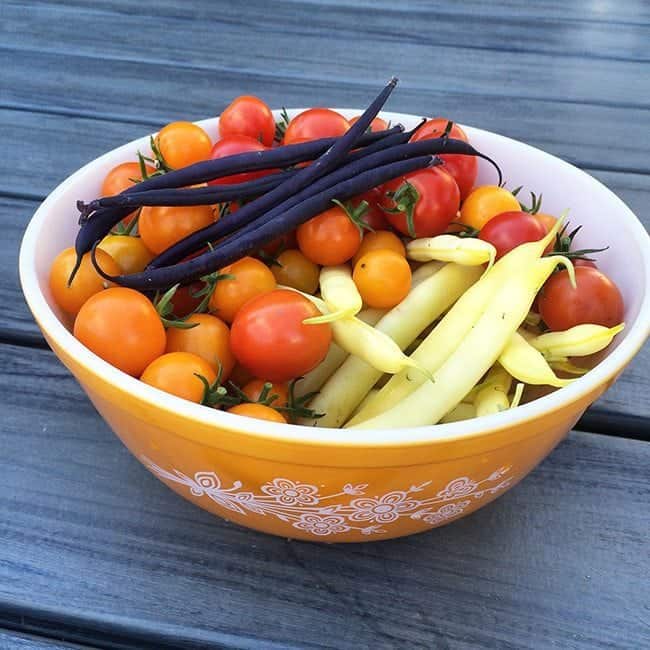 This soup is something my grandma used to make all the time when we were kids. She had a massive country garden and yellow beans featured heavily in the yield. She would blanch and freeze bags upon bags for meals, stocking up on her favorite bean to last her family through the harsh Manitoba winters.
While I never have any extra beans to freeze, we enjoy them for months during garden season. Every year I vow to plant more beans and freeze some for winter and every year I simply run out of space. My garden is large for a city garden, but when you grow potatoes, carrots, beans and squash and more, there's a lot of food to fit into one space!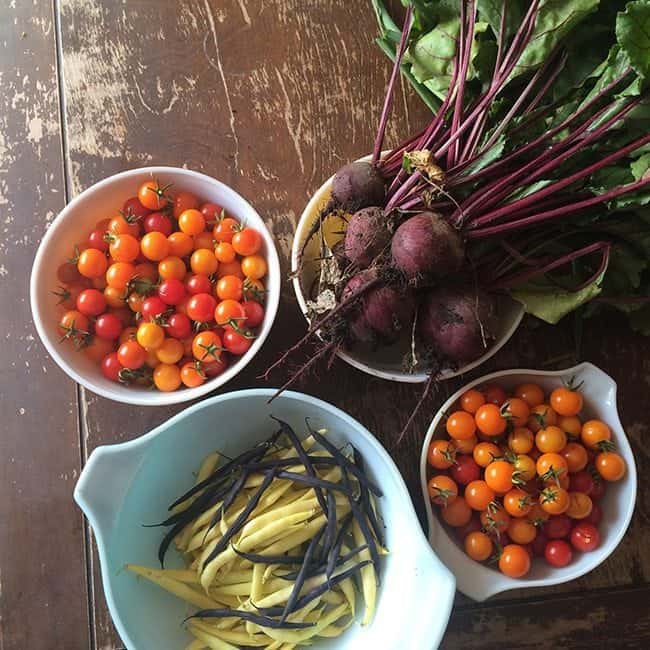 My grandma's version of this soup had no potatoes in it, which lends it a light summery feel. A bowl of her version made for a delicious, lighter midday meal.  I wanted a hearty, warm-up-your-bones soup that would be great for dinner, something more filling that would stick to your ribs. The potatoes from my garden did the trick.
I also love adding green onions onto the top of soups for an extra zing and bacon? You'd be surprised how delicious it is with yellow beans and potatoes. It adds a bold flavour to what is a lovely mild soup, just that little extra salt and punch that a cream soup can need.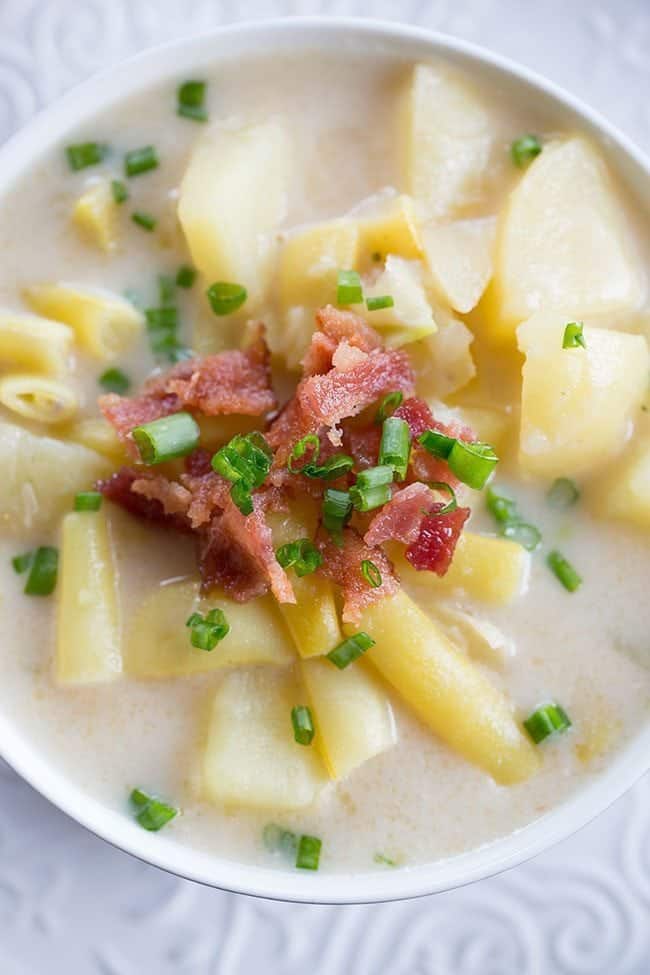 Yellow beans are so often overlooked when it comes to soup. I suspect that it's from the fact that very few grocery stores ever carry them while they are in season, leaving us with the options of buying them at the local farmers market, growing them ourselves or using canned. Unless you freeze up batches like my Grandma did, it's canned beans for us the rest of the year.
If you don't have fresh yellow beans, you can definitely use canned ones. If you are using canned however, remember that they are already cooked and you simply have to warm them up. Add them in at the end when you are thickening the soup and it will be perfect.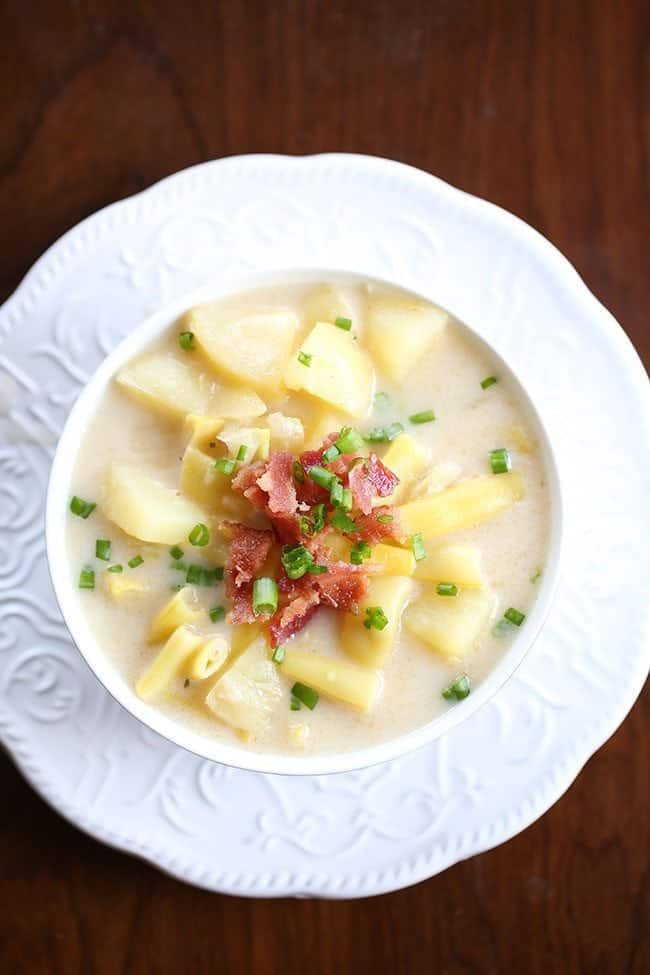 Happy cooking everyone!
Love you more than chocolate,
Karlynn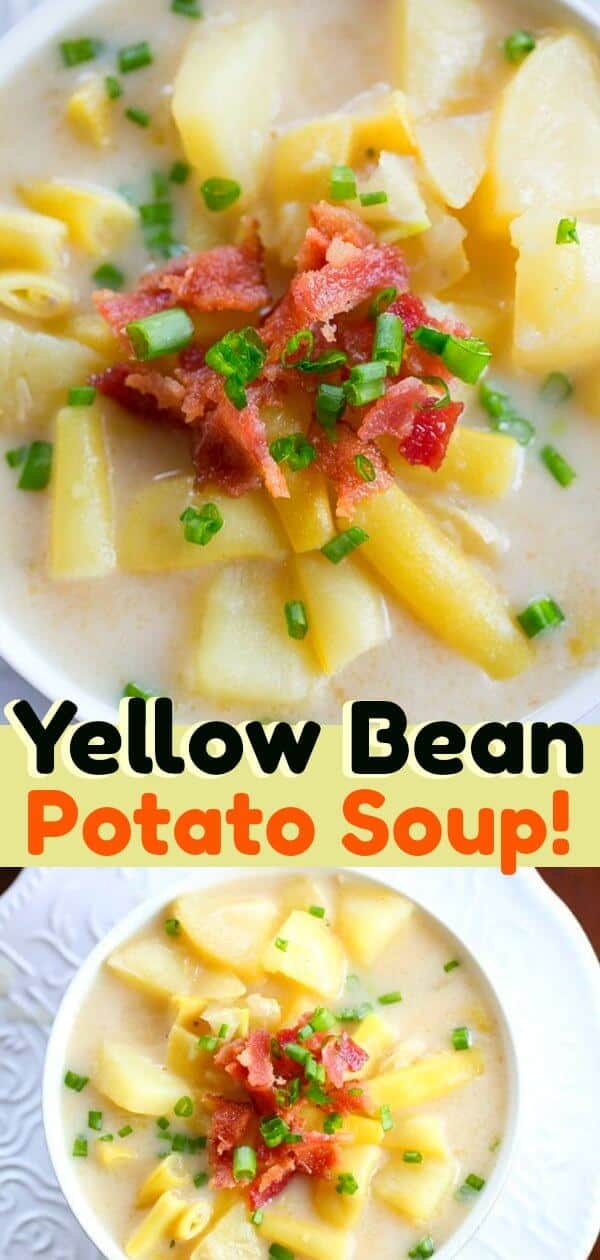 Creamy Yellow Bean & Potato Soup
Just like my Grandma used to make! Creamy yellow bean and potato soup!
Course: Soup
Cuisine: Ukrainian
Keyword: potato soup
Servings: 6
Calories: 261 kcal
Ingredients
2 Tbsp butter
1 cup of white onions chopped
4 cups yellow wax beans cut in 3
4 cups of peeled & chopped russet potatoes bite sized
6 cups of chicken broth
1 1/2 cups ) milk
3 tbsp cornstarch
2-3 tbsp chopped grren onions to garnish
2-3 tbsp cooked bacon to garnish
Salt and pepper to taste
Fresh chopped chives to taste
Instructions
Sautee the onions in butter in the bottom of a large soup pot until tender.

Add in the beans, potatoes and chicken broth. Bring to a low boil on your stovetop then simmer until the potatoes and beans are tender.

Whisk the cornstarch into the milk, then whisk into the soup quickly.

Cook for another 5 minutes until the soup has thickened.

Ladle into soup bowls and top with green onions and bacon.
Nutrition Facts
Creamy Yellow Bean & Potato Soup
Amount Per Serving (8 g)
Calories 261 Calories from Fat 72
% Daily Value*
Total Fat 8g 12%
Saturated Fat 4g 20%
Cholesterol 19mg 6%
Sodium 968mg 40%
Potassium 1040mg 30%
Total Carbohydrates 38g 13%
Dietary Fiber 4g 16%
Sugars 4g
Protein 9g 18%
Vitamin A 4.7%
Vitamin C 67%
Calcium 16.8%
Iron 16.7%
* Percent Daily Values are based on a 2000 calorie diet.
23