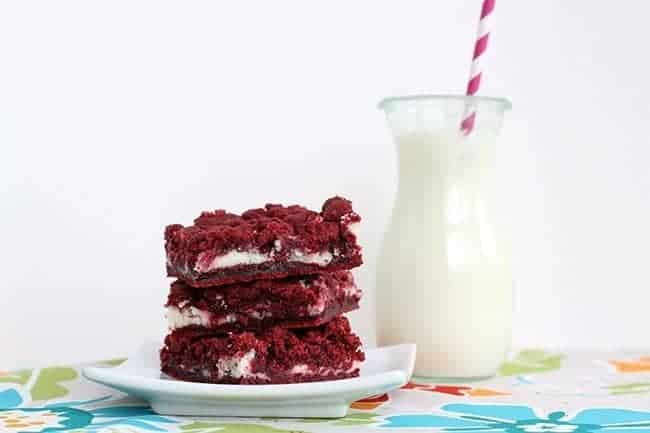 More and more I find myself playing around with cake mixes, not only because I'm heartened by how many of you I am getting into the kitchen by posting these recipes, but I've also realized how much fun they can be! As much as I love a good complex dessert, there is a time and a place for a fast and dirty dessert.
I've made a few different versions of these cake bars lately and the first one I want to introduce you to is my Red Velvet Cake Bars. I didn't want to only make a cake bar, that's boring, I wanted to give it a ooey, gooey filling as well!
Nothing pairs up with Red Velvet like cream cheese does, the tart and sweet flavors of both compliment each other so perfectly.
Just look at that gorgeous filling!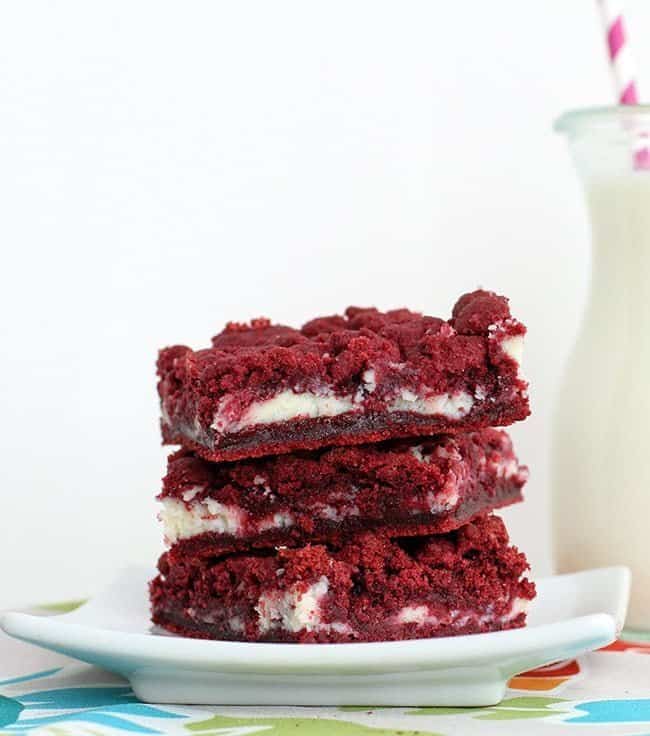 These are a mere five ingredients and take minutes to prep!
Winner winner dessert for dinner!
Or is it just me that wants to eat dessert for dinner?
Come on, there's a glass of milk involved. That means it's dinner!
Right?
Keep these beauties in your back pocket for when you need a really fast and delicious dessert! The kids and Mike loved them, of course, and even I had to admit that for cake mix, they were pretty darn good!
Happy Baking Everyone!
Love you more than chocolate,
Karlynn
Cream Cheese Filled Red Velvet Cake Bars
Delicious red velvet cake bars with a creamy, gooey, cream cheese filling!
Ingredients
1/2 cup butter
1 large egg
red velvet cake mix
1/2 cup cream cheese
1/2 cup condensed milk
Instructions
Preheat oven to 350F.

Line a 9x9 baking pan with foil then spray with cooking spray.

Mix butter with a mixer until smooth.

Mix in cake mix and egg; beat until combined. This can take quite a while depending on your mixer, but it WILL combine nicely!

Press 1/2 of the cake mixture in the bottom of the prepared pan.

Combine the cream cheese with the condensed milk until smooth.

Pour onto the cake mix.

Crumble the remaining dough over the top of the bars, making sure there are no gaps in the top.

Bake for 25-28 minutes until the top is completely baked.

Cool before slicing.
Nutrition Facts
Cream Cheese Filled Red Velvet Cake Bars
Amount Per Serving (16 g)
Calories 0
* Percent Daily Values are based on a 2000 calorie diet.
14