This post may contain affiliate links. See my privacy policy for details.
Raise your hand if you remember seeing this photo of bacon fudgesicles and drooling all over your keyboard last year in November.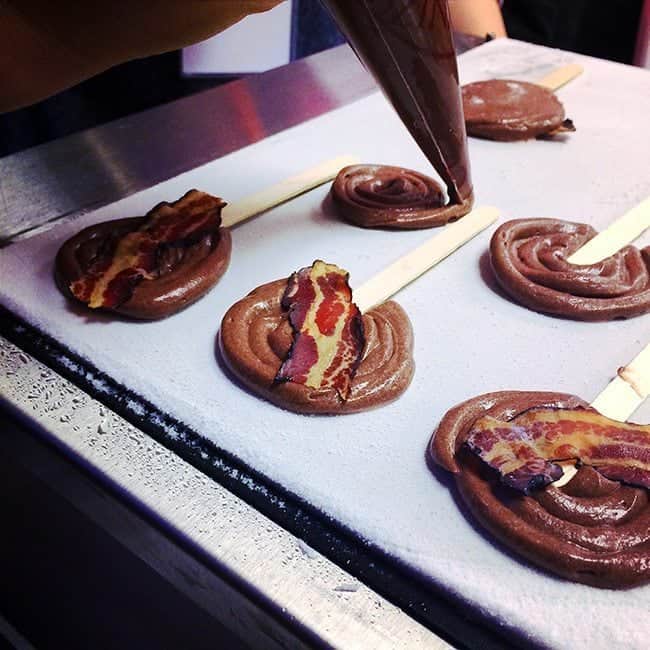 How about this photo? Remember that amazing mini Baked Alaska that I was able to bake up with none other than…
…the awesome Chef Corbin Tomaszeski, famous for his appearances on the Food Network's Dinner Party Wars?
Yes, we sipped champagne in a delightful VIP session where he showed us how to make those delectable beauties. Those mini Baked Alaska's were eaten up in a snap and we chatted with him until it was time to dance the night away after dinner.
Oh you guys, I am thrilled to be heading back to the Fairmont Jasper Park Lodge as a media guest again this year. Words cannot even describe how this girl arrived all dewy-eyed and fresh last year, only to become a master of Christmas in November. A master, I tell you. I have this figured out.
This year, I will wear loose waisted clothes. I am considering investing in a few more dresses simply to be able to bypass wearing a waistband entirely this Christmas in November.
The food and drinks that are going to be served…oh my. I did a recap of last year's meals and this year I know the culinary delights that await me. I think it's even more exciting knowing what awaits you, to be honest. If I've said it once, I'll say it again, you cannot possibly imagine how amazing Christmas in November is until you attend and witness it firsthand for yourself. I had no idea what was coming my way last year with my first Christmas in November.
However something else has me dancing around impatiently with anticipation, mentally hopping from foot to foot like a child on Christmas morning waiting to open her gifts.
My husband Mike is joining me this year. He will be my guest but we are actually a double media whammy, he will be writing on our joint website, Karlynn & Mike. Make sure to follow our page on Facebook as we won't be posting the same things, you'll have to like both pages to catch all of our shenanigans. If you're an Instagram lover, we are there as well.
This man loves the Fairmont Jasper Park Lodge as much as I do. It's our mountain escape, our home away from home. While other people pack in quick trip to Disneyland, we've taken our kids to the JPL for Spring Break, which was one of our best weeks that we've spent as a family ever. The afternoon tea was one of the highlights of one of our many trips there, something that isn't to be missed.
I've never been able to pinpoint exactly why the Fairmont Jasper Park Lodge is so magical but I can narrow it down to the scenery and location. The mountains feed my soul and while that sounds overly dramatic, it rings true. As a life-long country girl who now lives in the city, I sometimes feel that I can't draw a full breath until I'm outside.
Deep breathing of fresh mountain air at the Fairmont, all weekend long. Doesn't that sound like bliss?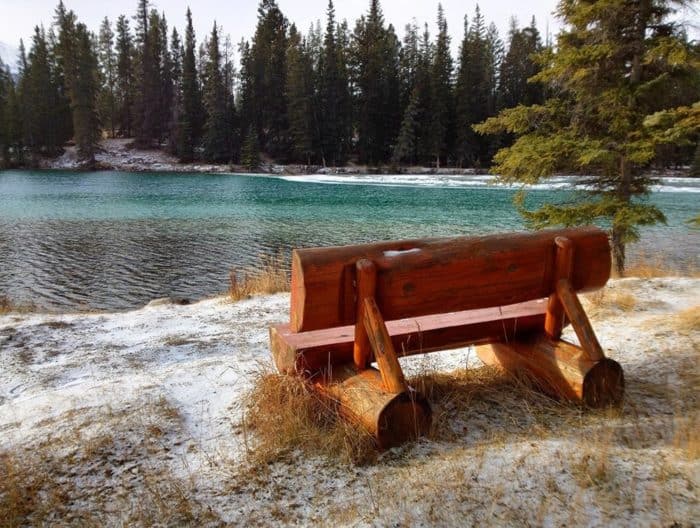 The staff is always incredible as well, foreseeing your needs before you have even thought about them.
If you have been on the fence – or haven't ever considered attending – now is the time! There are three different times you can attend.
The Christmas in November 2015 dates are:
3 Nights (Weekend) – November 6 – 9, 2015 from $999 per person
3 Nights (Midweek) – November 9 – 12, 2015 from $949 per person
3 Nights (Thursday – Sunday) – November 12 – 15, 2015 from $999 per person
The Fairmont absolutely treats each and every one of you like royalty, but if you are looking to move from a Queen to an Empress, the VIP package is extraordinary. The VIP Platinum Package can be added to any Christmas in November package for additional $349.00 per person and includes:
Private Cooking Demo with Chef Roger Mooking
Private Clubhouse Kitchen Reception with surprise Chef
Presenter-Hosted Table at Gala Dinner
Private Book Signing with Chef Roger Mooking
20% off Jasper Spa Getaway package for future stays
New for 2015 VIP Fire & Ice Outdoor Reception with Special Holiday Themed Cocktails served from the Icebar and a Fireside Roast featuring Alberta Bison.
I liken Christmas in November to a three-day, all-inclusive cruise (and you know how I like to cruise!). The value is incredible, there is always amazing entertainment, food and you spend the time ensconced in your own little world.
There is a stellar line up of culinary talent this year, with my favorites Anna & Michael Olson coming back again, who happen to be two of the sweetest people ever in real life. Did you know that all of these famous culinary talents are just going to be right out there with us all? Chatting, shaking hands, drinking cockatils with you? It's amazing. You are never going to get this chance anywhere else, this is the week that these culinary talents are all there to visit with you during Christmas in November. I didn't know who to fan-girl over first last year. Now this year? Oh my. Should it be Chef Massimo Capra? Or Chef Roger Mooking? Both are well-known on the Food Network. There's local talent as well. If you are from Alberta, heck, no matter where you are from you just plain shouldn't miss Duchess Bakeshop Owner Giselle Courteau!
Take a peek at the full line-up of presenters for 2015 here and tell me, isn't it astounding this year?
I was so excited to meet some of my readers there last year and am hoping that some of you will be there again! I will be there the last weekend, November 12th-15th. Come on over and say hi, we'll take selfies, drink wine and chat like I did with the lovely gals from Davison Orchards!
I love meeting everyone that I know "online", it's like a family reunion!
Stay tuned for more posts related to Christmas in November, remember, I went to Sasaktoon to visit Chef Dale Mackay who will also be presenting at Christmas in November 2015! I'm going to give you a look at his much-lauded Ayden Kitchen and Bar – and I even popped over to his newest establishment Home Slice!
So, who is joining me this year?
Love you more than chocolate,
Karlynn