This post may contain affiliate links. See my privacy policy for details.
The second part of my three posts on Christmas in November at the Fairmont Jasper Park lodge is going to be alllll about food! Oh yes. I swear, all I did was eat, drink and wander from amazing session to amazing session! Three whole days of it, what total food bliss!
The first sit down meal was the Merry Luncheon and as you can see, it was a feast for lunch!
The sunchoke (Jerusalem Artichoke) soup was hot, tasty and hit the spot on a cold afternoon. I had never actually eaten sunchoke before so I was very pleased to try it out. This was my favorite soup of the entire three days, most likely because there was bacon in it!
Oh, you always have me at sablefish! This flaky whitefish is actually higher in Omega's than salmon, which makes it perfect for my family since Mike won't eat any strong-tasting fish. Sablefish (also known as black cod) flakes apart in buttery,mild tasting, palate-pleasing layers when cooked properly. This sablefish was perfectly done, much to my delight.
The white chocolate and Saskatoon flavor combination in the bread pudding is one of my longtime favorites, nothing quite suits our glorious prairie berry as well as white chocolate! The fact that they were baked into a warm bread pudding made this my favorite dessert of the weekend. You almost always win me over by using Saskatoon berries in your dessert.
Drinks? Oh my yes, there were drinks everywhere! Wine with meals, at the cocktail hour before dinner and even IN the sessions! This is a Caesar from the session with Charcut and let me tell you, Connie and John make some seriously tasty Caesar's!
The Holiday Dinner on the Saturday night started out with a goat cheese and beet salad and was shortly followed by my favorite dish of the entire weekend: this Spring Creek Beef Tenderloin.
So there's your next answer for my " A Christmas in November "Edmonton Prize Pack Giveaway"! Go and find the blog post comment entry on the big entry form that asks you what my favorite dish was for the entire weekend and you can get another TWO entries! So my favorite food was the Spring Creek Beef Tenderloin.
This magical meal melted in my mouth. (Hello, alliteration). It was so tender, so perfectly cooked and an amazing cut of beef.
Dessert came in the form of a milk chocolate hazelnut bar with espresso flake ice cream.
You had me at chocolate and hazelnut.
Breakfast was a lovely buffet before I rushed off to my sessions. When it came time for the Festive Lunch on Sunday, we were greeted with another steaming hot bowl of comforting soup, this time a squash soup with toasted pumpkin seeds and fresh chives.
The main course was salt brined Alberta free range turkey with buttermilk mashed potatoes, dried fruit stuffing and turkey gravy. This was my second favorite dish of my entire stay, but now sadly any turkey I make at home is going to pale in comparison to this! The turkey was exactly how I can never make it at home; juicy without any dryness at all. That salt brine worked wonders!
Even at lunch, your desserts are spectacular! Pumpkin cheesecake with winterspiced cream? Yes please! And don't you just love how they deconstructed the cheesecake itself? I love how it's sitting on a graham wafer instead of a crust, what a fun touch!
Then, because we hadn't ate nearly enough decadent, scrumptious food, it was time for the gala dinner. Please forgive my candlelight food photos, it is so hard to shoot food in dim light but I knew that I wanted to share these with you all!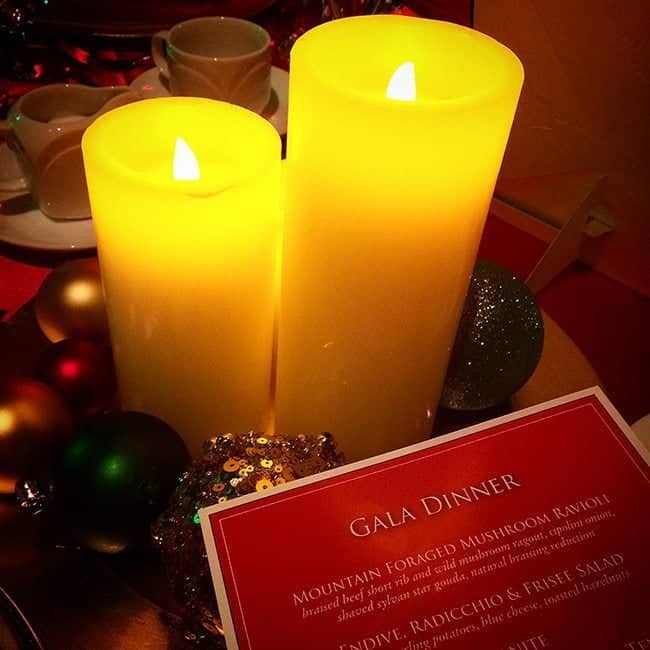 This plate consisted of ravioli with braised beef short rib, wild mushroom ragout and Sylvan Star Gouda bringing the taste factor up to a 10 out of 10. If that tenderloin above hasn't been so darn amazing, this might have topped the list. My only complaint was that I didn't have more! 🙂
A crispy endive, radicchio and frisee salad followed, to refresh our palates after a heavier pasta start.
The buttermilk brined Alberta Pork tenderloin was perfectly done, slightly pink the middle and juicy as can be. Paired with mashed potatoes, honey glazed vegetables it was certainly the star of the Gala Dinner!
Then it was time for my favorite, course; dessert. The talented culinary team at the Fairmont didn't let us down, a decadent vanilla panna cotta was encased in a Bernard Callebaut milk chocolate cup, the perfect exquisite end to a sumptuous gala meal!
The main thing that wowed me was the quality of good that is included in your package for Christmas in November. Remember, the package is ALL INCLUSIVE, which means your drinks during cocktail hours, your wine with dinner and all of your meals. I was asked by a friend when I got back if I truly thought the event was worth the price ($999 a person for my weekend three night package) and my answer was a resounding yes.
When you tally up what eating out like this on vacation costs you – and we are talking (4) three course meals of amazing quality, breakfast buffet two mornings, continental breakfast and buffet lunch the morning you leave, not to mention that the Welcome Reception your first night has SO many food stations (seafood, poutine, dessert, chacuterie and cheese, to name maybe only half!), wine and cocktails galore, we are talking this makes up for literally half your package cost. More, actually, if you are Ukrainian like me and can handle your wine and cocktails better than the average person ;).
Mike was very sad that I didn't bring him this year when he saw all the photos coming rolling in from the event and I will definitely be bringing him the next time I attend, the food alone had him sad and lonely watching my Instagram! Poor Mike. 😉
So stay tuned for the last – and the very best part!- of my three post series on Christmas in November at the Fairmont Jasper Park Lodge! It will be up tomorrow morning first thing! It's all about the sessions! The famous food presenters! The best part of Christmas in November! Well, actually, to be honest, it might be tied with the food and wine part. I was utterly gobsmacked at the quality of food I was fed all weekend!
Love you more than Christmas,
Karlynn