This post may contain affiliate links. See my privacy policy for details.
It is so easy to accidentally cook way more pasta than you really need for one meal. Instead of having to eat it all the next day, could you freeze your frozen pasta instead?
For a delicious, low-effort meal, why not pair your frozen pasta with the Slow Cooker Bolognese Sauce? Or, for a creamy option, try this Easy Chicken Florentine!
Table of Contents
Can You Freeze Cooked Pasta?
Pasta is one of those deceptively filling carbs that, when you first measure it out, never seems like it will be enough.
However, once you cook it and go to serve it, it suddenly seems like you have a mountain of pasta that you suddenly couldn't possibly even fit on your plate.
Instead of having to make pasta salad with the leftovers, to just eat cold, refrigerated pasta for days on end, why not try freezing it instead?
Pasta freezes surprisingly well and doesn't really lose much taste or texture, so long as you reheat it properly, so there is nothing wrong with freezing that giant pile of cooked pasta you have left over for another day.
How To Stop The Pasta Clumping Together In The Freezer
One of the big problems with freezing pasta, or any other particularly wet ingredient, is that it will tend to clump together into one solid block.
The simple solution to this, however, is to freeze each bit of pasta individually before storing them all together in a sealed container.
You don't have to freeze each separate pasta shape, though meticulously – just lay all of your cooled, cooked pasta out on a sheet tray and throw it in the freezer for up to 2 hours.
The short freezing time will firm up the pasta and freeze them individually, making it so that they won't stick together in one solid clump.
When you take them out of the freezer, they might be partially stuck together in a single layer, but a single thud of the sheet pan on the counter should break them all up nicely.
Once partially frozen, you can easily just throw them all in a sealed container and freeze them to keep them for another day.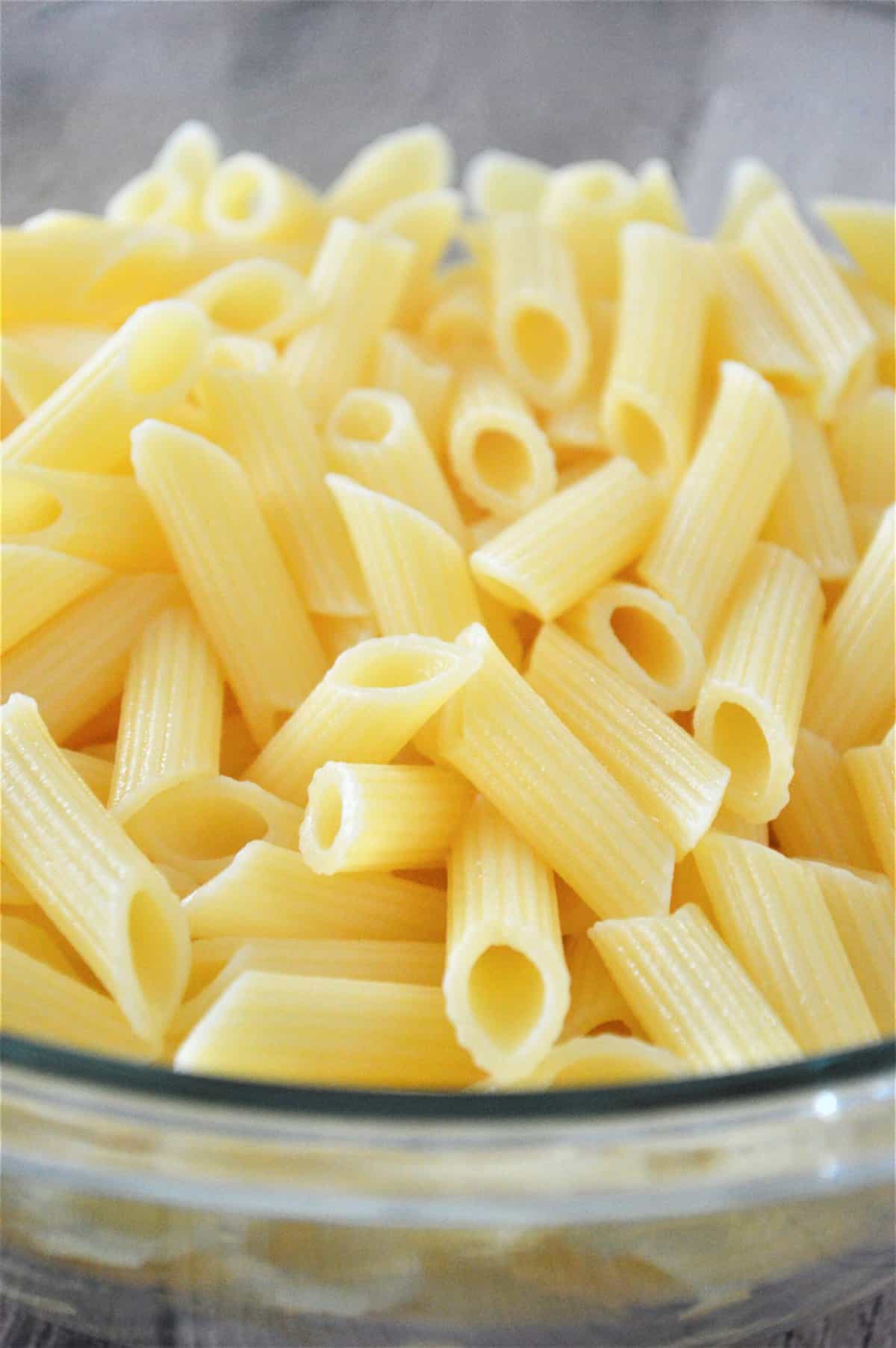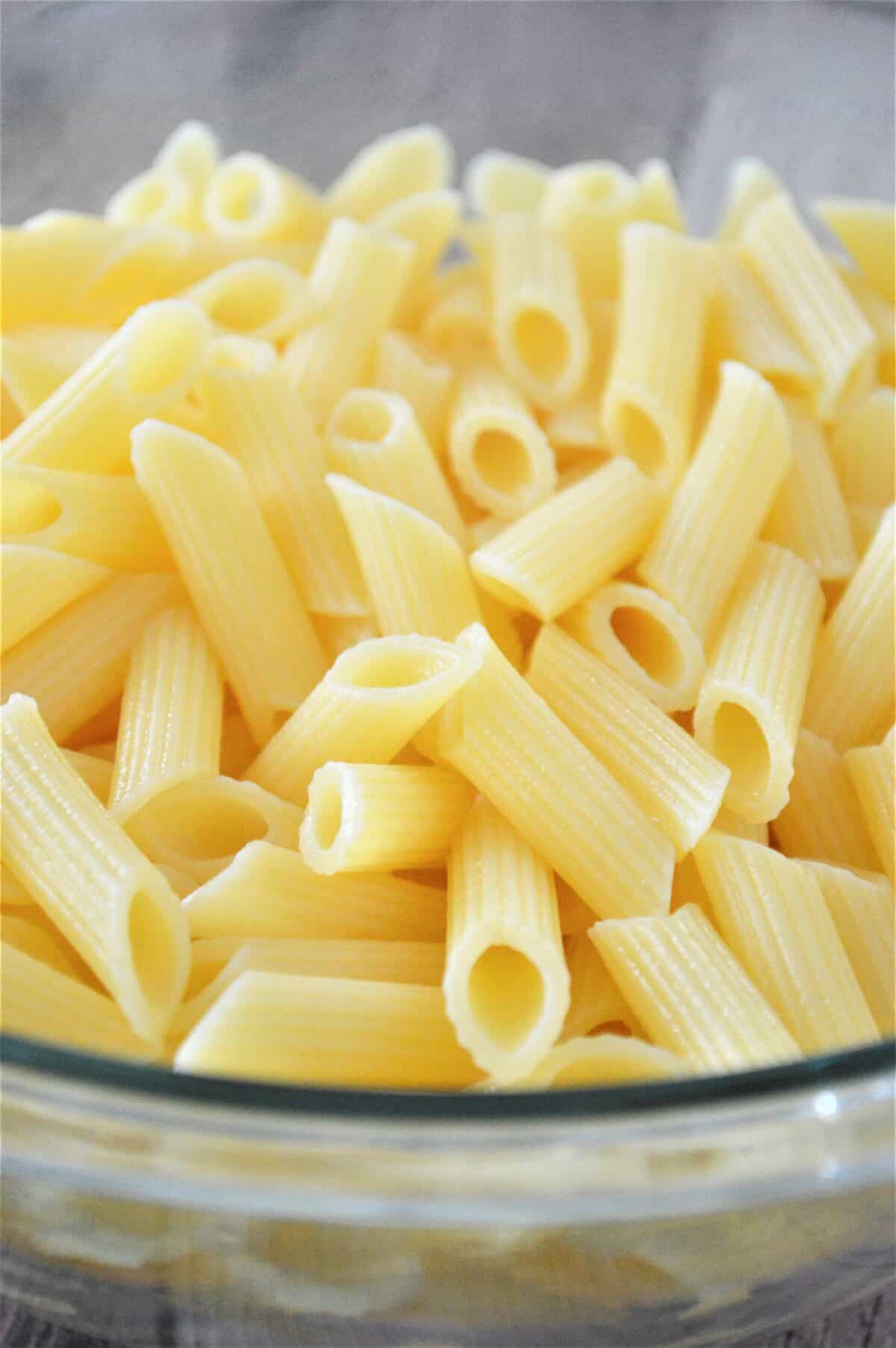 Is The Clump Of Pasta A Bad Thing?
While it is pretty simple to freeze your pasta individually to help stop it from forming a clump, does the clump actually matter?
One common trick to help keep your cooked pasta from forming a tight ball in the freezer is to add a liberal glug of olive oil, which should help to keep the pieces from sticking together.
But even if your pasta does freeze together, is that actually a problem? You will probably reheat your frozen pasta by boiling it again, and the pasta will probably break apart in the boiling water anyway.
So if you can't be bothered to take the extra steps of freezing all of the pasta pieces individually, just go ahead and freeze it as a clump; it should be fine.
How To Reheat Your Frozen Pasta
Reheating frozen pasta is just as simple as cooking dried pasta; just throw it in some boiling water!
If your pasta is in a giant clump, you can safely add the whole clump to the water, but if you freeze them all individually, then just add as many pasta pieces as you want to reheat and cook until they soften up.
Don't worry about defrosting them, either – the boiling water will take care of that for you.
Just make sure that you don't salt your boiling water too much, though.
You probably salted your pasta water the first time you cooked it, so if you overly salt the water you are using to defrost your frozen pasta, then you might end up with it tasting too salty without even realizing it.
Just salt it a little bit to help replace any saltiness that was lost to the freezing process, and you should end up with perfectly cooked, defrosted pasta, able to be used in all kinds of dishes!
Looking for more How-To Guides? Try these out:
• Can You Freeze Cream Cheese?
Happy Cooking!
Love,
Karlynn