It's time for another camping recipe! My goodness, I am starting to feel that I am running out of time getting all these camping recipes written up for all of you! I'm going to be writing them all up in the next week or two, since we are sadly running out of summer.
I'm not sure if you have noticed or not, but I love my skillet dearly. I can truly say that it's the number one thing I will recommend to anyone who is going to be doing any cooking of consequence while they are camping in the great outdoors.
You can fry bacon in it.
You can bake amazing desserts in it.
You can also whack your husband over the noggin with it, if you are so inclined. I've fought this inclination. Weekly.
Other than the trailer and the BBQ, I can't think of one thing that I have used more this summer while camping. A good cast iron skillet is simply invaluable and worth it's (considerable) weight in cooking gold.
One of my favorite things to use it for is baking up some French Toast.
Baked French toast takes everything that is wonderful about French toast and amplifies it by about, oh, say one hundred awesome points. You get a thick, layered delicious, bready square of French toast that isn't dry in the slightest, more like a good bread pudding for breakfast.
In this recipe I also used something else I adore, since I also have a love of raisin toast.
Seems to me I love a lot of things and most of them go straight to my hips.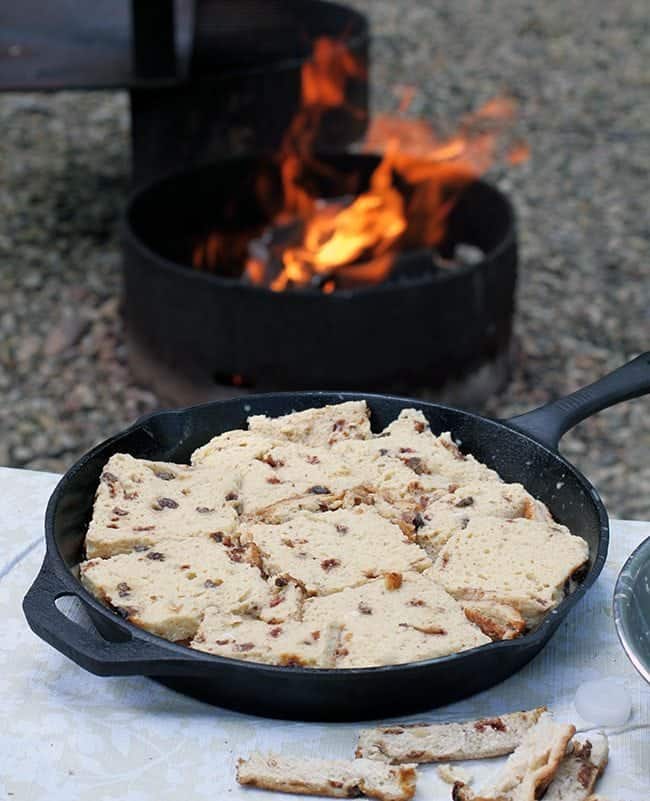 Now, there are two things about my recipe that you should know.
First, you make this and then you bake it right away. Most baked French toast recipes have you put it in the fridge overnight but not this one. This was just perfect the way it was since you soak each piece separately.
Second, this is an eggy French toast. I like my French toast super, duper, extra eggy! If you mix it and find that it's too eggy for your liking, add some cream or milk to it and thin it out.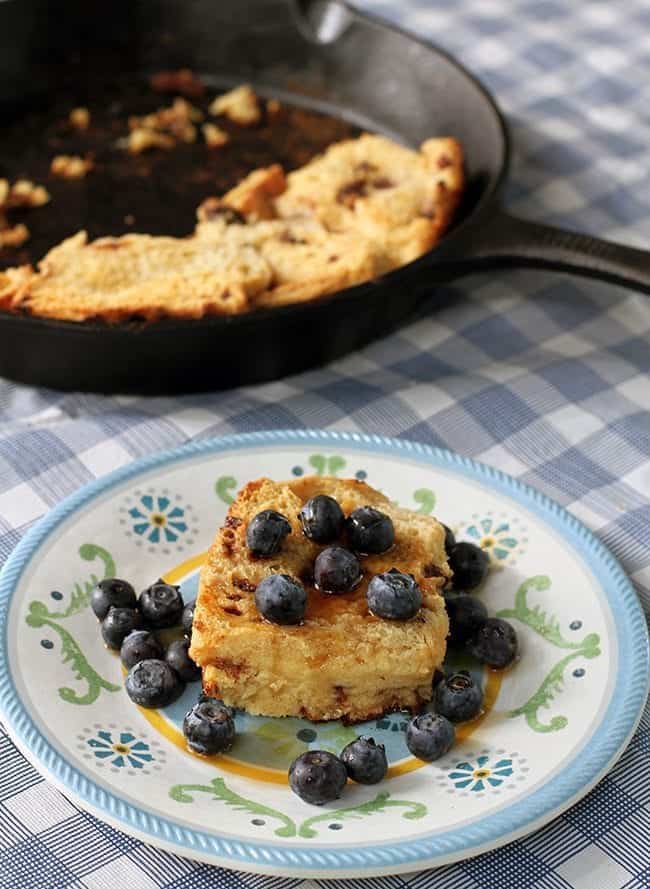 The butter on top helps give it a lovely crust which is the perfect foil to the soft egg goodness below.
Butter crust. It just can't be beat!
Mmmm. Super duper eggy-fied French toast.
I keep just making words up for this recipe, don't I? Eggy-fied. It works.
 We topped ours with blueberries and maple syrup, what a fabulous way to start your camping morning!
So, are you an "eggy" French toast person or not so much? Luckily my whole family loves a ton of eggs in theirs, I love sneaking in all that protein! Sssh, don't tell the kids!
Thanks for stopping in!
Love,
Karlynn
** Remember to join ZIPLIST to create your own online recipe box and then click SAVE on my recipe below to add it! I use my online recipe box ALL the time! **
Read more at https://www.thekitchenmagpie.com/peanut-butter-chocolate-chip-cookie-skillet-brownie-bars#Sy7c7PWTMBtlWT74.99
Camping Recipe:
Skillet
Baked French Toast
Easy
skillet
baked French Toast recipe!
Ingredients
6

eggs lightly beaten

12

oz

can evaporated skim milk

1/2

tsp

ground cinnamon

1/2

cup

brown sugar

454

gram

loaf thick sliced raisin bread crusts removed

2-3

tbsp

diced butter

maple syrup
Instructions
Whisk together the eggs, evaporated milk, cinnamon and brown sugar, making sure the brown sugar completely dissolves.

Dip each piece of raisin bread into the egg mixture, coating completely, then lay in the skillet.

Repeat with until you cover the bottom of the

skillet

completely, then use the remaining pieces of bread to form a second layer.

Continue the layers until the bread is used up (or you use up all the egg mixture).

Pour any remaining egg mixture on top then sprinkle with the diced butter.

Bake in a 350 degree BBQ or trailer oven until the top is browned, around 35-40 minutes.

Cool slightly then enjoy!
Nutrition Facts
Camping Recipe:
Skillet
Baked French Toast
Amount Per Serving (4 -6)
Calories 627
Calories from Fat 153
% Daily Value*
Total Fat 17g 26%
Cholesterol 264mg 88%
Sodium 643mg 27%
Potassium 667mg 19%
Total Carbohydrates 96g 32%
Protein 23g 46%
* Percent Daily Values are based on a 2000 calorie diet.
2