This post may contain affiliate links. See my privacy policy for details.
Time crunch season, thou art upon me. From the start of school until my daughter's birthday in January, I am busy planning one event or another. We just had my son's eighth birthday party this weekend, leaving me an exhausted, emotionally fragile wreck of a woman this Monday morning.
Alright, alright, some of that might have to do with the fact that I stayed out far too late Saturday night after watching the newest Twilight movie.
Lemme sum up.
Every year around my son's birthday weekend, the newest Twilight movie is released. And every year my best friend from teenhood comes to Edmonton with her family to celebrate my son's birthday with us. So it makes perfect sense that since I have a female partner or two in crime that weekend, we take off and go see a movie that my husband would never, ever take me to. Twilight tops that list, for some reason.
This year after our movie we had an Ugly Sweater Party to attend. I guess I am seriously out of the loop, but when I received the invite I had to ask the hostess twice what the devil she was talking about.
Me– "I'm sorry, a what?"
Hostess– "Karlynn, it's an Ugly Sweater Party."
Me "Hahah, awesome, I just thought you just said you're having an ugly sweater party." *yells at kids in background "Keep it down, I'm on the phone!"*
Hostess: "I did! So, you're coming, right? You only live a 5 minute cab ride away now!"
Me: *weak laugh* " Ah ha, ha. Ha?"
Oh, but by now you all know that I went to the Ugly Sweater Party, sans ugly sweater. I was watching sparkly vampires and virgin brides, how much more punishment could be meted out to me in one evening? No ugly sweater.
And here's the thing.
I loathe party games. Oh, how I am known for being the bridal/baby/wedding shower drag. The stick in the mud. The pain in the…well…let's leave that one alone for now. When there's that "run" of weddings followed by babies in your mid- twenties when all it seems you do is run from celebratory event to celebratory event and play dumb games, I became known among my friends for rolling my eyes back in their sockets when it came time for the games.
But what usually made them really mad is I won. A lot.
The word searches of cute bridal terms or baby blather? I'd whip them out and collect my prize. Guess the baby food flavor? Please, I've always lived in my kitchen. It was like taking candy from the proverbial baby.
The Ugly Sweater Party was no different.
You just read that I didn't even wear an ugly sweater to the party, I threw on a black long-sleeved shirt for the night.
However I walked out of that party with a gift card to Second Cup as a prize tucked into my coat pocket.
I won "The Sweater You'd Actually Wear Out in Public Prize" .

I was incredibly smug happy to find out that I still win prizes for, in essence, being a Grinch.
But the non grinches? Oh, what fun!
Behold The Ugly Sweater Winner thanks to my IPhone camera.
And our hostess. If you look closely you will see that she's plugged into the wall. There's a drink in her hand.
Enjoy the hilarious party moment montages that are now running through your mind. They all happened. Every single one you could think of. Into the wee hours of the morning. Which explains why I am a little more worn out than usual from the weekend.
I'm old. My 35-year-old bones cannot keep up with my 19-year-old mind like they used to and considering my children get up at 6:30, going to bed at 2:30 am is never a wise choice.
It was worth it to see sights such as these.
I'd like to point out at this moment that I have no idea what I am writing. I had to stop and look in my WordPress dashboard to see what I actually started out with as a post title.
Buttery Blondies.
You come here for a recipe and you get Ugly Sweaters. Who else , I ask you, but myself, could diverge off the writing path so concisely, so neatly?
So if you haven't lost your appetite looking at the worlds ugliest sweaters or left in disgust over the fact that I win prizes at parties for basically rolling my eyes heavenwards, here comes the actual recipe in this post.
I started out writing about how this is time crunch season which lead to my going off on a huge tangent about my weekend. These Blondies are off the package of PC mini fudge melts.I have waxed poetic about how much I love the recipes on the chocolate chip/baking ingredient bags. When you have no time yet a stocked pantry, grab a bag of choice and see what recipe is on it. Almost 100 percent of the time these recipes work, and work well.
This was a spur of the moment " I have a fundraising meeting in two hours and I promised goodies!!!" panic bake. I grabbed the nearest bag of baking ingredients, saw it, baked it and conquered.
I loved the buttery base, the simple flavor enhanced by those lovely little chocolate melts was really tasty. Use a good butter and it will pay off in this recipe!
Ingredients Needed:
1 1/2 cups flour
1 tsp baking powder
1/2 cup PC mini fudge melts
1/2 cup salted butter or margarine
1 cup light brown sugar
2 eggs
Kick the tires and light the fires to 350.
Sift flour, baking powder and 1/4 cup fudge melts and set those aside.
Beat butter, sugar till creamy and light in colour then add in the eggs one at a time.
Mix the flour mixture in low speed until combined.
Flour your hands and pat the mixture onto a buttered 9″ square pan and bake at 350F for 10 minutes.
Remove from oven, and top with 1/4 cups of fudge melts then bake for another 15 to 20 minutes till it is golden in colour and a skewer inserted comes out nearly clean.
I hope everyone has a great Monday. I am spending the day alternating between my eyes tearing up over the idea that I now have an 8 year old son and cleaning the house furiously to repair the damage from celebrating the fact that I now have an 8 year old son.
Love,
The Emotional Basketcase Magpie
Thanks to ads on this website, readers of The Kitchen Magpie are now sponsoring 2 families a month through the Edmonton Food Bank. Learn how you can help here.
Learn to cook like the Kitchen Magpie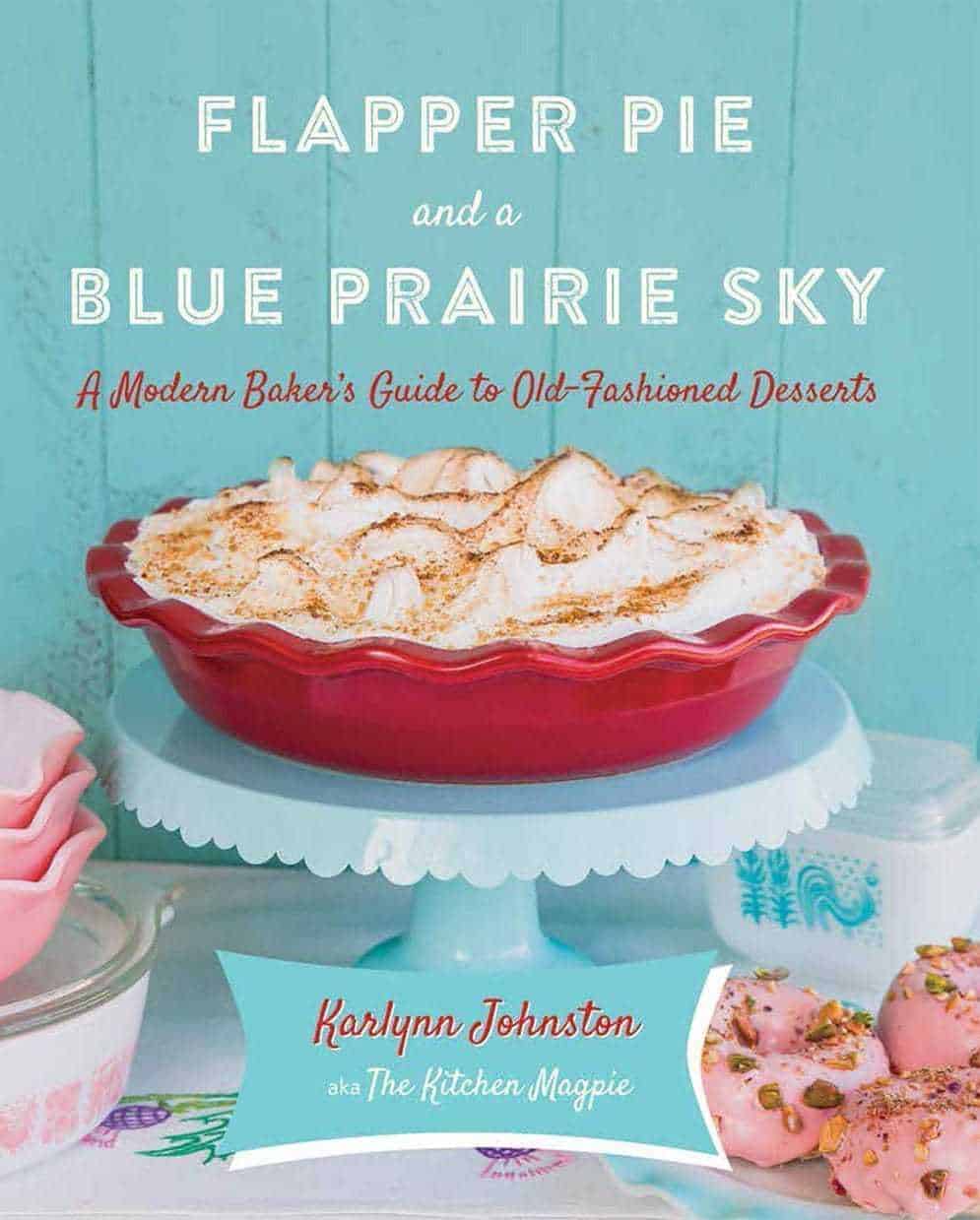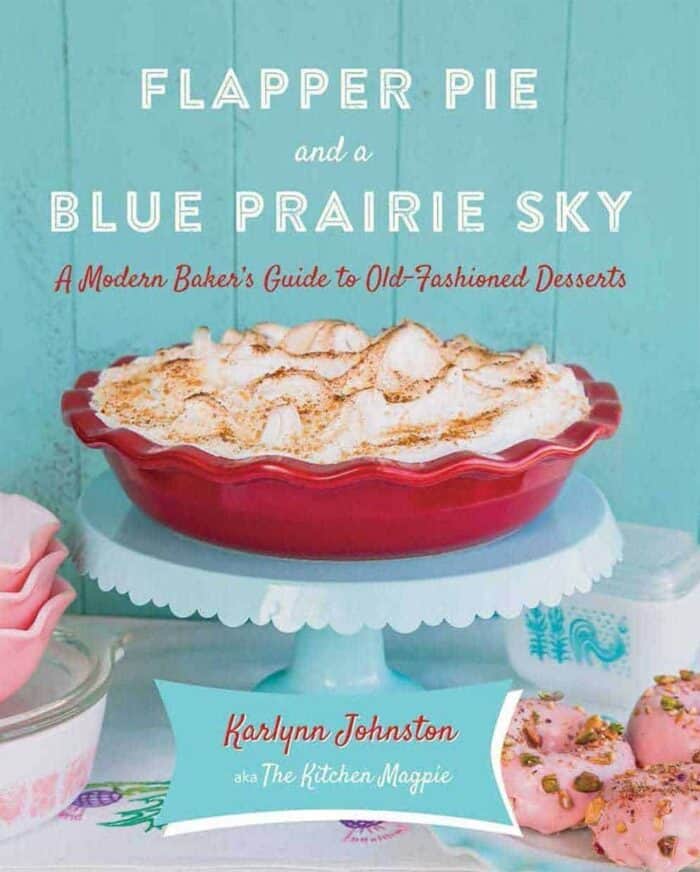 A Modern Baker's Guide to Old-Fashioned Desserts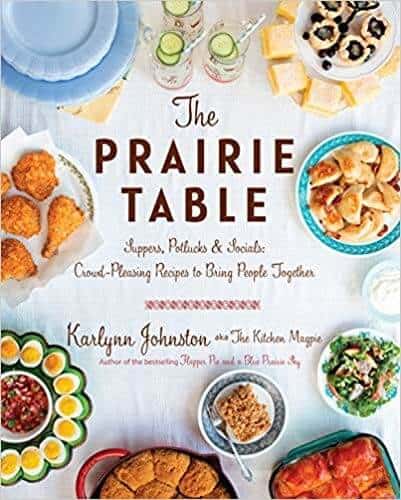 Suppers, Potlucks & Socials: Crowd-Pleasing Recipes to Bring People Together
Subscribe to The Kitchen Magpie on YouTube
One click and you'll get notified of new videos added to our YouTube account!
Subscribe on

YouTube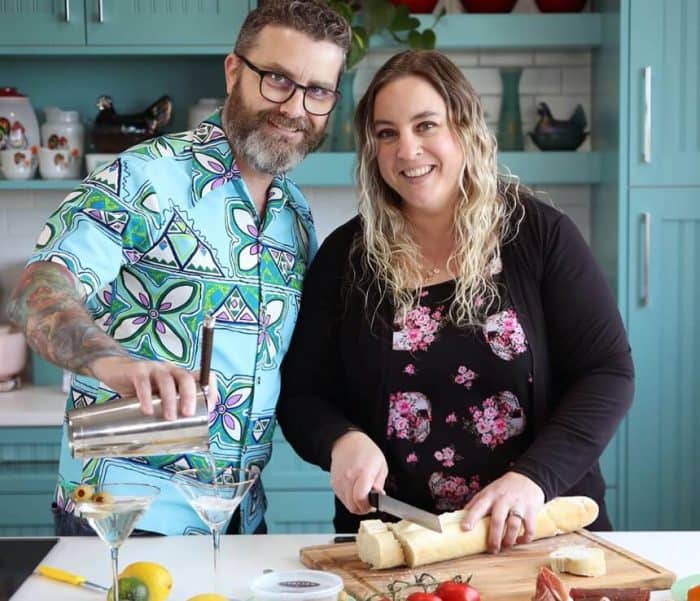 Chewy, Decadent Buttery Blondies
These buttery blondies are the best basic blondies recipe out there, you can add in whatever you like from walnuts to sprinkles, chocolate chips to M&M's!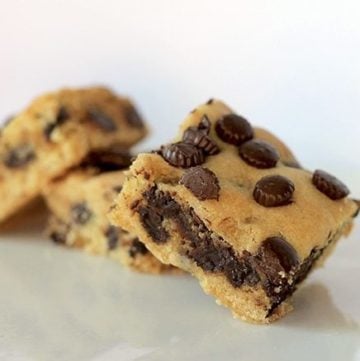 Prep Time

10

minutes
Cook Time

30

minutes
Total Time

40

minutes
Course

Dessert
Cuisine

American
Servings

16
Author
Ingredients
1 1/2

cups

flour

1

teaspoon

baking powder

1/2

cup

chocolate chips

1/2

cup

salted butter

1 1/2

cups

light brown sugar

packed

2

eggs
Instructions
Preheat your oven to 350 °F

Sift the flour, baking powder and 1/4 cup of the chocolate chips together and set those aside.

Beat the butter and sugar till creamy and light in color then add in the eggs one at a time.

Mix the flour mixture into the egg mixture at a low speed until combined.

Grease your hands with a bit of of butter and pat the mixture onto a buttered 9″ square pan and bake at 350 °F for 10 minutes.

Remove from the oven and top with 1/4 cups of fudge melts then bake for another 15 to 20 minutes till it is golden in color and a skewer inserted comes out nearly clean.
All calories and info are based on a third party calculator and are only an estimate. Actual nutritional info will vary with brands used, your measuring methods, portion sizes and more.
Made this recipe?
Share a photo of what you made on Instagram or Facebook and tag me @thekitchenmagpie or hashtag it #thekitchenmagpie.
Please rate this recipe in the comments below to help out your fellow cooks!