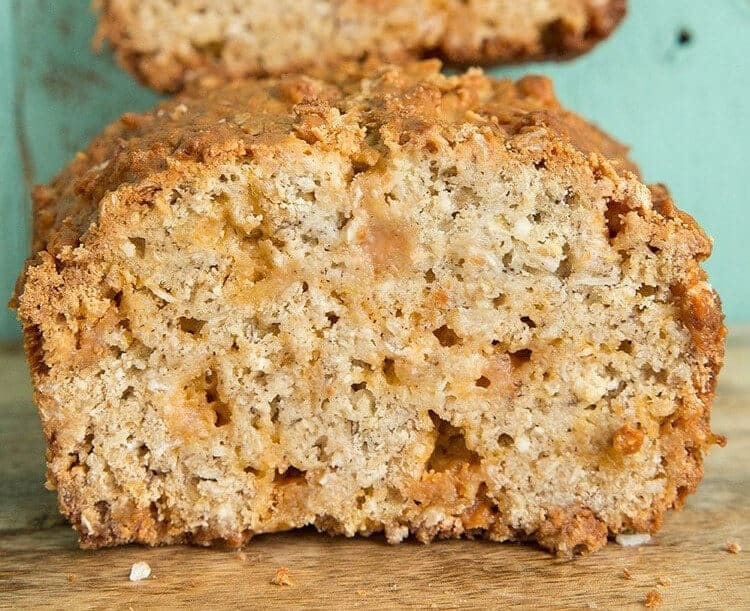 Butterscotch oatmeal banana bread. Sounds like something you should make today, yes?If you are like me, you have about 189 frozen bananas in your freezer, just waiting to be made into banana bread. If you are like me, a recipe that makes one loaf is just not going to cut it for making a dent in said frozen bananas. If you are like my family, on the other hand, you are tired of banana bread.
This banana bread recipe was born out of the desire to use up those bananas in my freezer and give banana bread a fresh taste. The butterscotch and coconut did the trick while the oatmeal lends a nice density to the loaf which is unusual for banana bread. All in all, this was a big winner, but let's remember that my kids like anything with chocolate or other chips in it.
Sadly, I still have about 180 frozen bananas left in my freezer but at least this double recipe does put a dent in them!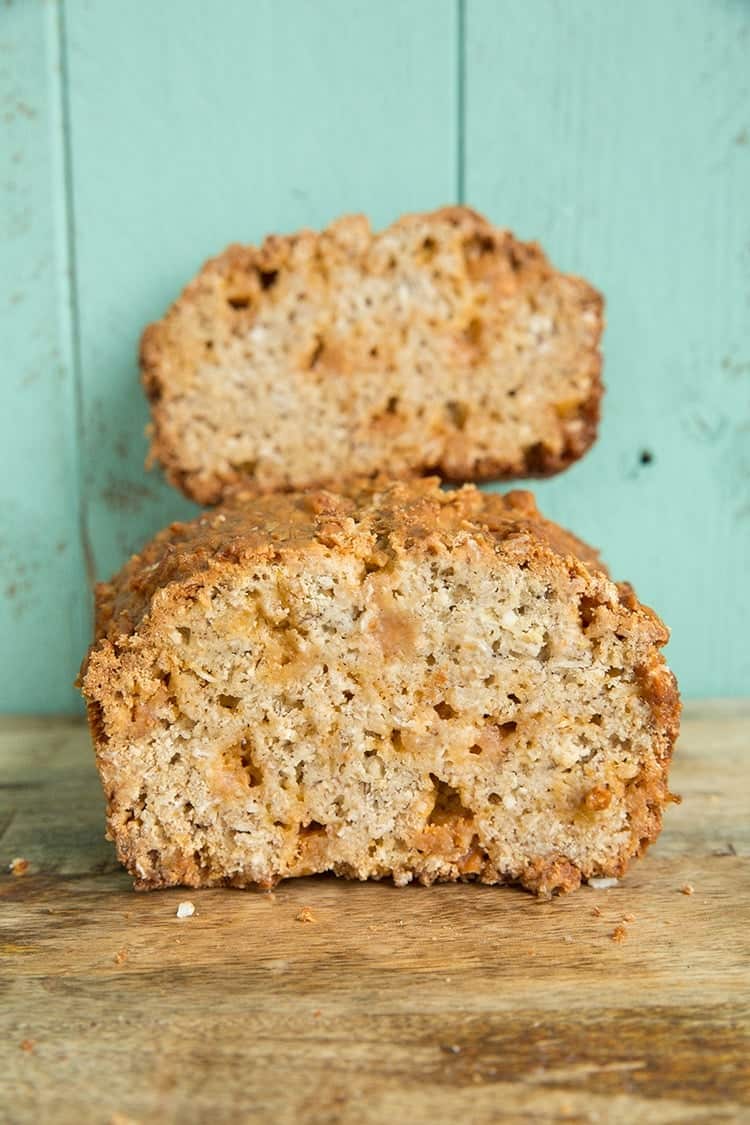 This snowy Sunday found us up early tackling the yard and by yard I mean Christmas decorations. In typical Magpie family fashion, we waited until it got cold and snowy to get out outside Christmas decor up, which meant that I was shoveling snow to get at the ground to secure the decorations in properly. The wonderful lights that Mike spent hours putting up last year now do not work – I am irritated beyond words- so out I went to buy those pretty icicle ones. The ones that are extremely expensive and better look like flashing, gorgeous icicles on the front of my garage or they are going back, says I.
So after hours of physical labor outside I am off this evening to watch an intellectual documentary about a new tribe of vampires that sparkle in the sun and magically have half human babies. I hear there is also an active werewolf population in the area that these vampires inhabit as well, making the probability of an intense cultural clash between the two imminent.
I am looking forward to expanding my mind and watching something intelligently created tonight.
Or just the movie theater popcorn with loads of butter.
Love,
That's My Documentary Story & I'm Sticking to It Magpie.

PIN THIS RECIPE to your BAKING RECIPES Boards and Remember to FOLLOW ME ON PINTEREST!
Butterscotch Oatmeal Banana Bread
Butterscotch Oatmeal Banana Bread made with whole wheat and oatmeal is a delicious new twist on the typical banana loaf recipe!
Keyword:
banana bread, oatmeal banana bread
Ingredients
2/3 

cup 

of butter

1/3 

cup 

of applesauce

1 

cup 

white sugar

1/2 

cup 

of brown sugar

4 

eggs

2 

tsp 

vanilla

2 

cups 

of whole wheat flour

2 

cups 

of quick oats

1 

cup 

of shredded unsweetened coconut

2 

cups 

of butterscotch chips

2 

tsp 

cinnamon

2 

tsp 

baking soda

1 

tsp 

baking powder

1 

tsp 

salt

3 

cups 

mashed banana

1/2 

cup 

of milk
Instructions
Grease and flour 2 9×5 inch loaf pans and set aside.

Cream together the butter and sugars.

Add eggs, apple sauce and vanilla, beat until fluffy.

Add in the bananas and milk, stir to combine.

Sift together the flour, oatmeal, baking soda, baking powder, salt and cinnamon, then slowly mix into the wet ingredients without over mixing.

Fold in the coconut and butterscotch chips, then pour into the prepared pans,dividing evenly.

Bake for 50 to 60 minutes; remove from oven and cool for 5 minutes.

Remove from the pans and cool on baking racks completely.
Nutrition Facts
Butterscotch Oatmeal Banana Bread
Amount Per Serving
Calories 5147
Calories from Fat 1620
% Daily Value*
Total Fat 180g 277%
Cholesterol 521mg 174%
Sodium 4023mg 168%
Potassium 4225mg 121%
Total Carbohydrates 844g 281%
Protein 89g 178%
* Percent Daily Values are based on a 2000 calorie diet.
5