Happy Thirsty Thursday everyone! Today I bring you a lovely summer drink I'm calling a Blueberry Mint Gin Fizz. The best part of this drink is the particular brand of Gin I've used in the drink so pay close attention and make sure you pick yourself up some and give it a taste.
To get started, you need to visit Eau Claire Distillery as you'll be needing a bottle of their mighty fine Parlour Gin for this drink. Sure, you could use any brand of gin for this drink but don't you want to be like Mike and use the exact same brand I used? Of course you do! Besides, this gin is so good it's won a number of awards just for being awesome.
So like I said, pick up a bottle of Parlour Gin for your mixing (and be sure to check out their other great products while you're at it on their website) and let's get to mixing.
Place 1/2 lime (cut into quarters) and five (5) mint leaves into the bottom of a tall cocktail glass. Oh and don't just use any cocktail glass either. A drink that looks this good deserves a nice glass. Once you've picked out your favorite, take a muddler (or back of a spoon if you don't own a muddler yet) and smush it all up in the bottom of the glass, releasing the lime juice and mint oils.
Place 2 oz of gin, 2 oz of blueberry juice, and 1/2 oz of simple syrup into a cocktail shaker filled with ice. Shake until the liquid is cold ( the outside of the shaker should be cold). Strain the contents into the cocktail glass.
Stir in the club soda and top with additional ice, if wanted ( I like to keep my cocktails COLD). Garnish with a mint leaf and a straw and serve.
Since this drink looks so good, I will leave you with some beauty shots to ogle over: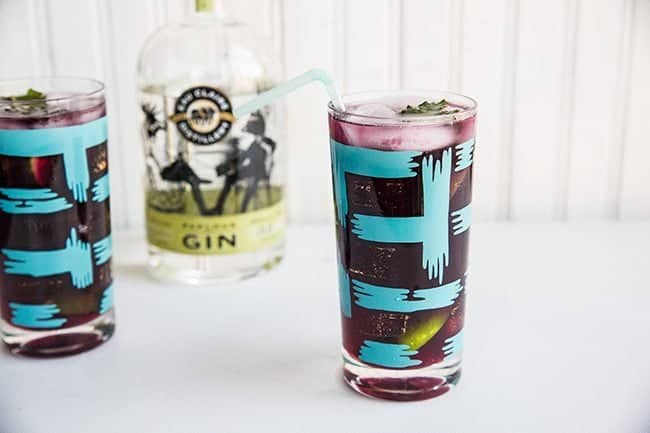 The wife's not too shabby with a camera, eh?
The turquoise glasses were thrifted at a Value Village in Oklahoma City. Whenever Karlynn sees anything turquoise it ends up in the trunk.
So don't wear turquoise, FYI.
Tasty looking isn't it? Remember to always drink responsibly and not to comment on this post while in the process of consuming one of these fine drinks as what you say on the internet lasts forever or something. On second thought, that could be quite entertaining so feel free.
Enjoy your Thursday!
~Mike
Print
Blueberry Mint Gin Fizz
---
Author:

Mike Johnston

Prep Time:

3 min

Total Time:

3 min

Category:

Drinks
Description
Delicious and refreshing, this gin based cocktail will be your new summertime favorite!
---
Ingredients
2 ounce gin
2 ounce blueberry juice
1/2 ounce simple syrup
2 ounces club soda
ice
5 leaves mint
1/2 lime quartered
---
Instructions
Place the mint leaves and lime in the bottom of a tall cocktail glass. Using a muddler or the back of a spoon to crush them, releasing the lime juice and mint oils.

Place the gin, juice, and simple syrup into a cocktail shaker filled with ice. Shake until the liquid is cold ( the outside of the shaker should be cold) Strain into the cocktail glass.

Stir in the club soda and top with additional ice, if wanted ( I like to keep my cocktails COLD)