I absolutely love pasta Puttanesca. It has a little bit to do with the fact that supposedly it came about from Italian "ladies of the night" that used to make the pasta between customers or, as it is also rumoured, concocted this dish to lure customers in with the intoxicating scent of this garlic based tomato sauce. Sure, I love a good story, I'll admit it. But add in capers, anchovies and black olives…well. You had me at capers. And ladies of the night.
To be honest, the best puttanesca I have had was here in Edmonton at Cafe Amore. One evening when they were still at their old location, they had it on special for the night. I ate it and fell madly in love.
I haven't seen it on the menu again. Ever. Oh, I have looked and I have watched their menu. No such luck. So eventually, my friends, ( maybe next week because now I am craving it wildly) I will make a homemade pasta puttanesca. My favorite pasta, bar none.
You are probably wondering how I came up with this pasta puttanesca soup.
Well, my online friends, I had one puny 14 ounces can of diced tomatoes with peppers and my large can of tomatoes that I always have on hand was nowhere in sight. I also had almost 3 pounds of stewing beef. The math was not adding up, my friends.
This is how my recipes come about. I had stew meat that I wanted to make a tomato based stew/soup out of. I wanted a tomato stew with pasta and beef.
I ended up with Beefy Pasta Puttanesca Soup and thank the ladies of the night that I did! I had a jar of the sauce in the pantry from a gift basket that I won at Christmas in November last year. I found it…..looked at it with eyebrows wrinkled…and thought… heck YEAH!!!
And Beefy Pasta Puttanesca Soup became a thing. 
You guys, I didn't even have macaroni for the soup, that's how unorganized I was! So I took some farfalle (also known as Bow Tie Pasta) and added it at the end.
Perfection.

Now babes, this recipe is so easy because I used that jar of pasta sauce. Yes, remember, this was panic city. I had already seared the beef and was raring to go. You would think I would learn to prep beforehand but no. I ALWAYS have tomatoes. To be fair I think that this soup was meant to be because two days later I DID find the large can of tomatoes that I knew was in the pantry. It had been lost in the Christmas fray.
Now I know that you all love my Classic Beef & Tomato Macaroni Soup and it's also the most popular soup recipe on my entire website. Actually, during the winter months it is THE most popular recipe on my website. 
You guys LOVE this soup.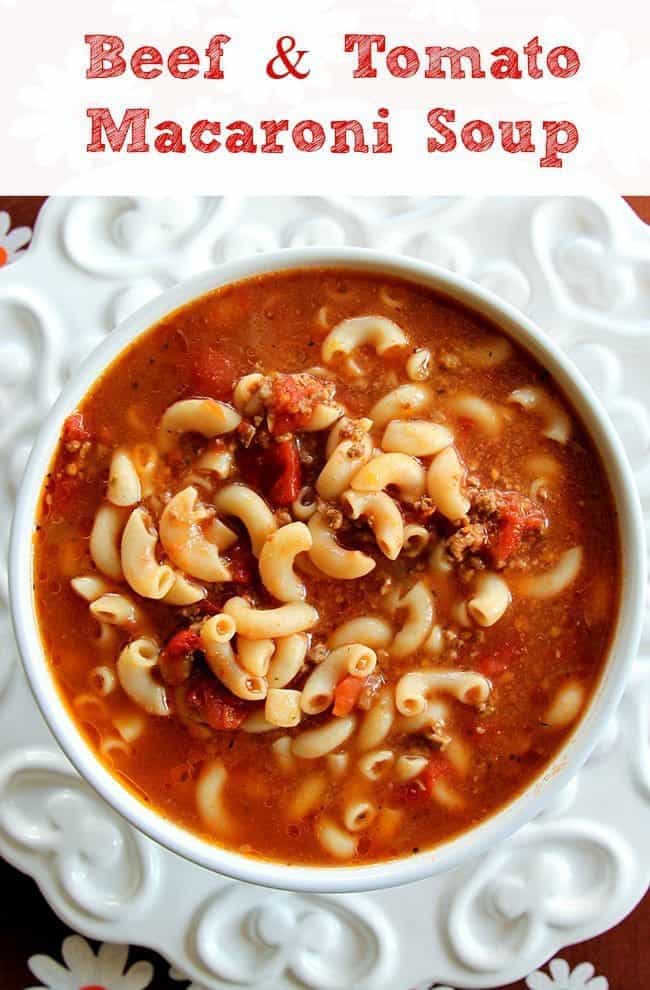 Now, will you trust me that you will also love THIS soup? My new Beefy Pasta Puttanseca Soup?
Trust me. Trust Magpie. This is the shiznet man, the shizNET.
I don't know what that means.
But I do know that you totally have to make this soup.
Love you more than this soup!
Karlynn

Beefy Pasta Puttanesca Soup
Ingredients
1

tbsp

oil

2-3

lbs

beef stewing meat

1

litre strong beef broth

14

ounces

chunky tomatoes with peppers

24

ounces

jarred puttanesca sauce

1 1/2

cups

farfelle pasta

bowtie
Instructions
Fry the beef until browned. (For the

instant pot

use the saute button and fry), Place in the

crockpot

.

Pour in the broth,tomatoes and sauce.

Cook on low for 6-8 hours. Stew beef is the best when you cook it low and slow. You can make this in a pot and cook for an hour or two, but there's nothing like beef that falls apart thanks to being cooked all day long.

Half an hour before serving, mix in the pasta. Let it cook until it has softened.

Serve topped with a sprinkle of parmesan cheese if desired!
Nutrition Facts
Beefy Pasta Puttanesca Soup
Amount Per Serving (8 g)
Calories 0
* Percent Daily Values are based on a 2000 calorie diet.
0