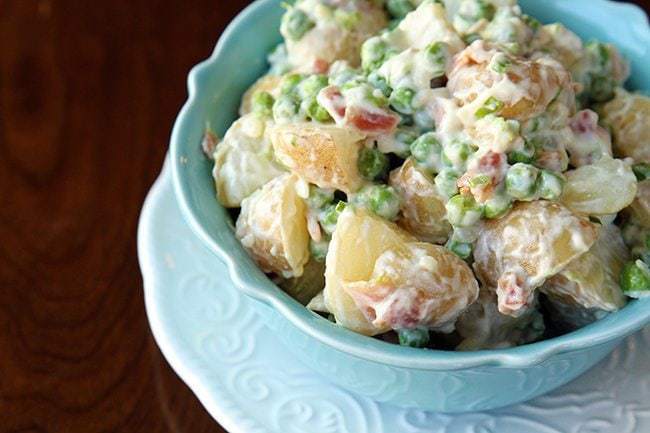 Where has this salad been all my life?
I bet you never thought you'd see the day where I wrote that, did you? It's true. I love this salad.
That might be because it has a cheater garlic aioli (just a fancy name for garlic mayo) bacon, new potatoes, new peas…and oh man, is it ever easy to make.
So you still aren't seeing me exult over a green salad, don't fear 😉
This salad can be served hot or cold, be made the day of or ahead of time, can have the ratios fiddled with easily…it's just a serious winner winner potato salad for dinner.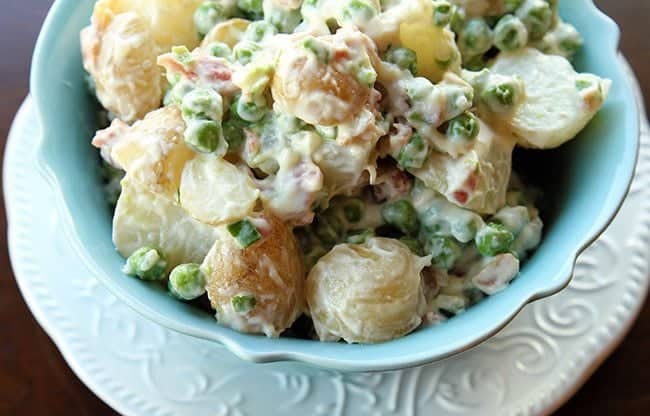 I can't stress enough how garden fresh veggies are what is going to make this salad sing, so get thee into your backyards or to your local Farmer's Market. Fresh peas…there just ain't nothing like 'em.
Except maybe for bacon.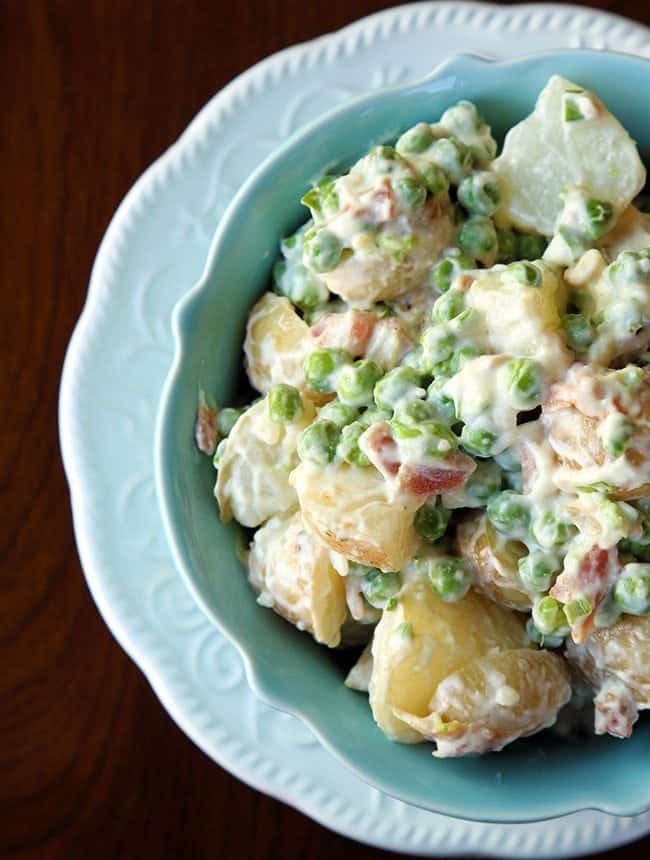 I did try to make this better for you by using light mayo…but really..do whatcha like, folks. This is definitely not going to be a low calorie salad but take the hit. It's so worth it!
The Ukrainian girl in me would ADD MORE GARLIC. Ooops. Sorry, that was my inner Ukrainian shouting, actually. I would add more onions and garlic..but again, I have those genes that can take a lot of both of those!
Play around with it and enjoy!
Happy Cooking everyone!
Love you more than garlic,
Karlynn

Baby Potato & Pea Salad With Garlic Bacon Aioli
Hot or cold, this decadent salad uses up everything in your summertime garden! Excepting bacon, of course. Too bad we can't grow bacon in our gardens..
Ingredients
1 cup fresh peas lightly steamed
3 cups cooked chopped potatoes
6 slices bacon cooked grease blotted off and chopped.
1/2 tsp garlic powder
1/2 cup light mayo
5 stems green onions chopped
Instructions
Place potatoes and peas into a medium sized serving bowl.

Combine the bacon, garlic, mayo and green onions then scoop onto the potatoes and peas.

Mix together thoroughly and serve.

This salad can be served hot or cold!
Nutrition Facts
Baby Potato & Pea Salad With Garlic Bacon Aioli
Amount Per Serving (4 g)
Calories 0
* Percent Daily Values are based on a 2000 calorie diet.
4