This post may contain affiliate links. See my privacy policy for details.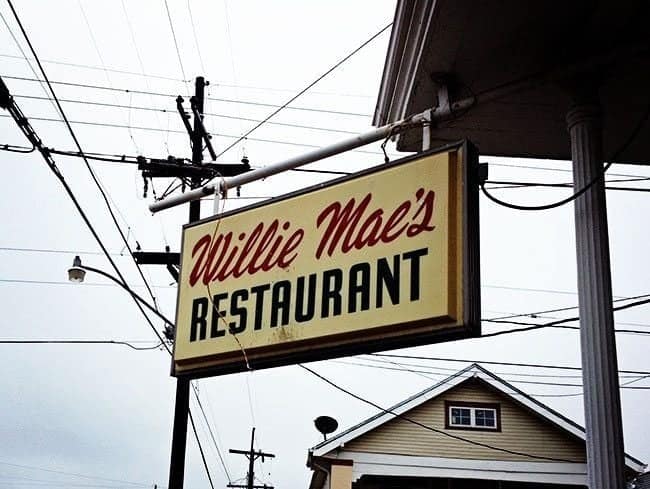 When I asked friends of ours who had been to New Orleans where we should eat, they answered with "Willie Mae's Chicken". In fact, Phil couldn't stop bringing it up every time we talked about going to New Orleans, so I figured in order to shut him up, we'd go. 😉
In all honesty, Willie Mae's is on every list of Must Eats in New Orleans, you simply cannot find a list that doesn't have this iconic eatery on it. Located in an older neighborhood (where it's highly suggested all over the internetz that you do not walk to this place but drive or take a cab to the location and I'm quite serious here folks) it is situated out of the crazy busy areas with lots of parking and a long sidewalk to stand in line on.
Oh yes, you are standing in line and before you go make sure you have the appropriate weather gear.We went around 2 pm and this was the lineup. By the time we got to the door, it was triple this size! Bring cash as well which is something we learned for all of New Orleans, debit machines are almost always down!
This would be the door I was speaking of and no magic door in any story has ever come close to the promise that this unassuming white door holds for you, my friends.
Once you reach the doorstep after waiting in line – took us an hour- you are finally within distance of chicken greatness.
There are many things to order on the menu, but don't. Just don't. Get the three-piece chicken meal with your choice of sides and wait for the glory to arrive.
Then when it arrives you need to take a moment here folks, because you are taking a huge step.
Your fried chicken world is about to experience the Big Bang with a subsequent rebirth.
You cannot go back from this point. Ever.
When you bite into this crispy hot chicken and let the slight heat and salt of the amazing spices mingle on your palate,you might just weep. Mike, who isn't known to be verbally effusive about his food, turned to me and said "Oh my God, this is the best chicken I have ever eaten in my life."
The chicken is slightly spicy, with a mild kick to it that picky eaters may not enjoy. It didn't stop my kids, my daughter simply picked the skin off (and Mike and I fought over it) and ate the white meat. I will note that the kids meals as shown below seem to have more heat to the chicken nuggets than the chicken does so next time we will just order here a chicken meal and pick the skin off (and fight over it again).
My boy, who is famous for his dislike of chicken had no qualms about plowing through his chicken.
You can order three pieces of chicken per order and we took 9 pieces to go and kept it in our hotel room fridge. It made the best breakfast the next morning!
I can't suggest enough that if you are in New Orleans you book some time and check out this amazing eatery. I am already craving a hot piece of crispy chicken and I've barely left New Orleans. How am I going to survive until we return? I mean seriously? It's like the crack of the fried chicken world.
So, anyone else tried Willie Mae's restaurant in New Orleans? What did you think?
Love,
Karlynn