You can all thank my sister Karami for this recipe – and introducing me to how amazing pumpkin is in chili. Pumpkin chili might just be one of my new favourite things. Yes, we all might be "over" the pumpkin craze now because it's November and technically we are moving on to bigger, more Christmas-y things. I must confess however that I am a pumpkin lover all year-long.
Sometimes it seems thanks to (wonderful) things like Pinterest and Facebook that we are besieged by everything in season and then…crickets. I honestly have started to tune out all of the pumpkin recipes that are all over the place come September and October. I want to eat pumpkin year round and not just when Starbucks releases their pumpkin spice latte and  we all go crazy for it.
Thus my writing up of a pumpkin chili recipe in mid-November. Man, I'm such a rebel.
The other reason that I'm writing this up is because I'm testing out the new Philips Hand Blender If you've been a long time reader of The Kitchen Magpie, you will know that I use my hand blender for almost every single soup that I make. The secret to an amazing soup, chili or stew is to puree a small amount of it at the end to thicken it up. I haven't bought a new hand blender in years and the one I have now works well, but this one is infinitely better. (Keep reading below to see what excited me the most about it!)
The Philips Hand Blender uses blending technology that has a triangular shape for optimal flow and blending performance, plus a 300W motor for best blending results.
Basically what that means is that it blends quickly, cleanly and efficiently. We used it at my sisters to blend up the chili in a rather small pot, without making a mess.  Remember that secret of mine : always blend in a small amount at the end of cooking and you'll have the best tasting chili/soup ever!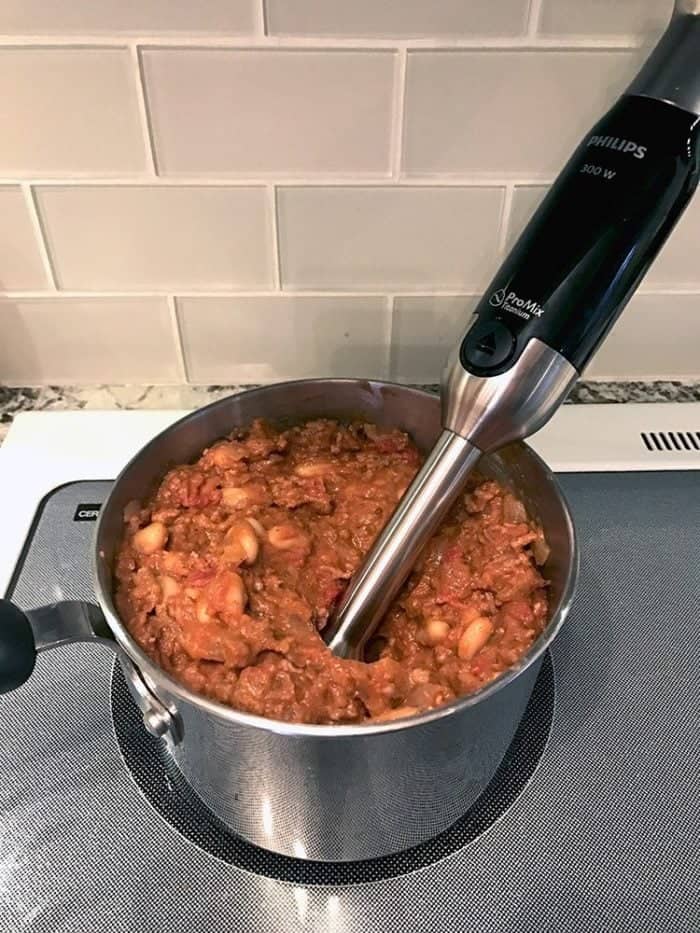 This chili is pretty darn fast to make and it's healthy to boot. You use a can of pumpkin puree ( not pie filling!) which helps to thicken it up and gives it a slight hint of pumpkin taste. You'd be surprised how it doesn't overpower the entire chili, it simply infuses a little flavour – and a lot of health benefits – into it.
Did I mention that we add in a little cinnamon as well? Don't be scared. It's ok.
A bit of cinnamon in this chili is simply wonderful. You may even want to add more! Think of how cinnamon is amazing in curries and you will understand how cinnamon in a chili is a very, very good thing. I would actually add more but I didn't want to scare my family off too much at first. Cinnamon in a chili is something that you almost mentally have to get over first.
So here's why I got a bit excited with my new Phillips Hand Blender. I LOVE the new anti-splash blade guard with its special wave shape, not just because it works well, but because it's SO EASY TO CLEAN. My older hand blender of a different maker has the absolute worst blade and guard to clean. It doesn't clean in the dishwasher properly because the guard is closer to the blade than this one is. The single button release is awesome as well, to take it apart and to put it together quickly. It's easy to hold, ergonomically shaped to my hand… I love it. That tin coated blade is also reliable and durable being 6 times harder than steel, so it stays sharp longer.
Look at how easy this is to clean out!

Who would have thought pumpkin was great in chili? Not Mike, that's for sure, yet he loved this chili. It's going to be a new favourite this winter!
Now, let's talk about a GIVEAWAY! Man, I love the holiday season where I get to test out all of these new appliances and YOU get a chance to win some fabulous things! This time around you guys have the chance to win:
(1) Phillips Hand Blender valued at $129.99
(1) Jamie Oliver apron in blue
(1) Wood & Marble Board

White Bean Pumpkin Chili & a Giveaway!
Ingredients
1.5

lbs

lean ground beef

1

large white onion diced

14

oz

pure pumpkin puree

14

ox diced tomatoes

19

ounce

white kidney beans

2

tbsp

chili powder

or to taste I use around 2 1/2

1 1/2

tsp

cumin

2

tsp

onion salt

1-2

tsp

cinnamon

extra salt and pepper to taste
Instructions
Fry ground beef and onions in the bottom of a large stock pot until the ground beef is brown and the onions are soft. Drain grease. ( or if you're like me, I keep some of the grease in for a little extra taste).

Mix in the pumpkin, tomatoes, beans and spices.

Simmer in the pot until the beans soften slightly. The longer you simmer, the more time the spices have to meld together.

At the very end, use your hand blender to puree a small amount in the pot, (maybe a cup) this thickens the chili and makes it amazing!!!
Nutrition Facts
White Bean Pumpkin Chili & a Giveaway!
Amount Per Serving (6 to 8)
Calories 0
* Percent Daily Values are based on a 2000 calorie diet.
While this post has been generously sponsored, all opinions and words remain my own.
0