This post may contain affiliate links. See my privacy policy for details.
Walt Disney Studios in Paris, France had me feeling like I was having an out-of-body Disney experience.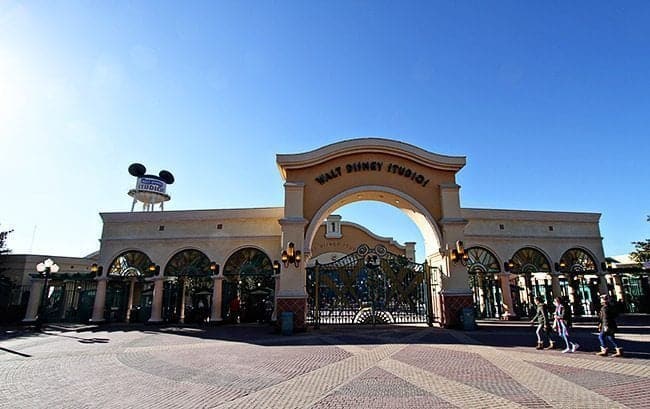 It's like being transported to an alternate California Adventure, but a much lesser version of itself. Walt Disney Studios is a small, somewhat slightly uninspiring park that draws the least amount of people out of ALL the Disney Parks Worldwide and I can see why. Not to say that I don't love everything Disney, because I really, really do, it just seems that this park is a very 1980's Universal Studio's type theme.
We went straight to the park our second day at Disneyland Paris to check it out and found ourselves looking at a very large line-up for some ride first thing in the morning. Being a seasoned Disney vet, I knew immediately that THIS was the ride that everyone came over for, just like the new Cars ride over in California Adventure is the one that people start lining up for early on.
I plunked myself right at the end of the line and convinced Mike that this was where we should be. It turns out that the ride is called Crush's Coaster and yes, it is THE ride to go on at Walt Disney Studios.
What started out as a 60 minute wait – and I was totally fine with that- ended up being closer to two hours. Oy. The ride broke down when we were thisclose to finally getting on it! Oh, was I ever glad that we didn't have the kids with us!
However, since they turned all the lights on, you can see what the little turtle shell coasters look like! Very adorable!
The ride itself I would describe as Space Mountain in a Turtle Shell. I LOVED it! It most certainly is the best ride over in Walt Disney Studios and if you have a chance, try it out!
Playland is an area very similar to the Bugs Land area in California Adventure except it's Toy Story themed. It's so similar that it's eerie, a lot of the rides are geared for younger children, it's small and has larger than life decorations all over the place.
Another view.
While I knew that the RC Racers would definitely make me ill, it totally looked like a fun ride to go on! The large "car" full of people zooms forwards and back on the little track.
The parachute drop is cute and my kids would love it, since they love the jellyfish in California Adventure as well.
The one thing missing is definitely Cars, but there are small snippets here and there (closed unfortunately) that remind you of Carsland. Yes, remember, off-season in Paris Disneyland means that things are closed, I will get to that later!
The popular Tower of Terror is also in Walt Disney Studios!
Stitch Live was something my daughter would have liked to see, but only once and then the magic is lost. It's cute and interactive, but the real test of a show is if you go back to it. If you have seen the Aladdin show in California Adventure, you will know what I mean. We see it every time we are in Anaheim, because it's a Broadway worthy show that is mixed up a bit to freshen up the show . We've now seen it four times and the kids still beg to see it!
So the show is cute, but in my opinion a large waste of space.
The Armageddon is a special effect show, which was closed. There is also a "back lot tram tour" which again, was closed. This was a common theme in this park, closed, closed and more closed. While Disneyland rotates their closures very efficiently, making sure that no two are really alike, Walt Disney Studios had the two more interesting special effects shows closed at the same time!
This was my least favorite of all Disney Parks and I'm sure it's because of all the special effects rides and shows. Those kind of shows are old hat by now and have been done for decades. No one really wants back lot tours anymore.
I think the best way to put it is that we don't want to see how the shows are made, we want to be immersed in them!
We want to feel like we are in the movies, not be shown how they are made. Special effects have some SO far that anyone with a computer and a few programs can hack out a little video at home, heck, teenagers are making better special effects now than were used in Armageddon!
So a whole park based on "studios" needs to be refreshed. From what I have seen the new Ratatouille ride (this summer) might be like the Cars ride in Disneyland and that means they are taking a step in the right direction!
We didn't get on the Rockin' Roller Coaster (set to Areosmith tunes) but I have read it's a good ride as well.
I would say that Walt Disney Studios is about 30% there. I LOVE California Adventure, I always have, because I find the mix of shows and rides make a stellar experience for our family. The shows in Walt Disney Studios needs to be updated or kiboshed and turned into rides. There are some fun rides, which were great, but you sense all this wasted space with the special effects places that no one wants to go to anymore.
So all in all, it was really neat to go and see it, because I am diehard Disney fan at heart so I will go anywhere and try anything once if it's Disney! I would hope there are plans in the works to refresh this park as it sorely needs to be brought up to date, but if you are visiting it's worth trying out with your multi-park pass for sure. The rides are good for little kids, Crush's Coaster is a must and the show's aren't THAT bad, just dated. However, you have to make the most of your time there and you'll have to weigh if you want to see special effects shows or go over to Disneyland on some better rides.
A very big plus that I forgot to mention is that I have never seen so many character greetings in a park! If you are looking for characters, then keep an eye on the main plaza when you walk in. There would be no less than 6-8 of them walking around at the same time and not just Minnie and Mickey, we saw Gaston, Mary Poppins and Burt, Toy Story characters galore and so many more! The line ups were also very small.
So since it's hard to wrap it all up in one post, ask me questions in the comments below and I will try to answer them!
Love,
Karlynn