This post may contain affiliate links. See my privacy policy for details.
Let's go back to this summer, shall we? As I sit upstairs in my house and look at the wet, clumpy snow that is slowly melting from a nice big dump of October snow, I'm already done with cold weather.
At the end of my adventure in Victoria BC, my friend Kandice and I decided to take a slight detour on the way home and pop by Davison Orchards in Vernon, BC. I had met two of the Davison family members a couple of years ago at Christmas in November, Leah and Tamra and had been wanting to make a trip to see their beautiful BC Orchards for a while now.
We were at the orchards bright and early, stomachs rumbling in anticipation. Davison Orchards has a delightful cafe that is located in the original farmhouse and yes, you guess it, it used to be Auntie May's house. It's a lovely little bungalow turned restaurant.
Now the house is a cafe that is a bustling hub of delicious grub, serving up everything from breakfast to lunch, with pie being an acceptable choice for any meal that you want. Really, is there any time of day that pie isn't an acceptable meal?
Take one guess what I ate for breakfast. P-I-E. Along with a bottle of their famous apple juice.
Can we talk about their apple juice for a moment?
The apple juice from Davison Orchards is most likely the best apple juice that you are ever going to taste. They start with the best apples straight off of their trees. The prettiest apples head to the market of course, then the ones with slight imperfections head to pies and the juicer! There are at least 5 varieties blended together to make these delicious jugs of apple juice and the coolest thing is that each 4L jug has the nutrition & vitamins of 25 apples! That's due to no water being added to the juice, just pure, BC grown apple goodness!
Have a read about the whole process here, it's so cool!
Not to be a light eater in the mornings, I decided that I also needed to try their breakfast sandwich, which was totally healthy because = apple slice on top. Which is absolutely something that you all need to be adding to your homemade breakfast sandwiches. Hello, deliciousness!
With full stomachs and happy grins on our faces, we headed out to take a tour of the orchards. While the day was rainy our spirits weren't dampened in the slightest. (see what I did there? I'm so witty.) We were taken out on our own private golf cart tour of the orchards since it was too muddy to take out the usual tractor tours would make too much of a mess.

Usually these tractors – along with more of these adorable little carts behind them- are what you will travel through the orchards on, but you can see how the big tires would make the path mucky!

This Alberta girl has always been infatuated with orchards. Being an avid gardener has only made my yearning to be able to grow peaches stronger. Look at how delicious that peach looks! Oh, while I do love being able to grow apples here on the Prairies, I would love to live somewhere that I could grow these fruity delights as well.
I really, really wish that I could grow peaches here. They are my favourite fruit, bar none.
Plums, anyone?
We can grow a few varieties in Edmonton, but nothing like these!
After an amazing tour of the orchards it was time to SHOP!

Mmmm, bakery, you say? Don't mind if I do!
There is no pie like a fresh peach pie, in my opinion, so you can guess what I took home with me.
The store at Davison Orchards is a mecca of culinary delights. From their own crockpot sauces to delicious fruit butters, cookbooks and kitchen gadgets, I was like a kid in a candy store. Their gift shop is one of the most thoughtfully curated that I have come across. The orchards make their own fudge, savoury salsas and their own line of caramel apples!

This area, right here.
Their jams are fantastic and the peach butter? It's like eating peach pie filling from a jar. And I've eaten mine from the jar without even bothering to put it on toast. Really, why bother with the extra fuss of toast? Just eat it like pudding.

I might have bought a ton of fruit and goodies, only to be topped off with Leah gifting me all sorts of extra goodies as well. I'd like to point out that I'm really the best mom ever bringing home this trunk full of treats to my kids and husband after vacation.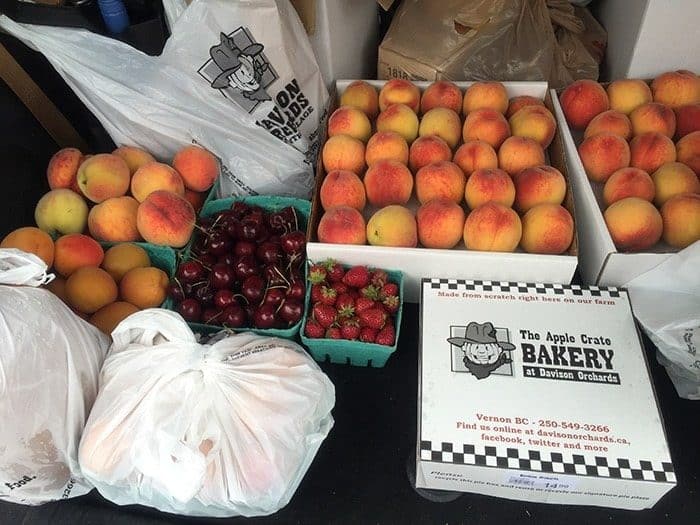 While this was a quick little morning stop-in to the orchards this trip, I am going to try and head back to Vernon sometime this year and check out all the family fun that there is to have in the area. Yes, that means a vacation with the kids too, but in the very short time I was in Vernon I had compiled a list of things I want to go back for.
Happy Travels everyone!
Love,
Karlynn