This post may contain affiliate links. See my privacy policy for details.
Oh, San Francisco I do love thee. Your beautiful waterfront, your hip vibe, your famous restaurants…how can you not leave your heart here when you have to go home?
I also love thee more when I don't have my kids with me. Sorry kids, but San Fran is a whole new ball game when Mama has some time alone.
I've been to San Francisco twice before, but always with the kids. Don't get me wrong, it is one of the best family vacations that we have ever taken. There is the California Academy of Sciences, the Pier and so much more for families to do that you could happily spend time there with the littles.
However this trip without kids let Mike and I eat wherever we wanted…when we wanted..hit whichever bars we wanted..sleep when we wanted. While we did have three days of work meetings while we were there as well, we had 4 glorious free days to do whatever we wanted in San Fran.
I wanted to visit Bar Tartine.
Bar Tartine is a famous for its innovative, multi-layered-taste creations. Their dishes are so complex and deep in flavor, mainly because they make everything from scratch. The bread from scratch, their own sauces, spices and dried herbs, everything in done in-house.
We made reservations for brunch (highly recommended, the line up was crazy long at opening and I was glad that we had reserved seats) and were seated at the front window when I asked if we could.
For the natural lighting, of course, so I could take the best pictures for you all!
A strong coffee started Mike out for the day, while I had the Beet Mimosa. Tangy, earthy and bright, it suited the chilly,cloudy San Francisco morning perfectly.
We ordered the first four items, sliced bread, Kefor butter, Liptauer cheese dip and the fruit preserves to start us out. We had made sure not to eat a thing that morning so we could try as much as possible by the time they opened for brunch at 11. These alone would have been a spectacular brunch. The cheese dip was hands down our favorite part of this, followed by the Polenta Porridge Bread. When you put them together? A culinary masterpiece.
The moment my eyes scoured the menu and lit upon the chicken liver pate and egg open-faced sprouted rye bread sandwich, I knew two things. One, it would be mine. Two, it would be mine alone because Mike doesn't enjoy liver in any form.
Spectacular. This sent shivers down my spine with how brilliant they are with their flavors. The rich chicken liver flavor was cut perfectly with a tang of what I assume is an in-house mustard. When you added in that bite of yolky egg, you see how important that mustard really is. Without that acidity, it's far too much, however with it, you have the perfect combination.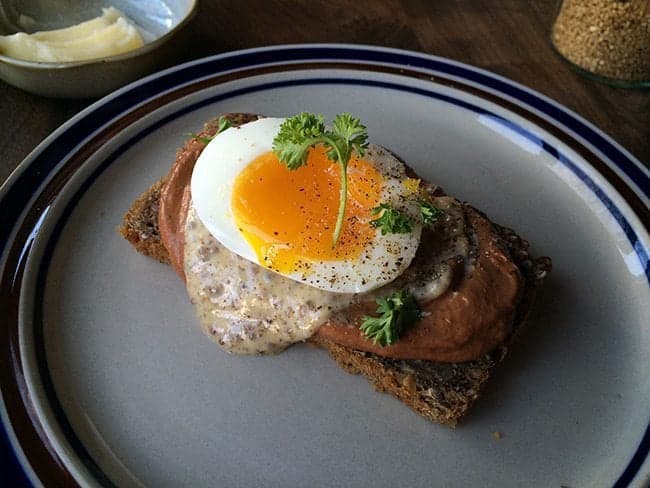 We then proceeded to the shared plate that we had ordered, the Braised Bacon with stewed beets, mushrooms and poached egg. The bacon intrigued us, at first bite it seemed too chewy, but the more you proceeded to chew, the better it became.
Knowing that it was our first time visiting, the kitchen at Bar Tartine sent out a dish for us to try, for which I send in return thanks beyond measure. We skipped over this dish on the menu, I am embarrassed to say that it never really crossed my radar when I looked at it.
Sprouted lentil croquettes with coriander and kefir. Sure, it sounds good but it wasn't something I would have chosen.
That first bite I took of this dish was one of THE BITES, those bites of food that will stay with you forever and you will always remember. There aren't many of those in a person's life, but I'll bet you have some yourself.
Light as air (unexpected) with the spices dancing on your tongue just slightly, tempered by the kefir and the beets.
One of the best things I have ever eaten. Period. I wish I had remembered to take a picture of the inside for you but alas, we were seriously swooning in delight and I forgot everything else.

A gorgeous repast.
There are two things I suggest you take home with you from Bar Tartine.
First, a loaf of the Polenta Porridge Bread. This is something not to be missed. We took this back to our hotel room and ate it with butter for two days. It was glorious.
Second, a copy of any of their books, which are signed if you buy them at Bar Tartine. I picked up their newest book, which just won the Chefs & Restaurants Category in the International Association of Culinary Professionals 2015 Food Writing Awards AND it's up for a James Beard award!
One word of warning, we did order the cheesecake (top right below) and it's NOT a sweet cheesecake. I didn't even think of asking as it was listed under desserts, but don't order it expecting sweetness.
The best part of this whole trip? I picked up another signed copy for one lucky reader to win! Oh, it's gorgeous and divine and it has the recipes for those amazing sprouted lentils.
This book is hours upon hours of reading, of gloriously immersing yourself into the techniques they use at Bar Tartine. Spices, sauces and oh so much more. This is a food lovers dream come true. You will never look at food the same way again after reading this cookbook, I guarantee it.
Have you ever eaten there? What did you think?
Good luck everyone! Enter the contest below!
Love,
Karlynn