These Ukrainian Style Cream Dill Potatoes are a family classic, a tried and true Ukrainian dish that was served at many a supper at my grandma's. This is probably one of my favourite dishes from my childhood!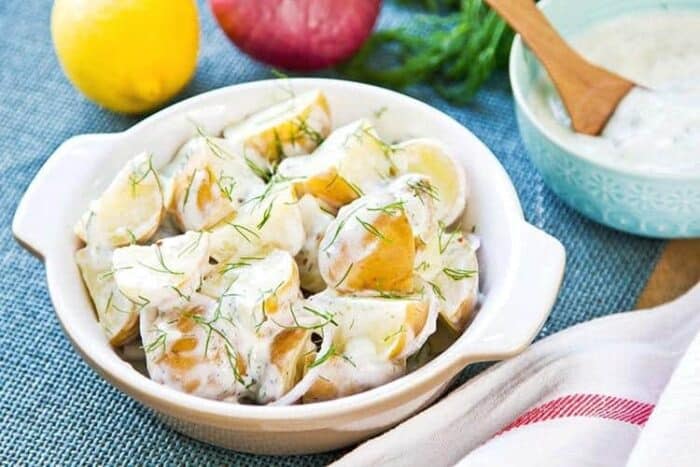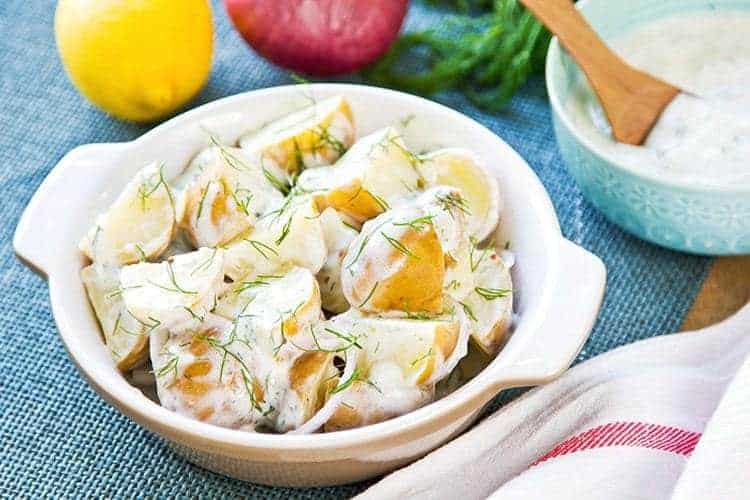 Ukrainian Style Cream Dill Potatoes are easy, simple & delicious.
 Yes, there are tons of people that also make cream dill potatoes, but for some reason I always call them Ukrainian potatoes. It's just my thing. We are Ukrainian so I called these Ukrainian potatoes. These are one of the dishes from my childhood that I remember the most fondly, as my Grandma Marion would make these non-stop through the potato growing season. She would carefully dig up new potatoes, leaving some to grow to larger potatoes of course and then make these for dinner.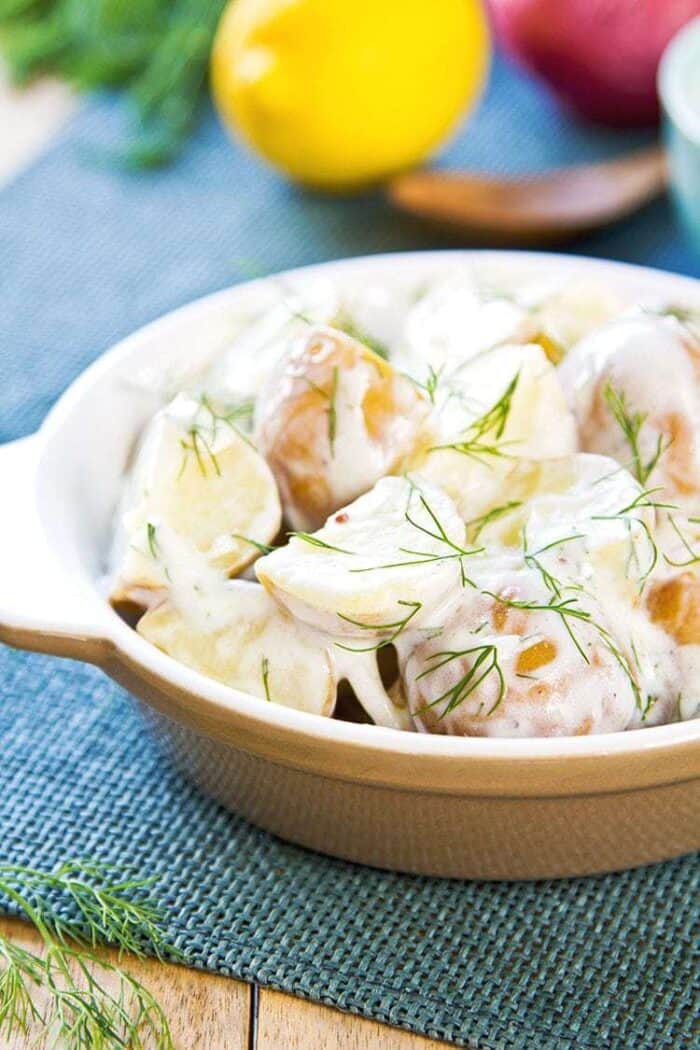 Ukrainian Style Creamy Dill Potatoes Recipe Tips & Tricks
This dish is the best with potatoes that are brand new from your garden. The little potatoes that you can buy in the stores will also work and yes, if you really have to you can use full size potatoes.
The type of potato doesn't really matter, as we use baby red and baby russet potatoes whenever they are ready in the spring. Red potatoes will be more toothy and russet or gold will fall apart. Both are equally delicious!
Fresh dill is the best and it will be ready the same time your new potatoes are if you plant early in the spring.
Cream dill potatoes are pretty much the first thing that I make every year when the garden starts producing those little carb bundles of joy, new potatoes! Oh there is nothing like new potatoes in the summer! And making the into cream dill potatoes? Even better!
Who's looking forward to new potatoes in their gardens? I can't wait!
Love
Karlynn

Ukrainian Style Creamed Dill Potatoes
Ukrainian Style Creamed Dill Potatoes are perfect for your summer garden NEW potatoes!
6-8 cups of new potatoes (washed, sliced and cleaned)
2 tbsp  salted butter
1/3- 1/2 cup of whipping  cream
1/2 cup chopped chives
2-3 tbsp fresh dill
Put the potatoes in a pot, fill with water to cover and boil them until they are just soft. This part is important. You will have to cook these further in the cream, so make sure you cook them just to softness, no further.
Drain the perfectly cooked potatoes and put them back into the pot.
Add the butter and place the pot back on the burner.
Add in the cream and cook the potatoes, simmering the cream until it reduces down.
Toss in the chives and the dill, then serve!
This is the best with new potatoes straight from the garden!
10