This post may contain affiliate links. See my privacy policy for details.
Easter, or "Velykden" (Great Day) in Ukraine, is the second biggest – or the very biggest, depending on who you ask- holiday for Orthodox Ukrainians. As the war on Ukraine reaches a terrible milestone of raging on for a year since Russia invaded Ukraine, Aimée from Simple Bites approached me asking if I would like to participate in sharing some recipes from her and another Ukrainian Canadian blogger, Ashley from The Recipe Rebel, to bring the war and donation efforts to the forefront off everyone's minds again today, and of course, shine a light on the delicious cuisine that comes from our mutual heritage.
To read how our Canadian government is helping, you can visit this page and learn of the military efforts that are happening.
Ways You Can Help
BEFORE we get to the food, here's a brief list of some of the legitimate relief efforts for the people of Ukraine that you can contribute to.
Easter Recipes
Besides Christmas, which you all know is my favorite holiday of all, Easter is the second largest celebration for my family and me, and a large part of it is definitely traditional Ukrainian recipes. Here are a few recipes to inspire you this Easter.
Babka
No, it's not Paska and I am delighted to share an actual Paska recipe below this one from Aimee! This recipe is for Babka, a saffron-colored, raisin-loaded, rich egg dough that is baked into tins.
Get my Babka recipe!
Table of Contents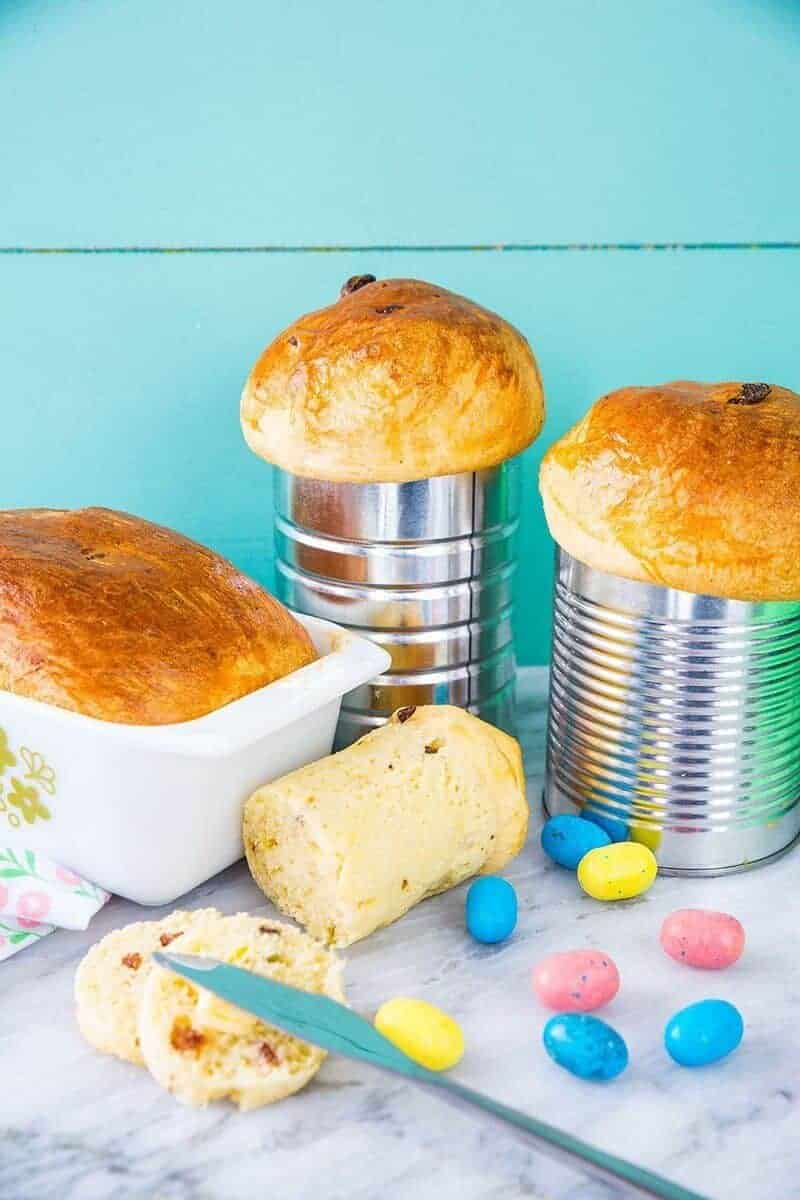 Paska
This Paska recipe is a rich potato dough, with an orange zest glaze that is traditionally baked into braids (you can read how Aimee's grandma used to make it) and also baked in tins as well. This is a very different bread from Babka, though the names are interchanged often.
Get Aimée's Paska Recipe
Homemade Dinner Buns
Ashley's Mom's homemade dinner buns are the perfect side for your Easter dinner. Nothing beats homemade dinner rolls, and they are incredible easy to make.
Get Ashley's Homemade Buns recipe.
Borscht
Aimée has a delicious Vegan Borscht recipe, and my Borscht uses beef broth, the choice is up to you!
Cabbage Roll Soup
Much easier than making traditional cabbage rolls, you can also make a cabbage roll soup as a side dish as well.
Perogies and Sausage Skillet
This meal from Ashley looks delicious and uses the most famous of all Ukrainian foods, the perogy!
Get Ashely's Perogies and Sausage Skillet recipe
Garlic Bread and Baked Brie
This recipe is inspired by pampushky, which in our family is a sweet prune-filled doughnut, but this savory version is a garlic and brie lovers' delight!
Get Aimée's Garlic Bread Pampushky recipe
I hope that you enjoy these new recipes from my fellow Canadian Ukrainian bloggers, and keep the people in Ukraine in our hearts and thoughts, as we are all hoping for a peaceful resolution soon.
Love,
Karlynn