This post may contain affiliate links. See my privacy policy for details.
So, what does any good wife do for her fabulous husband on their 12 anniversary?
Why, she takes him to the grand opening of a frozen yogurt shop at her favorite mall.
Yes indeed, the opening for the new Tutti Frutti in Edmonton fell on our anniversary and since we had no plans to celebrate the big day, we packed up the kids and headed out to the event. Now when I say no "plans" , I meant fun ,celebratory ones. Oh, we sure had plans. Finishing the fence and the entire front landscaping kinda plans, but those aren't exactly how you celebrate 12 years of marriage.
Southgate Mall is one of my favorites because it has two of the stores I find I cannot live without: Crate & Barrel and Sephora. I do find myself at that mall quite often to get my fix of those two stores and I can see myself stopping by for a frozen yogurt at Tutti Frutti while I am there.
The decor was the first thing I noticed: fabulous.
Oh I love me some orange and turquoise. I want those chairs for my house.
I love the self-serve style and this is probably the main reason I would stop by over any other yogurt place.
First, you peruse the selection of frozen yogurt….and making a decision is harder than you think. The orange cream was one of my top three favorite flavors, it tasted exactly like an orange float, without all the fat content. The banana was lovely and the Taro was surprisingly divine as well.
Once you have your frozen yogurt, it's time to head to the self-serve toppings.
The vast array of deliciousness is almost overwhelming, but I have faith in you. You can do it. You can make a decision.
I made quite a few decisions my first whirl around.
Chocolate with mini cookies and cookie crumbs = yes, please.
Blueberry with fresh strawberries= feeling the healthy yet tasty vibe
Salted caramel with Skor bits – my #1 pick of the day. The salted caramel is the best frozen yogurt I've ever tried and paired with Skor bits? Killer.
The kids went straight for chocolate and every sprinkle they could find.
Let's not forget all the chocolate candies as well. Lucky kids having a food blogger Mama. They've been spoiled this summer!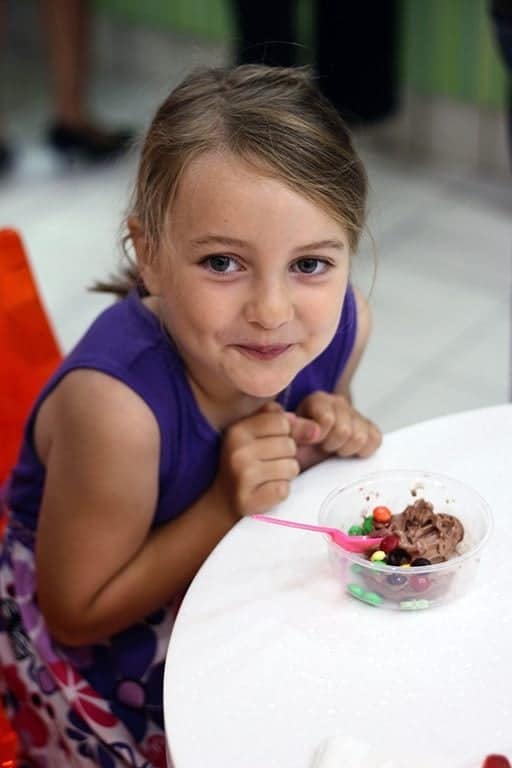 Speaking of lucky kids, I had a lovely conversation with the franchisee of this location, Gene Yong, about his new venture and taking on Tutti Frutti. Turns out he has adorable children of his own who are in seventh heaven thanks to Dad. Not only do they get to help out around the shop, there's also edible bonuses to help Dad out at work!
The location of this store is perfect; even writing up this post I have been perusing in the back of my mind if I need to run to Sephora or Crate & Barrel….and pick up some Tuti Frutti on the side. Southgate is my favorite mall in the south and now having a Tutti Frutti there simply upped the awesome ante.
I'd like to thank the Tutti Frutti team for having my whole family there, for sending home a lovely bag with a VIP card and a gift card for us to enjoy some more treats from Tutti Frutti and enjoy we shall!
Love,
Really. You Gotta Try It Magpie