This post may contain affiliate links. See my privacy policy for details.
The second invitation I accepted while attending Blog Her Food '12 a few weeks ago came from Tree Top Inc. The company was taking a small group of food bloggers to famous Lake Chelan in Washington to enjoy an orchard tour. Following the tour would be a wine tasting of regional wines, an orchard to table dinner and a night spent at Campbell's resort in Lake Chelan.
You had me at "night away from the kids with adults and wine after 4 straight weeks of travelling through the States".
Granted, the invitation didn't exactly word it that way, but you can surely see how I spun my own interpretation. Luckily my Dad was travelling along with us and stayed back at the Fairmont Olympic to watch the kids , so I gleefully accepted.
Sunday morning we took off from the hotel stopping along the way in the adorable town of Leavenworth which reminded me so heavily of Banff, Alberta that I felt at home immediately. Katie from Epicurean Mom and I wandered around town, picking up little toys for our kids at home.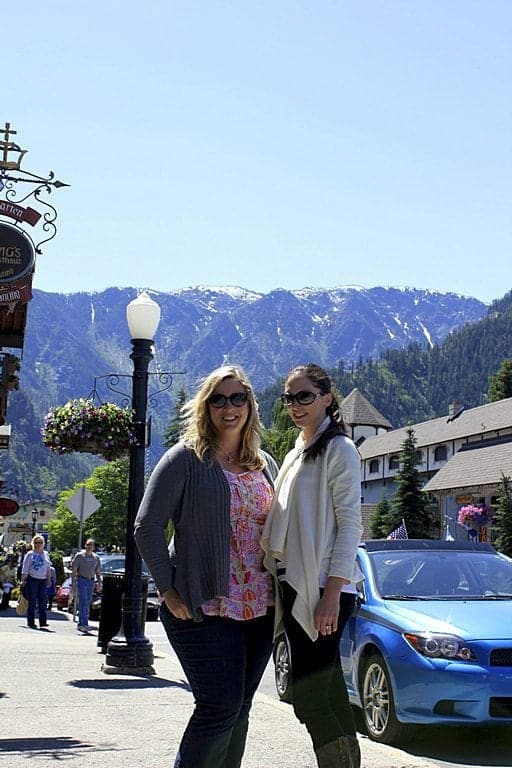 We settled into our rooms at Campbell's Resort and had some time to ourselves to nap, relax, read, whatever we decided to do.
I spent most of the time enjoying the view from my room. How incredibly beautiful is this? Lake Chelan is now on my list of places to go back and enjoy with the family and Campbell's resort had perfect rooms for a family, large with lots of seating and sleeping room.
After we were refreshed, it was time to head out on the orchard tour. We had a great time learning about the processes behind harvest, growing and tending of the orchard and I managed to sneak in a few questions of my own about apple tree care.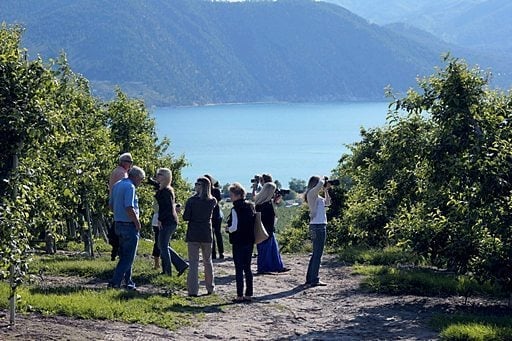 The view was astounding and this little snippet of Washington is known for producing the best apples around.
After the orchard tour it was time for the travelling circus to get on its way.
We paused at the winery to have a group picture taken so I present, in no particular order, the motley crew that we were:
The Epicurean Mom (Katie), Kevin and Amanda (Amanda), Reluctant Entertainer (Sandy), Food for my Family (Shaina), Kim Sunee, The Healthy Apple (Amie), The Novice Chef (Jessica), Picky Palate (Jenny), Mom Start (Louise) and Mommie Cooks (Julie).
The view from Benson Vineyards Estate Winery was one of the most spectacular I've enjoyed in a while. I was truly excited to experience an "orchard to table" dinner, since living here in Edmonton, Alberta it's not something I get to participate in regularly. Farm to table, yes, but there seems to be a lack of orchards in our subzero winter climate and those that we have aren't participating in this area. Yet.
Just when you thought you had found the most beautiful view, you turned around to find another presenting itself to you.
We were escorted into the winery to find a virtual feast of appetizers awaiting us.
I really wish I had taken pictures of the action. What happens when 11 food bloggers enter a room full of beautifully presented food?
We swarm it with our cameras.
La, we must have been a sight to behold!
No one touched the food.
No one stood in front of the window blocking the amazing natural light streaming through.
All you heard was the "click"…."click"…."click" of camera shutters going mile a minute.
How could we not when everything was so gorgeous?
When our cameras were full of shots of the gorgeous food it was time to move on to the wine tasting and feast upon the appetizers.
After some lovely socializing it was time to move downstairs in the winery for our dinner.
We enjoyed the scenery while chatting, waiting for our amazing meal to arrive.
The table setting was gorgeous and set a great tone for the evening. Simple, natural yet luxe.
We started with a strawberry apple cold soup, which was beautifully done and I would love to recreate at home.
The rest of the menu was equally as good, with delight after delight appearing before us, paired with perfect wines.
After our ravenous travelling appetites were replete, it was time to head back to the resort. All of us tired ladies tumbled into our respective beds, slipping into blissful slumber until the morning, when we loaded up our gear and started the drive back to Seattle.
I'd like to thank Tree Top Inc for such a lovely trip, especially since the topic of orchards and growing food is one I am avidly interested in. It was lovely meeting so many different food bloggers ,Tree Top and Zeno Group employees and the trip is one I will remember for a long time!
Love,
The Still Waiting To Plant My Own Apple Tree Magpie