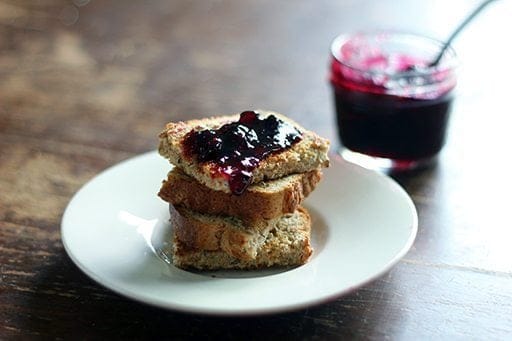 Nothing is more traditional on the prairies than a jam recipe from the Atco Blue Flame Kitchen. For decades now and indeed, for generations of home cooks, Atco recipes have been the go to for many a prairie cook.
The Saskatoon jam recipe is no exception. It's basic, it's easy and it works.
Traditional Saskatoon Berry Jam
The Atco Saskatoon jam recipe is simple, quick and tasty!
Ingredients
4

cups

saskatoons 1 L

3

cups

sugar 750 mL

1/4

cup

water 50 mL

Juice and grated peel of 1/2 lemon
Instructions
Crush the saskatoons in a Dutch oven or a large heavy sauce pan. I like to leave some closer to whole than completely crushed to give the jam a little bit of chewy texture. Heat the berries on a medium heat until the juice starts to seep from them.

Add in the sugar and the water and bring to a boil making sure to stir constantly. Once you have brought it to a boil, add in the lemon juice and the lemon peel. Bring to a boil again and cook, stirring frequently until thick, about 15 minutes.

Pour into hot sterilized jars, leaving 1/4 inch (6 mm) headspace. Wipe jar rims thoroughly. Seal and process in a boiling water bath for 10 minutes. Makes about 3 cups (750 mL).
Nutrition Facts
Traditional Saskatoon Berry Jam
Amount Per Serving
Calories 891
% Daily Value*
Sodium 5mg 0%
Potassium 176mg 5%
Total Carbohydrates 230g 77%
Protein 1g 2%
* Percent Daily Values are based on a 2000 calorie diet.
The jam wasn't my original recipe for today but since I don't have one on my website yet, I decided I most certainly was going to publish it as well. The jam recipe makes for a two for one recipe deal, later tonight I am making a dessert using Saskatoon jam. I may or may not get the post up today, but that means that tomorrow or Saturday there is going to be an extra recipe for everyone!
Again today we are going to head out and see what joys we can find in the Edmonton river valley, do some geocaching and try to not get rained on. The rain is so bad this week that we get in our outdoor time about 1 1/2 hours at a time. We quickly did two geocaches yesterday near our house and then barely missed getting drenched in the rain that seemed to come out of nowhere.
I hope everyone is having a fabulous week and is getting out between the rain drops somehow!
Love,
I'd Really Like Some Sun This Summer Magpie
12