This post may contain affiliate links. See my privacy policy for details.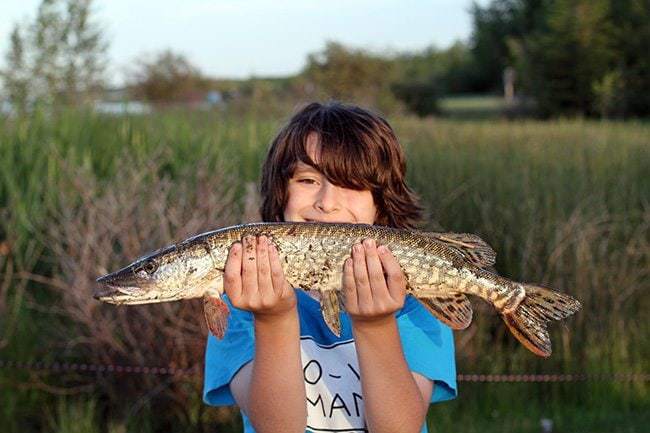 I love Northern Pike. This toothy monster – derided by legions of fishermen- holds a special spot in my heart. Names such as "slough sharks". "gators" and "snot rockets" (which I fondly have adopted as a nickname for them now) follow the Northern Pike wherever it goes, adding to what I consider a hugely undeserved reputation.
Yes, they are fierce, scarf almost anything down to the point where sometimes you wonder if they are so stupid they'd bite a stick if you threw it on the end of your line and there most certainly is that Northern Pike slime.
Oh, the slime, there's simply nothing like it. Snot Rocket is an appropriate nickname, to be sure.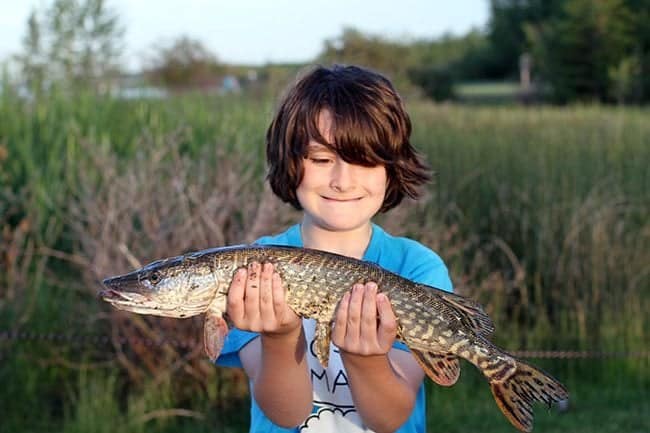 While not "trash fish" as some other species are labelled, the Northern Pike just doesn't have the reputation that other fish have, such as walleyes or trout. I assume this is because they are easier to catch most times and aren't considered as good to eat as those other fish.
We tend to forget as adults however, that a certain subset of fisherman have no patience, can't sit still long and need constant entertainment. (No ladies, I'm not talking about our husbands).
Jackfish (yet another nickname for the Northern Pike) are the perfect fish for kids.
My son caught his very first, completely un-aided jack this summer and was the proudest kid I've ever seen.
There is nothing like your first Northern Pike.
I think as adults we also forget that first time you laid eyes on a Northern Pike at the end of your line.
The vision of your line running taut into water you can't see into, with some yet to be determined fish on the end of it fighting you every step of the way. The shiver of anticipation – and slight fear- at the thought that you have to haul something out of the dark depths of the lake…without knowing what it is.
You're anxiously reeling it in, praying in your mind that it doesn't come off…concentrating on everything Mom and Dad are telling you…rod tip up……keep constant pressure….don't force it….oh, the pressure for such a little person.
Then a fin breaks the water and you see a swirl of a strong muscled body.Moments later when a huge, spotted beauty breaks the surface, you're allowed a glimpse of your first real lake monster and horror mingles with excitement as you think "I swim in the water with these?"
When you real it in further, you see where you've hooked it…and your eyes widen at the sight of the largest, toothiest fish maw you've ever seen.
That's about when you start worrying about how you'll get the hook out, but luckily Mom and Dad are there to get bitten help.
By the time you get it out of the water, you can't stop looking at it and smiling. Showing it off to younger relatives, reliving the experience of hauling in your first real big fish all by yourself.
Then it's time to release him back to the lake, learning the most important thing about fishing: Follow the rules.
Mom tells you that he's too little, that there is a size limit for the lake and that he has to go back to be caught another day.
You're briefly sad, then realize that you can help let him go on his fishy little way.
Mom snaps a picture, but then you decide you need to get into the water and help him go back home. You hop in, take over from your Auntie and help your catch on his way home.
Mr Northern Pike rests for a few brief moments, then with a snap of his powerful tail has bolted from your hands and into the watery depths from whence he came.
I'm always thankful for jackfish that entertain young children, that give them the thrill of their summer and heck, give me the thrill of my summer. I never get tired of hauling a Northern Pike up and out of the lake. I love the small ones that try to eat lures that are half their size. I love the big ones that break the line and make me curse the fact that I didn't have a leader on my line. I love the huge ones I manage to pull in.
I also love the photo bomb by my nephew in this picture, does that not just sum up what kids think of these lake monsters? The look on his face…. "What the devil is THAT?" fits the situation perfectly.
I suspect that if he put two and two together and realized he swam in the same lake as these, he might not swim again next year. In fact, I don't think any of my children have put that together yet.
I've put two and two together, however.
I have issues swimming in lakes. I get creeped out sometimes, especially in weedy areas.
I've seen the big fish that swim in there. Shudder.
Thanks to Jaws and endless other horror movies, my mind is always in "creepy mode" overdrive.
Other than my fear of weedy lake swimming – I actually will physically cringe and scream internally when I'm swimming and a weed touches me- I'm good with lakes.
Anyone else have this fear? You think of the creepy crawlies beneath you?
Tell me I'm not the only freakazoid…
Love,
Karlynn