This post may contain affiliate links. See my privacy policy for details.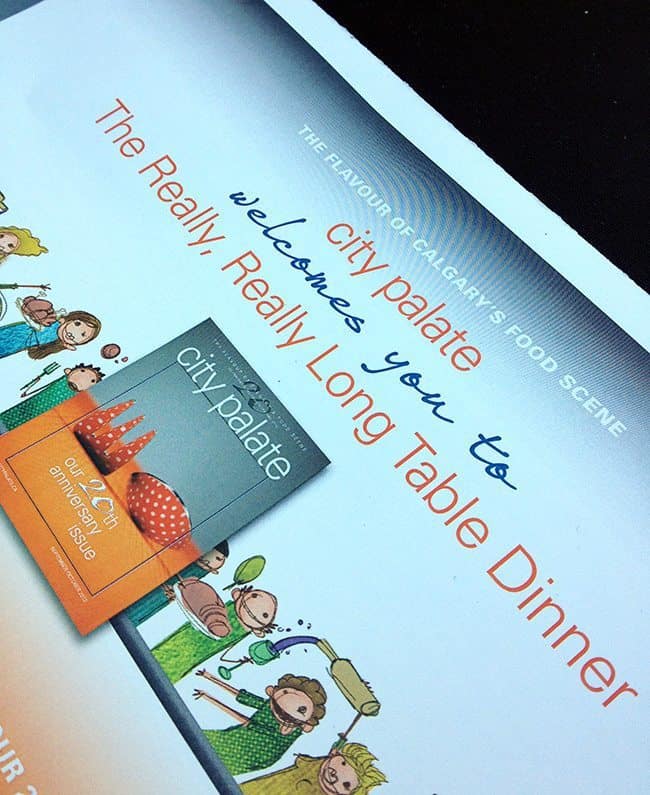 Last Monday saw the dinner of all dinners happen on Stephen Avenue in Calgary, Alberta. The Really, Really Long Table Dinner is one of the "20 of 20" events going on to celebrate the 20th anniversary of The City Palate magazine .
Blink, Catch & The Oyster Bar, Charcut, Divino, Teatro, The Belvedere, The Cellar and Trib Steakhouse all came together to serve seven dishes, with the ticket proceeds going towards the Red Cross Flood Relief Fund.
We knew that of course, the table was going to be really, really long, but until you get there it's hard to imagine the length of a table that seated 240 guests that evening. It spanned the length of Stephen Avenue, white table cloths fluttering in the breeze, wine glasses and champagne flutes glinting in the sunlight, waiting to be filled with the libations of the evening.
I was delighted to attend with Valerie of A Canadian Foodie, and was even more delighted to find other fellow Edmontonians at the event as well.
Kevin Kossowan was there in the capacity of his busy film production company, Story Chaser, recording the evening's events.
Valerie, Liane Faulder  from the Edmonton journal and myself rounded out the Edmonton Food people attending.
As the pre-dinner chatting wound up and the plates of the first course started arriving, we seated ourselves at the table, eagerly awaiting the delights that had been created for us this evening.
I glanced up and over the heads of my dining companions only to see the most quintessential Calgary view one could ever hope for, the Calgary Tower magnificently presiding over us for the evening.
Could the setting have been more perfect or a better representation of Calgary? I think not.
We  pulled out our menus to see what culinary delights would be bestowed upon us, eagerly scanning the lines of text to see what was coming our way.
Our taste buds were tantalized with fresh oysters from Catch & The Oyster bar, with their house-made mignonettes (a sauce of vinegar and shallots, typically used for oysters). Eaten out of the shell sans utensils, you simply let the loosened oyster and juice slip straight out of its shell into your mouth.
To start a meal with an appetizer that has you straying from conventional table manners is the single best way to start your dinnertime conversation. Whether this was planned or not, I find that a fun appetizer such as this loosens up a table of strangers as they join together in a conversation about hands-on or utensils, so kudos on a great choice.
Not to be outdone, Charcut shone with  their Pig's Head Mortadella and Bison Heart Kielbasa paired with Brassica Mustard.
A four piece band strolled up and down the avenue, playing tunes for us as we ate, tossing jokes here and there, enlivening the atmosphere perfectly.
My favorite course of the evening was Trib Steakhouses's Elk Wellington, with foie gras (in place of the traditional duxelle) and dried cherries. The parsnip apple puree topped it off perfectly with the savoury sweetness of the dish combining in one culinary masterpiece.
I shamelessly ate the other half of Valeries. This was one of the best dishes I have had all year and shall live in my memory until I can recreate it.
Blink served up perfectly seared B.C. Albacore tuna with parmesan polenta like none other. The vegetable ratatouille was perfect, but the winner of this dish was the polenta, with Valerie stating it's some of the best she's ever had, high praise indeed.
Of course, this was an Alberta dinner and with that comes the knowledge that at least one dish would be Alberta beef, rib eye, to be precise. Paired with potato lorettes (an entirely new food to me) this hearty course shone with earthy flavor.
For those who are curious, the potato lorettes are made by combining eggy choux pastry dough (cream puff pastry)  with buttery mashed potatoes then deep-fried to perfection. I will most certainly be attempting these at home, and soon!
Words cannot describe the luxe, potato air-puff delights that these were. To sop up an au jus with these would bring together everything good in the beef world.
As the evening grew longer the sunlight grew shorter, bathing us at one point in a golden glow of perfect fall weather as the sun set over the majestic Rockies just a short drive away from where we ate.
That majestic Calgary tower was now lit up over our heads, a beacon in the sky to remind us of where we were.
With the ending of the sixth course, the sky had grown very dark. Jackets and sweaters were donned. We were deep into the dinner at this point, which seemed like fleeting minutes rather than the actual couple of  hours that it was.
The tables were alive with avid conversations, with people who had met a mere two hours earlier now conversing together as if they had known each other all their lives. Laughter and shouts echoed through the avenue, bouncing off the walls of the darkened shops.
By the time dessert rolled around, new friends had been made. Tales of parenting, food adventures, travel and more had been shared by all, with contact information flying around with the promise to keep in touch.
A huge round of applause to the City Palate for the work that must have done into planning this tremendously successful event. To showcase the culinary talents of Calgary in this beautiful downtown setting must have been such a labor of love and it was perfectly executed.
I'd like to thank the City Palate for having me as their guest, what a fabulous experience it was. I so rarely get out to Calgary events that this was a treat beyond measure for me. This has merely served to whet my interest in the Calgary food scene even more and I can't want to delve further into discovering the culinary talents that lie a mere two and a half hours away from my front door!
Karlynn