Cinderella, your glass pumpkin carriage has arrived! Full of every home decorating wonder you could imagine, Edmonton finally has its own Pottery Barn.
Now those of you who are long time readers are familiar with the fact that though I am comfortable in the kitchen – very much so- sometimes home decor escapes me. There have been many times I've asked you, my readers, to help ol' Magpie out when it comes to color choices.
Do you remember when I was building our new house? The ranting & raving over yellow paint, tiles, hardwood…how completely overwhelmed I was? (I enjoy how I said *I* was building our new house. With my own two hands, I did.)
When it comes to home decor, I love shopping, of course, but putting it all together has never been something I am good at. I have friends who set the most beautiful tables and I am always jealous.
Stores like the Pottery Barn save me.
It's all laid out for you as soon as you walk in. The displays are amazing
The gift centre was the absolute cutest thing I've seen in a while.
This is just the beginning of the gift centre, soon this area will be filled with stocking stuffers, hostess gifts and more! I'll send my husband in this direction come Christmas time, I'm sure he will find little gifts begging to be given.
To me.
The salt and pepper squirrel and acorn set is cute enough to make you squeal.
Owls are completely in this Fall and the store has more owls than you can shake a barn at.
These white owl plates are adorable.
Their wooden counterparts are equal in the cute factor department.
Pottery Barn has stuck with their same line of classic towels and there is a wall of gorgeous Turkish cotton towels, all Oeko-Tex certified, meaning ecologically safe textiles and made in Turkey.
Their line of timer operated flameless candles are amazing for parents or pet owners who worry about open flame. These are going to be in my house for Christmas, guaranteed.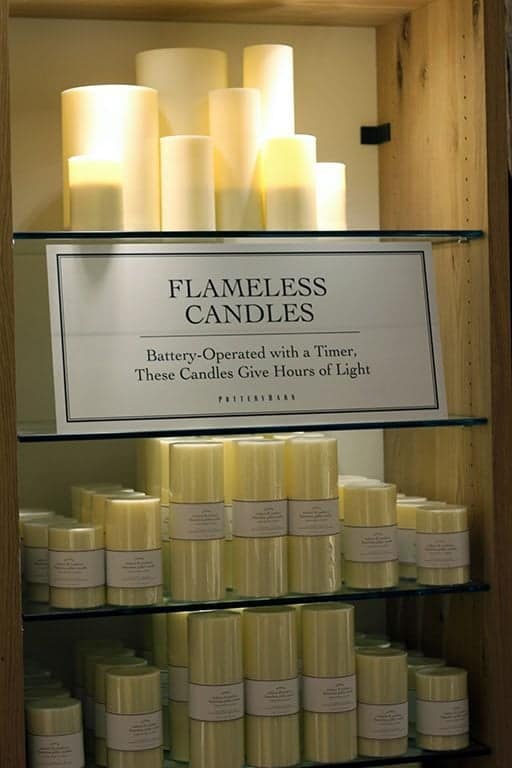 The store at the moment is filled with gorgeous Halloween decor and not just pumpkins. Spiders and crows and skulls, oh my!
I need this phone. I need it in my kitchen on my counter to match my stainless steel appliances. Or maybe in my reading room. I don't know where, but I need it. Soon.
Everything is so rich, displayed so elegantly and of such apparent quality that you just want..to touch. Take home. Re-create in your own house..
I don't know if I've shared my love of textile before on here, but I have an addiction. I can change my bed linens with the season, new curtains whenever I can and pillows? Oh, I do like pillows.
All the pillows like these are hand crafted, no machinery here, thus really, one of a kind pieces.
They just got better…..
And better.
You had me at deer pillow mixed with a fur pillow behind it. Absolutely incredible. I want these two for my blue couch in the reading room but I am scared the whole family will fight over the fur pillow.
It was so incredibly soft…I'm going to dream of that pillow.
I squeaked with delight over the little antler hidden in this display. See? I don't think of things like this and it's such a small yet eye-catching touch. Paired with the deer and fur pillow? Love it.
For people like me, there is a design centre where you can sit down and have someone help you design your room. Heck, they will even come to your house for free and help you design, how amazing is that!!?
The appeal of the Pottery Barn is that around 95% of their items are one of a kind, made especially for them. The quality is apparent in everything around you and I was glad to find out that the furniture is still made in the good U S of A. The other products are from various other countries, such as the Turkish towels.
The store is open this Saturday, October 6th and there will be some grand opening activities such as a free gift with purchase and a complimentary Entertaining with Style class on Sunday at 10 am. The store will continue to hold various design classes, something I definitely plan on checking out in the near future.
I'd like to thank the awesome team at Pottery Barn for having me to the sneak peek, there's nothing I like better than looking at pretty, sparkly items!
Love,
If These Stores Don't Stop Opening I Might Have to Get a Real Job Soon Magpie
(Ha. As If. I'll totally make the husband get another job.)
0