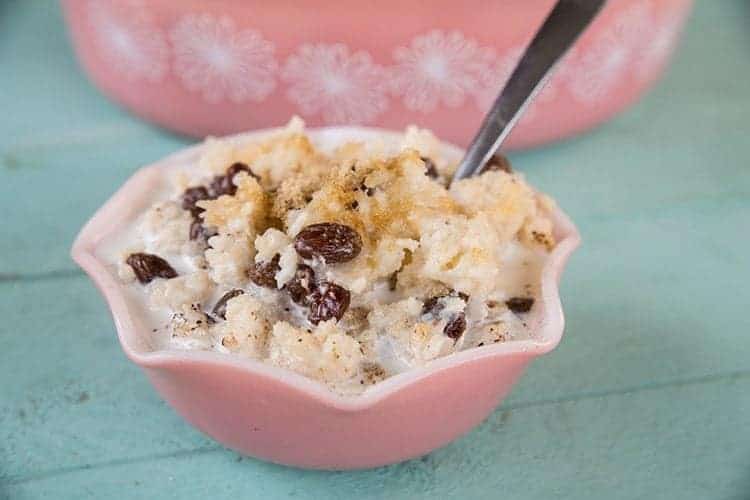 Raise your hand if you grew up eating baked rice pudding, however I'm not talking about just any ol' baked rice pudding. Here on the Canadian prairies it was the Five Roses Cookbook baked rice pudding.
This may be called Nana's Rice Pudding for four generations in my family, but it's really from the Five Roses Cookbook, one of the best baking books that ever came out of Canada. Indeed, I know that every prairie household had this book at one point ( I might be exaggerating but I'm not that far off! This was THE cookbook on the Canadian prairies!)
My Nana made it for my mom.
My mom has made this baked rice pudding for my Dad for as long as they have been married.
I have been eating this baked rice pudding since I can remember.
My kids have now been eating this baked rice pudding for as long as they can remember.
It's that good.
I had a HUGE conversation with everyone on Facebook about how to use up milk that I knew was going to go bad at anytime ( are we friends on Facebook?? If not, like my page HERE and join all the fun!) and rice pudding came up.
I knew that it was the ticket for using up a ton of milk!
I usually double the recipe and use one of my 2 1/2 quart Pyrex casseroles, and it fits perfectly.
Ok, listen to me for a second here.
USE CHEAP RICE.
Don't go fancy. The best rice that doesn't stay hard in the middle is No Name long grain rice.
Remember that this recipe wasn't developed for jasmine or any other rice. This recipe came about when Jasmine and basmati rice weren't even available in Canada.
I've tried it and it stays hard in the middle. You need a no frills, cheap-as-dirt long grain rice.

If you don't have the Five Roses Cookbook yet, it has been reprinted many times and is available on Amazon to order. If there is ONE Prairie baking book (other than mine of course) that you have to own, this would be it.
So remember again, cheap rice! Long grain only! I have tried and tried other varieties when I didn't have plain long grain rice at home and they don't work!
Happy baking everyone! Now really, if you have tried this before, leave me a comment below! I would love to hear what YOUR favourite rice pudding recipe it!
Love,
Karlynn

The Five Roses Baked Rice Pudding Recipe
This is the classic Canadian Prairie rice pudding recipe that almost every household ate on a regular basis. Rice pudding is THE prairie comfort dessert!
Ingredients
1/2

cup

of long grain rice

2

cups

of milk

1

cup

of water

1/2

tablespoon

of butter

1/3

cup

of sugar

1/2

teaspoon

of nutmeg

1/2

teaspoon

of salt

1/3

cup

of raisins
Instructions
Preheat your oven to 300 degrees F.

Butter a 1 1/2  quart casserole dish.

Stir all ingredients (except for the raisins) together in the buttered dish.

Bake for 1 hour without disturbing the rice at all.

Reduce the oven

temperature

to 250 degrees F and continue baking for another 1-1/2 hours.

Add raisins 1/2 hour before removing from the oven by stirring into the rice.

If wanted, sprinkle cinnamon and nutmeg on top of the pudding right before it finishes.
Nutrition Facts
The Five Roses Baked Rice Pudding Recipe
Amount Per Serving (1 g)
Calories 0
* Percent Daily Values are based on a 2000 calorie diet.
31