This post may contain affiliate links. See my privacy policy for details.
You know I travel a lot.
I know I travel a lot.
Then why, you might ask, haven't I been doing hotel room tours yet? Well, because I've been meaning to for about two blinkin' years now and haven't yet. I have pictures, heck I take pictures of almost all the hotel rooms we stay at, but I just haven't had time or gumption.
Well, I got the gumption and here we go with my inaugural hotel room tour! What better way to start it than with the pinnacle of luxury and pampering, a Fairmont hotel?
The Fairmont Jasper Park Lodge, to be exact. As the name would suggest, this Fairmont is in the famous Jasper National Park in Alberta, Canada, situated on acres upon acres of glorious mountain land.
I was fortunate enough to be hosted by the Fairmont for a weekend in Jasper this November and we spent the weekend in the lap of luxury, literally. We were put in a gorgeous lakefront suite with a fireplace, which tops the list as a premier accommodation at the lodge. They are 545 sq. feet, have a king/two double beds, a gorgeous bathroom, two Tv's and a parlour or sitting room with a pullout sofabed, fireplace and sitting areas.
We arrived to a basket of S'mores and a welcome card, much to the delight of my children!
The sitting room is large and luxurious, with not only that sofabed but a table and chairs to the right hand side as well. There is so much fabulous sitting space in one room that a larger family than ours could most certainly stay here comfortably.
**Click all the pictures below in the post to see a larger version!**
You can see that my children have no qualms making themselves comfortable. Their stuffies were on the couch as soon as we walked into the room. The sitting room has a sliding divider between it and the bedroom, a great idea that allows you to have an open area between the two rooms when needed (like when I need to harass my kids to get out of their jammies, for the tenth! time!) but then when the adults want to stay up later and watch TV, you can slide the panels closed.
The room is done in a comforting rustic, outdoorsy decor which suits the fact that the Fairmont is nestled in one of the most beautiful mountain ranges in the world.
The bathroom is spacious and beautiful. The options of a glass enclosed shower and a very large soaker tub have every family member happy and the double sinks? I hate to sound like a spoiled girl but I love my double sinks at home and miss them when I am gone! Oh, how much easier this makes getting four family members ready in the morning (yes, my kids tend to wander into our bathroom at home, leaving their toothbrushes and more. Tooth brushing is a family event apparently.)
For me, I am always curious about the complimentary toiletries that are in each bathroom. Call it a silly obsession, but I really am a little bit obsessed with hotel toiletries.
Part of it has to do with the fact that I am supremely forgetful and need them. Almost all the time.
The other part of me loves tucking them into my travel kit for those OTHER times I forget them.
Hotel toiletries make me happy. Oh, please tell me I am not the only one?
I am sure that you could surmise that the Fairmont has the most lovely toiletries ever and you would be absolutely correct.
I adore their Rose 31 collection and it is so popular that it can be bought in Fairmont stores as well, so apparently there is a market for weird people like me. It is quality shampoo and conditioner that I don't mind using in my hair.
The view from the lakefront suites…oh my lovelies, the view is amazing. I have lived in Alberta most of my life and to this day the sight of the Rocky Mountains still has the power to take my breath away, every single time and I hope it remains that way.
This picture was taken just outside of the suite the night we arrived.
I am so lucky to live mere hours away from this.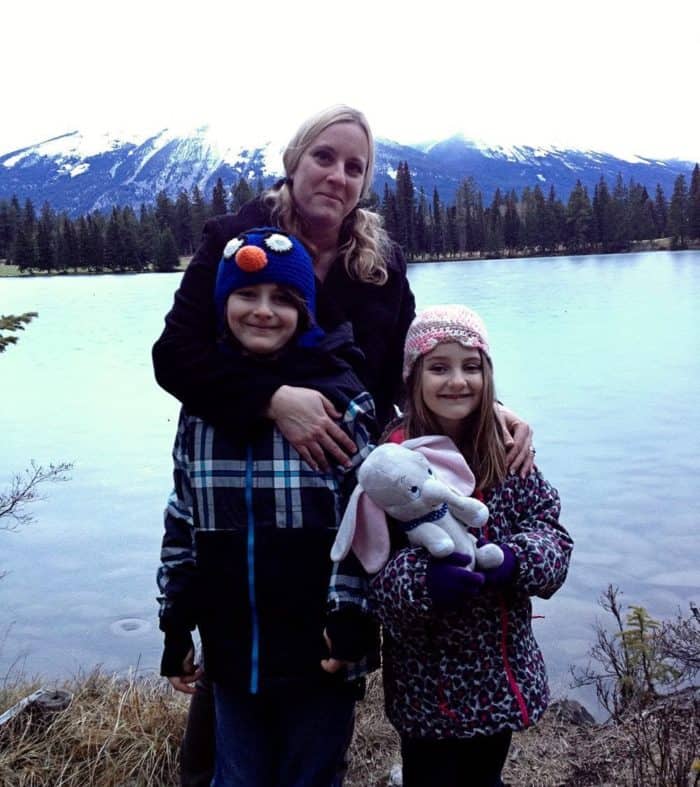 Or views like this, which can be found all over the property that the Fairmont is on.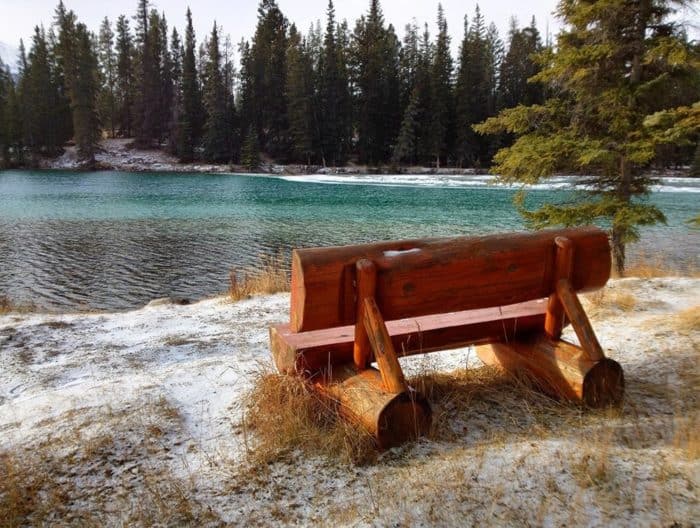 Unfortunately, staying in any Fairmont only confirms and heightens your love affair that you have with them, igniting a need to travel and check out as many different Fairmonts as you possibly can. We had such a fabulous time that I am already trying to plan when we can head to Banff but not only that, we want to return to Jasper for another weekend before ski season is over and not only ski, but relax at the lodge again.
What I loved about the Fairmont Jasper Park Lodge is that it's not simply a place to stay, it's a destination. There is honestly no reason that you would ever need to leave the property at any time when you've come for a weekend stay and that amazed me.
The property that the Fairmont Jasper Park Lodge is on is so much land that you can hike for hours and enjoy the beauty around you, and for photography nuts there's simply nothing that can compare to this area.
There is a gorgeous pool, activity room for kids, a spa for the parents, shops and restaurants galore for you to explore. It truly is a perfect place to spend a weekend enclosed in the lap of luxury and I guarantee that you will be relaxed and refreshed by the end of it.
On a completely unrelated paragraph let's go back to that bathroom tour….because something is just eating at me!
I'm not REALLY the only person who's obsessed with hotel toiletries, right? Help a girl out here and make her feel normal! It's you as well, correct? There's some of you fellow obsessors out there?
Love,
Karlynn