This post may contain affiliate links. See my privacy policy for details.
I am sure by now that you have seen all three of my trips to the Downtown Diner in Fort Saskatchewan on my Facebook, twitter and Instagram.
Yes, we kinda like it there. A lot. We've gone once a month for the last three months and I don't foresee that our monthly visit will stop anytime soon.
The diner is complete 50's retro and while talking to Keith, owner and cook, he mentioned that he got all the booths from a Zeller's in town when it closed. The booths fit perfectly. What a fabulous way to recycle, I absolutely love it!
You might have also seen them on Baconhound's website where Phil and the Keith (master cook at the restaurant) did Breakfast TV this past week. The Downtown Diner's Downtowner burger is basically the #1 burger in Edmonton, according to Phil who ate more burgers than I want to think about. It's thanks to Phil that we even heard about the restaurant and I owe him one for that.
I did actually get to try it our second trip there.
It's AMAZING.
Look at this beaut.
In our three trips, nothing we have been served has let us down foodwise.
The roast beef dinner?
While it make look like standard diner fare, it's far beyond that. Succulent roast beef with amazing mashed potatoes and a to-die for gray. Mike's in love with this meal.

My son tried the breakfast hash and while he tried his hardest, there was no way he could power through it. He got it with bacon – of course- and it was a hit. There was enough left over for him to eat the next day as well!
So. Freaking. Good.
The last time we popped in, I had their special of the day, a fish burger. Now I am picky when it comes to fish burgers. You know me, I love my Filet o' Fish 😉
This was a fabulous fish burger. F-A-B-U-L-O-U-S. As in I can't wait to have another one soon.
Everything is homemade, from scratch and no matter what you order, it's innovative.
Take this potato salad.
It's HOT.
When I took a bite I swear my eyes popped out in surprise, because it was warm and not cold.
Hot, truffle, bacon, smoked corn amazingness right here folks. I need to make this at home. The Monte Cristo it came with was also delicious.
Truth be told, besides the fact that the food is great, it's KID FRIENDLY. Places that we frequent a lot have to be, I can't get a sitter all the time, nor do I want to. I rather like spending time with these little devils.
And they like spending time with the decadent milkshakes at the Downtown Diner.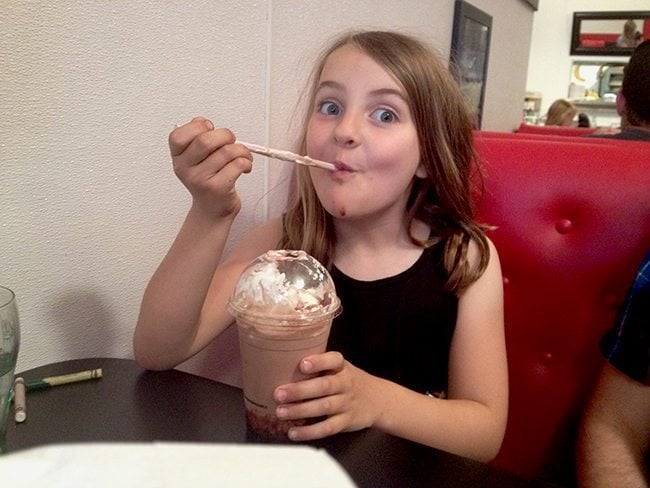 I mean, who wouldn't?
I also might sneak one after our meals, which, by the way, is the only way to do it. They are so rich, so decadent that you need to make them your dessert, not with your meal!
This was a chocolate PB cup shake and was epic. EPIC. My daughter couldn't even pause for a picture, that's how epic it was.
So when you are looking for a fabulous short road trip that will end in delicious food, head out to Fort Saskatchewan and try out the Downtown diner! A little comfort food once in a while is fun!
You can find them on Facebook here  to check out their hours and specials!
Trust me, it's worth the trip for the burger and shakes alone! Oh, and the fried chicken! Holy Dinah!
Make sure to say hi to Lori and Keith (the owners)! They are truly amazing people and they are doing something fabulous with their restaurant!
Love you more than shakes,
Karlynn