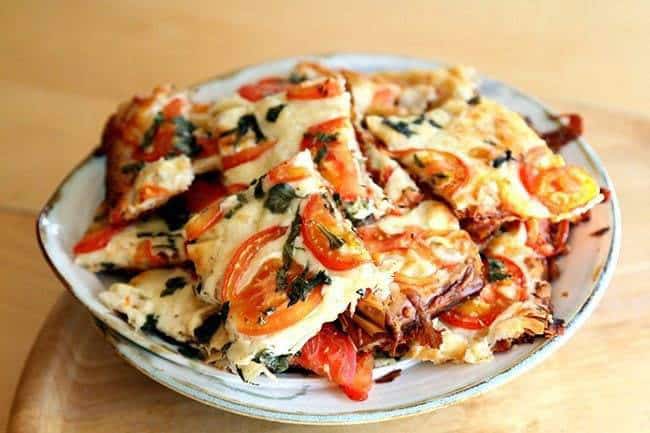 You know what I appreciate the very most as a food writer/ recipe developer?
When other people cook for me. Oh yes indeed, I do. That might be the reason we eat out a lot for dinner, after spending hours in my kitchen baking for my new cookbook that is on the way, I am ready for someone else to do the work. I LOVE when other people make dinner, whether it's friends, family or a restaurant.It is such a treat for me.
The family and I went over to Nicole's (the mind behind VV Boutique Style) for dinner and a visit a while back and we were treated to a feast fit for royalty. meaning that it was far too good for the likes of us.
We also went to see their new puppy and yes, River is a puppy. She's a Burmese Mountain Dog and was already larger than Root Beer will ever be when we saw her at a mere couple of months old.
I want one. Look at those eyes and that face! Ack!!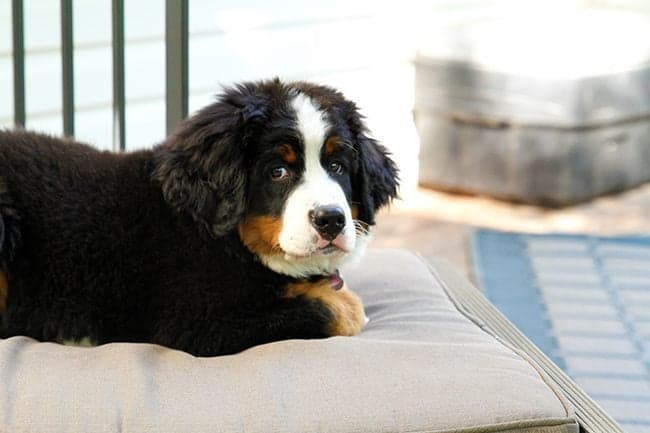 Ok, back to the food. Nicole made a seriously amazing phyllo pizza for us to eat and while it makes a great appetizer for large groups I daresay that it would be great as a main meal for a family of four.
Phyllo sheets are pulled apart, have butter brushed in-between them and pressed together to make an amazing crust. Tomatoes, onions and basil are the main flavors of this pizza making it a great vegetarian appetizer as well.
This recipe is straight from the Best of Bridge cookbooks which are some of the best cookbooks out there.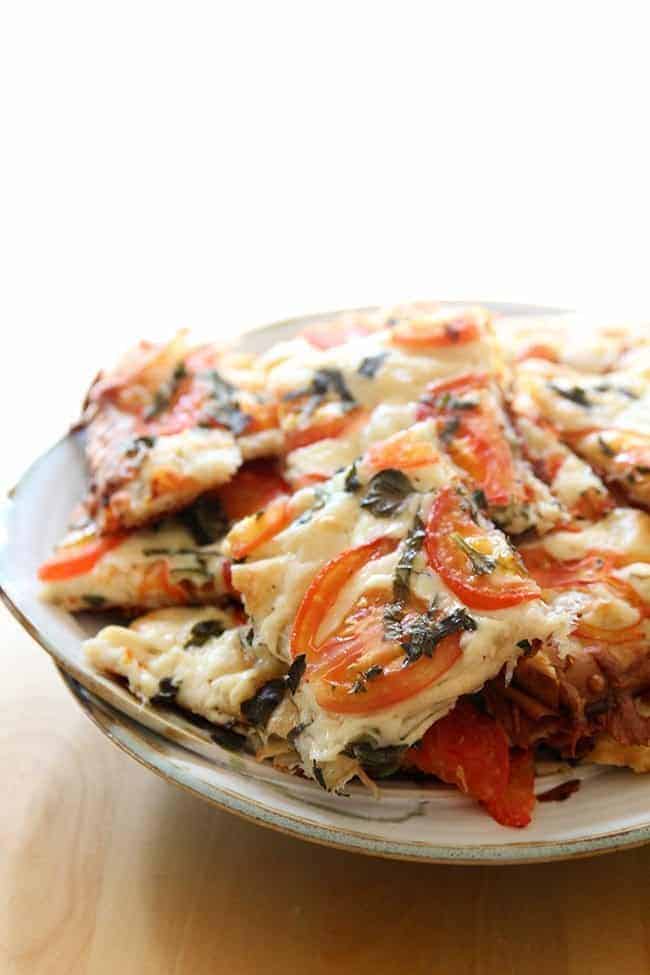 Did I mention the cheese?
Parmesan is sandwiched between the phyllo.
Mozzarella tops it.
Oh yes, there is cheese my friends.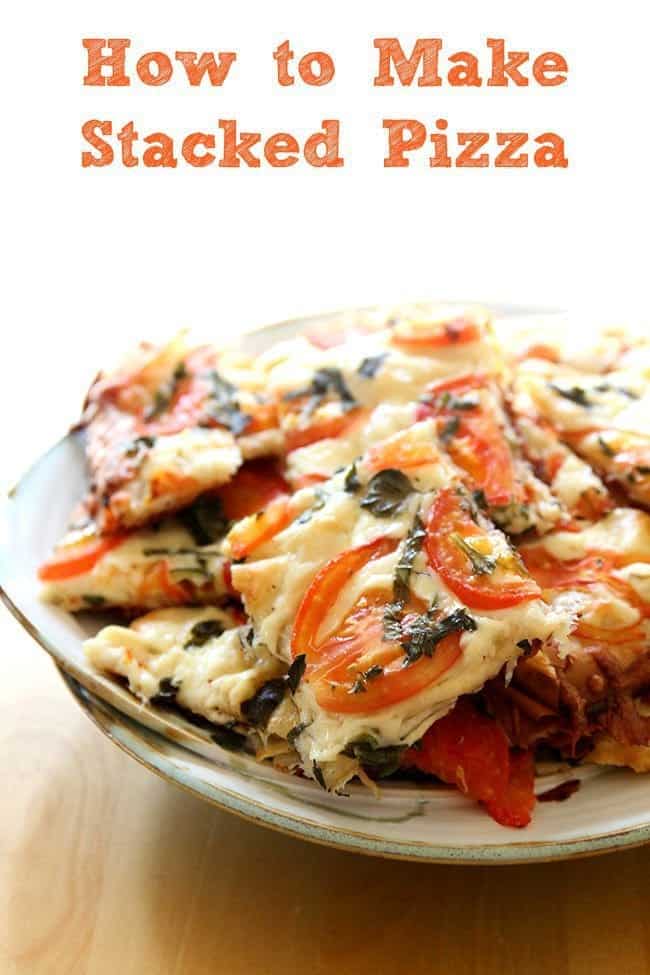 I absolutely fell in love with this. The light phyllo pastry is so much better than a traditional pizza crust in so many ways, especially for an appetizer. While it's slightly finicky to work with, once you get a rhythm going it's easy. Especially if you were the one watching Nicole do all the work while enjoying a gin basil smash.
Ohh. Those Gin Basil Smashes. You know what, that's another story. Come back in a day or two for that one!
As for this, make it for your holiday parties, make it for your dinner, I don't care if you eat it in a shoe with a goat on a hill (you're welcome for completely wrecking Dr Seuss there) you need to eat this, and soon!
Love,
Karlynn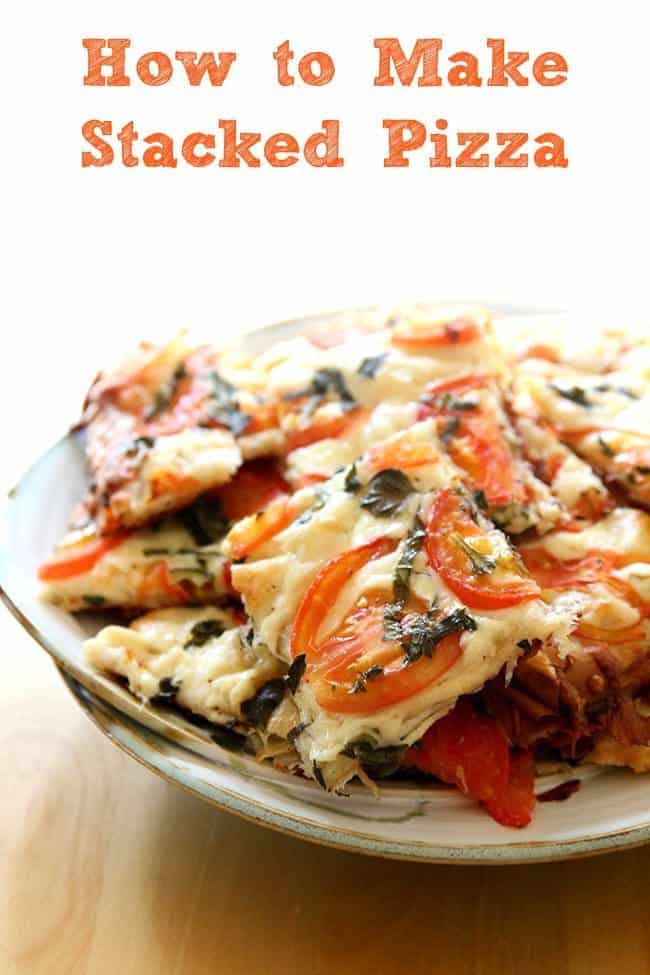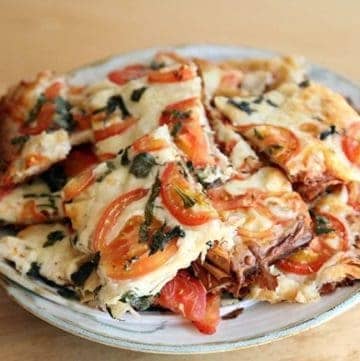 Stacked Pizza
The classic stacked pizza from the Best of Bridge Books is an easy and amazing appetizer!
Ingredients
7

sheets phyllo pastry

1/2

cup

butter melted

1/2

cup

freshly grated Parmesan cheese

1 1/2

cups

grated mozzarella cheese

1

onion thinly sliced

5-6

roma tomatoes thinly sliced

1

tsp

oregano

salt and pepper to taste

leaves

shredded basil to taste
Instructions
Preheat your oven to 375F.

Thaw and prepare phyllo to package instructions. Make sure to cover the extra phyllo with a damp paper towel while creating the pizza.

Place the first sheet of phyllo on a baking sheet, brush with butter and sprinkle with 1 tbsp parmesan cheese.

Repeat layers until of the all sheets are used.

Press down firmly so that the layers will stick together.

Sprinkle the top sheet with mozzarella and onions. Arrange tomato slices on top. Season with oregano, salt and pepper and basil leaves.

Bake for 20-25 minutes, until edges are golden.
Nutrition Facts
Stacked Pizza
Amount Per Serving (6 g)
Calories 0
* Percent Daily Values are based on a 2000 calorie diet.
0