This post may contain affiliate links. See my privacy policy for details.
Happy National Zucchini Day! Today you are supposed to drop off zucchini on your neighbors doorstep and run away cackling gleefully that you got rid of some of that abundant summer squash that's now reached it's growth zenith in your backyard garden.
Or, if you are me, it's time to share recipes to help your readers use up their zucchini!
Wow, are some of these recipes old. I love seeing how my photography has (thankfully) progressed over the years, so forgive the old pictures that aren't as purty as the new.
First, Fried Zucchini Cakes! Crispy, crunchy and a unique way to use up zucchini.
Next up is Chocolate Zucchini Cake. Dudes, this cake is CRAZY AMAZING. It also uses apple sauce instead of oil and is seriously one of the best chocolate cakes ever. I am going to be turning this into a bundt cake soon, just wait and see!
Aww lookit my beginner photos. They're so bad and cute.
How about in a crockpot with chicken? Yup, throw zucchini into a lovely crockpot chicken cacciatore! This is one of my favorite crockpot dishes and using a crockpot in the summer is totally the way to go!
Next is my Chocolate Wonder Zucchini Loaf. It's a loaf, not a cake and is super good even though it's plain.
Time for another savory recipe! This recipe is a newer one, my Kale & Zucchini Frittata. Yup. Eat your zucchini for breakfast folks, it's good for you!
Now this next loaf is one of my all-time favorites, Cranberry Coconut Zucchini Loaf. It's Mike's favorite too, there's something about the combination that just works!
Mini Chocolate Zucchini Cupcakes. Cute, easy and seriously delicious little bites of chocolate.
The best zucchini cookies out there! Zucchini Oatmeal Chocolate Chip cookies. Soft, chewy and chocolatey bliss!
Now here's an off beat one, Chicken Parmigiana! Don't forget amazing dinner recipes that use up zucchini too! This one is seriously delicious AND easy!
And of course, my new Cheesy & Crunchy Tex-Mex Baked Zucchini Sticks. We are hooked on these and I'll be making them weekly until summer is over!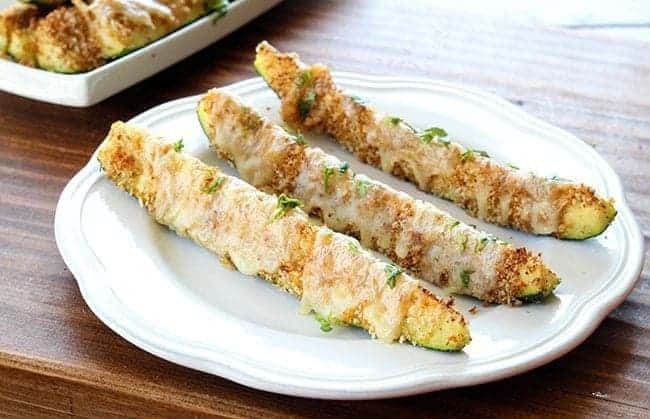 Hopefully these ten recipes have inspired you and will help you out with using up all the zucchini you have right now! From sweet to savory, there are so many ways to use it up!
Happy Cooking everyone!
Love,
Karlynn