Vegan Smoky Spanish Rice & Chickpeas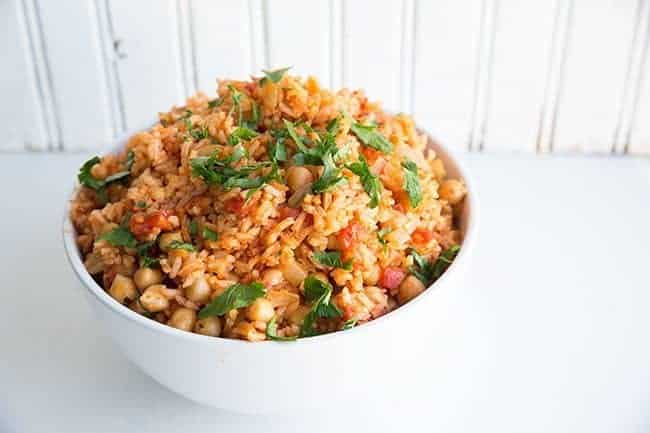 A vegan, a carb-free eater and a birthday boy walk into a bar…
Oh, no wait, they walked into my house.
On Mother's Day.
You know, I'd like to consider myself a non-whiner when it comes to food preferences. I actually eat very high-protein and low-carb as much as I can when I'm not out and about. My son eats very little dairy, my daughter is picky…you all know this by now. You've heard the whines about that.
But man. I couldn't even order out on Mother's Day. Not that I would want to, but I mean really, who wants to get stuck – on Mother's Day no less- with making meat for 95% of the table, no wheat for about 20% of the table, absolutely no carbs for 5 % of the table and vegan for the last 5%?
(I suck at math, in case you can't tell)
I should have thrown a cauliflower into the middle of the table and told them to help themselves because it was damn well Mother's Day, that's what.
I actually just laughed out loud typing that. I saw myself doing it in my head and it was very therapeutic, so thanks for hanging in there through my selfishness.
It was also Mike's birthday, so birthday > Mother's Day and that's ok. That's the reason I sucked it up and took one for the team and became a short order cook when technically this was the one day of the year that my feet should have been up with a glass of wine watching everyone else in my kitchen cook for me.
I was smart and ordered a gorgeous Black Forest Cake from local Edmonton company Sugared & Spiced, which took a load off of me, saving me from having to make his favourite cake for his birthday. We are part of their Cake Club and it's absolutely wonderful being able to choose three cakes a year for whatever occasion we want.
Company also means good times, regardless of eating preferences. Baby nieces who are now toddling around all adorably in dress-up clothes and one silver shoe help.
Look at that look I'm getting.
Sassy baby.
Back to the recipe.
I knew that I had to come up with something quick, delicious and full of protein for the vegan guest. Said vegan guest doesn't like curries (WHAT THE??)  which limited my creativity by about 90%. (there's that bad math again, rearing it's ugly head.)
So I went with one of my favourite spices, smoked paprika.
This is a gorgeous, delicious vegan riff on Spanish Paella, which is one of the few dishes out there that is heavy on the paprika. Of course vegan means no seafood, no sausage, none of what I consider the best parts of paella, so while it's definitely close, it's more of a Spanish rice than anything else.
And you know what?
It's amazing. I love chickpeas, so this dish is chock full of them, two cans in fact.
The base of this is so good that I will be tackling my version of a paella soon, using that smoked paprika and the freeze dried oregano, which are the two secrets to why this tastes so amazing.
So I don't leave you hanging, the no-carb eater had deer steaks, cauliflower and salad.  The vegan had Smoky Spanish Rice & Chickpeas and the cauliflower. The rest of us had the best of all worlds: Mom's perogies, deer steak, Smoky Spanish Rice & Chickpeas, salad, cauliflower and CAKE.
Mmmm cake. It's taking all my willpower not to eat it for breakfast right now.
Happy cooking everyone! I hope that all you Mom's had a wonderful day yesterday! Even though I was a short order chef, it was still a lovely day spent with my family.
Love you more than chocolate cake,
Karlynn

Smoky Spanish Chickpeas & Rice
Smoked Paprika is the star in this vegan, gluten-free rice dish that is packed with nutrition AND flavour!
Ingredients
2-3

tbsp

olive oil

1

medium yellow onion peeled and chopped

3

cloves

of garlic minced

1

tbsp

smoked paprika

1

tbsp

freeze dried oregano

1

cup

uncooked long grain white rice

1

oz

can diced tomatoes 540ml/19

2

ml

can chickpeas drained and rinsed well

540 /19 oz

1 1/2

cups

vegetable broth

3/4

tsp

salt - or to taste

parsley to top if wanted
Instructions
Place the olive oil in a large skillet that has a matching lid.

Add in the onions and fry on medium-high heat until soft and translucent, around 6-7 minutes.

Add in the garlic, sautee for 2-3 minutes, then add in the paprika and oregano. Fry for another 1-2 minutes.

Add in the uncooked rice and fry for 2-3 minutes.

Add in the tomatoes, chickpeas and vegetable broth.

Add salt to taste (this will depend on how salty your broth is to start)

Stir until all ingredients are dispersed evenly throughout the skillet.

Bring to a simmer, then reduce the heat to medium and place the lid on top.

Simmer for 20-22 minutes, then remove the skillet - lid still on!- and let sit for another 5-6 minutes.

Remove the lid, fluff the rice, top with chopped parsley and serve.
Nutrition Facts
Smoky Spanish Chickpeas & Rice
Amount Per Serving (6 g)
Calories 0
* Percent Daily Values are based on a 2000 calorie diet.
2