This Simple Tomato & Rice Hamburger Soup is fast and delicious! This soup reminds me of my Cabbage Roll Soup, without the cabbage. It really is just a simple tomato, rice and hamburger soup.  It came about when I forgot to get supper on one late afternoon. Yes, even food bloggers forget to make supper, but especially the food bloggers that are also cookbook authors. When you work on a desserts chapter all day, sometimes you look up and it's 3 PM already. You can't (shouldn't) feed the kids cake for supper, so it's time to panic and run to the freezer and fridge to see what you have.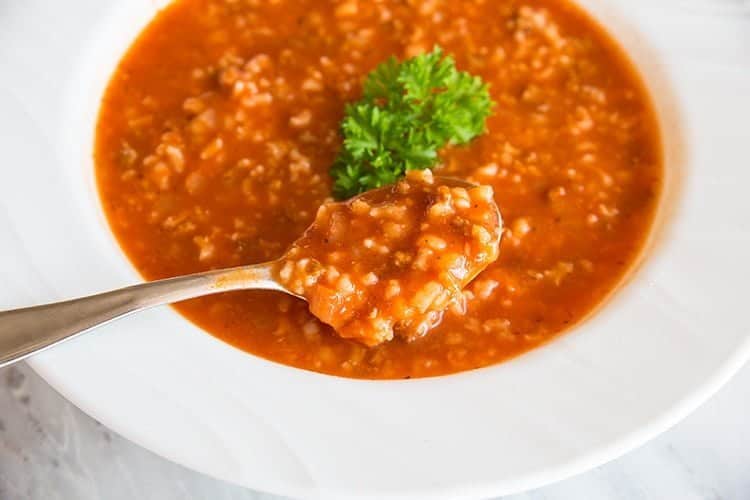 I had rice, hamburger, crushed tomatoes and the kids love soup. There you have it. Tomato, rice and hamburger soup.
Mike totally looked at me weirdly when I told him what soup I was making. I get it, it doesn't sound fabulous. It sounds weird. We are used to having these soups that are loaded with vegetables and all sorts of amazing things…..and I'm making tomato, rice and hamburger soup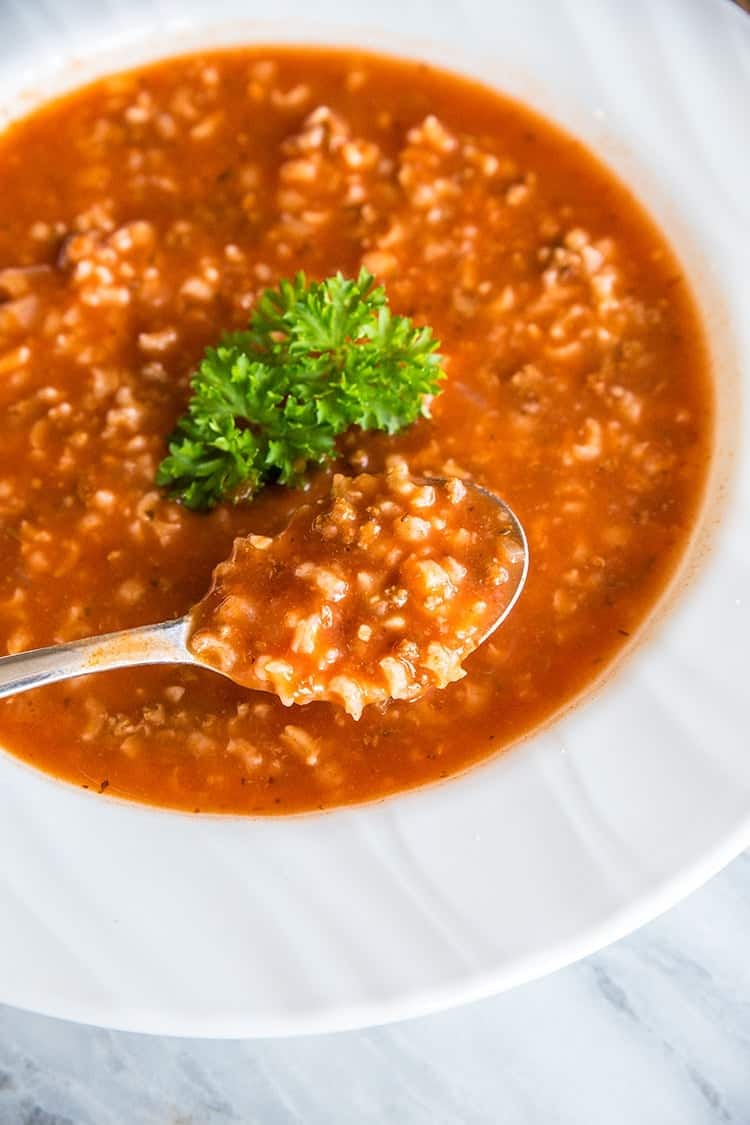 YOU can add in vegetables as you see fit. Add in two cups of frozen vegetables and you have an even better soup.
This is what I had on hand. ( I also really needed to go grocery shopping, as you can probably tell.) I had spent the long weekend before school at the lake with the kids for one last summertime hurrah, came back Monday and they went to school bright and early Tuesday morning.
You'll never accuse me of being one of those prepared moms  that has their stuff together. Newp. Never.
This soup is also frugal as heck, so it's perfect for those on a budget, not to mention gluten-free as well. Just make sure to check out the labels on all of the ingredients first, of course.
And for those of you that want to try my Ukrainian Cabbage Roll Soup, do it, it's delicious!
Happy cooking!
Love,
Karlynn


Simple Tomato & Rice Hamburger Soup
This Simple Tomato & Rice Hamburger Soup maybe be almost too easy to make, but you can't tell from the fabulous flavour! It also happens to be totally gluten free, as long as you check all of your sauces!
Keyword:
rice hamburger soup
Ingredients
1

pound

ground beef

1

cup

onion

diced

1

tbsp

minced garlic

7  

cups

vegetable broth

1- 28

ounce

can crushed or diced tomatoes

1/2

cup

ketchup

1 1/2

Tbsp

Worcestershire sauce

1

tbsp

Italian seasoning

1

tsp

brown sugar

if you don't have a sweet ketchup

3/4

cup

uncooked white rice

salt and pepper as desired
Instructions
In a medium frying pan, brown the ground beef, onion and garlic until ground beef is no longer pink. Drain the grease (I also like to rinse it with hot water to remove most of the grease) and place in a large crockpot. Alternatively, you can fry these in the bottom of your InstantPot and drain the grease from it.

Add the broth, tomatoes, Worcestershire, ketchup,brown sugar (if wanted) and Italian seasoning. Add more sugar and Worcestershire to taste if needed. Place the lid on the crockpot and cook on low for 8-10 hours. Alternatively, you can cook this on the stovetop. Simply add the rice and simmer until the rice is cooked.

For the crockpot method, thirty minutes to an hour before serving, add in the rice and cook until tender.

Serve and enjoy!
Recipe Notes
You can cook this in your Instant Pot on the soup setting for 15 minutes, just make sure to add the rice BEFORE and cook it all together!
Nutrition Facts
Simple Tomato & Rice Hamburger Soup
Amount Per Serving
Calories 267
Calories from Fat 99
% Daily Value*
Total Fat 11g 17%
Cholesterol 40mg 13%
Sodium 1040mg 43%
Potassium 476mg 14%
Total Carbohydrates 28g 9%
Protein 12g 24%
* Percent Daily Values are based on a 2000 calorie diet.
54