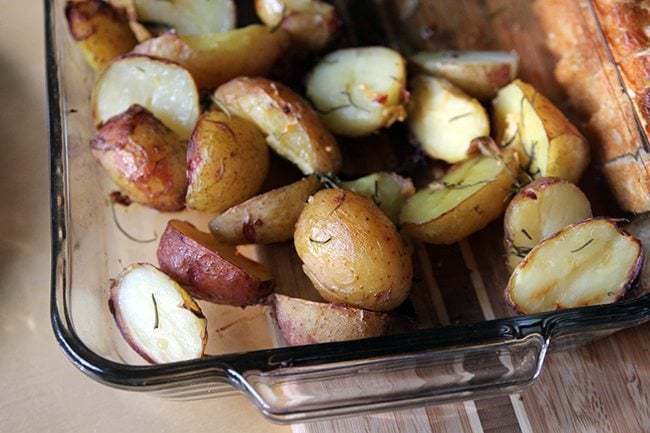 There's a reason that Roasted Garlic & Rosemary Potatoes are so popular; they are easy, simple and everyone likes them. They are a sure-fire hit at every dinner party, your family most likely won't turn up their nose at these – unless it's my daughter who eats everything plain as can be – and these potatoes are so easy to make.
I almost didn't post this recipe because it is so well-known, but I since I know that there are a lot of first time cooks out there who frequent blogs like mine looking for advice I figured that I should.
These are perfect for those nights when you didn't have any clue what you are eating for supper. I can't be the only one who always has these ingredients on hand and that's what makes them so great and such a popular recipe.
Let's face it, December is craaaazy and not just for me. We are all rushing around so much that even I tend to forget about dinner and the simple fact that I have to feed my family at some point.
Guilt confession: cereal and milk for supper happens in December more than any other time of year. Yup. I don't even get sandwiches made, we just grab a bowl of cereal. This year is even crazier as we are packing up to head to Phoenix for some sunshine and fun in January! Oh, yes, the house sitter is booked, we have rented a house and we are living in Arizona for three months this spring! I cannot WAIT!
Try not to hate me as I leave the winter behind this spring..will you still love me even though I will be blogging from Phoenix? Do I lose my Canuck cred for three months?
Remember, I love you more that chocolate…. does that count?
Karlynn

Simple Roasted Garlic Rosemary Potatoes
There's a reason this classic has been around forever, roasted potatoes with rosemary are the perfect side for almost every meal out there!
Keyword:
Roasted Garlic Rosemary Potatoes
Ingredients
2

pounds

of small white-skinned potatoes cleaned

1/4

cup

olive oil

1

teaspoon

salt

1

teaspoon

black pepper

4

cloves

of minced garlic

2

tbsp

dried rosemary
Instructions
Preheat the oven to 400 degrees F.

Cut the potatoes in half and toss in a bowl with the olive oil, salt, pepper, garlic and rosemary until the potatoes are well coated.

Spread the potatoes out into 1 layer on a large baking sheet.

Roast in the oven for an hour or until browned and crisp, making sure to turn the potatoes at least three times during roasting to ensure even browning.

Remove from the oven and serve.
Nutrition Facts
Simple Roasted Garlic Rosemary Potatoes
Amount Per Serving
Calories 289
Calories from Fat 126
% Daily Value*
Total Fat 14g 22%
Sodium 623mg 26%
Potassium 1059mg 30%
Total Carbohydrates 38g 13%
Protein 4g 8%
* Percent Daily Values are based on a 2000 calorie diet.
1