Nothing's better for game day than a delicious shrimp dip like this Shrimp Surprise Spread. It's great with chips and crackers too! Whip it up today for that next big game or family visit!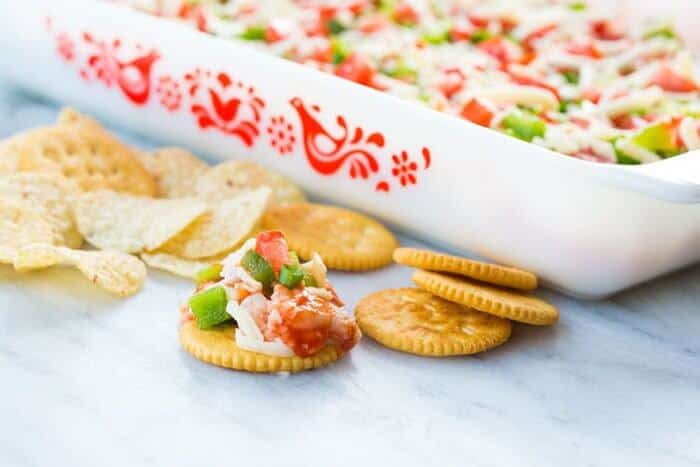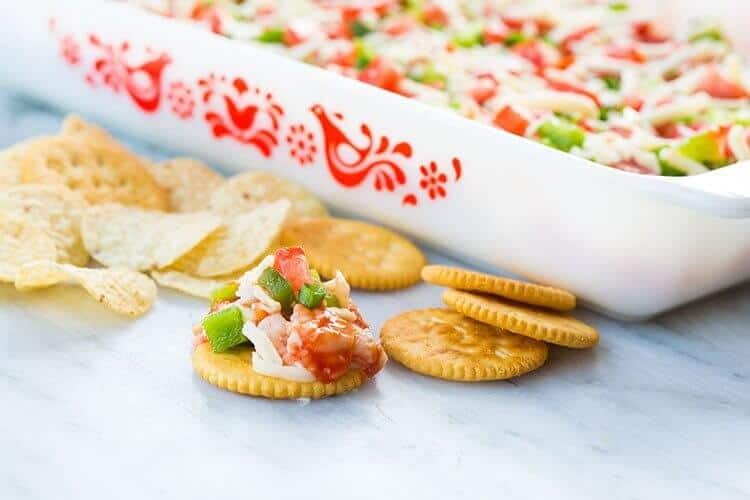 This Retro Shrimp Dip IS Actually The Best Seafood Dip Ever!
I have been craving this shrimp surprise spread since last summer! My brother's Mother-in-Law made it for a large family gathering and we literally couldn't stop snacking on it, I think she actually had to make two batches to feed everyone as the first one disappeared in mere minutes! Who else remembers this crazy classic spread? I think it's actually called Surprise Spread here in Canada.
Tips and Tricks For Making the Best Shrimp Dip
This recipe is pretty straight forward but here are a few tips and tricks to mix it up and make it even better!
A lot of people leave the shrimp out – and to be honest that's totally OK, but it would also be excellent with crab.
The key to this dip is the seafood sauce so buy your favorite seafood sauce as the taste can differ brand to brand.
You can use any cheese you want but if you don't want to overpower the flavor of the dip, mozzarella by itself is best.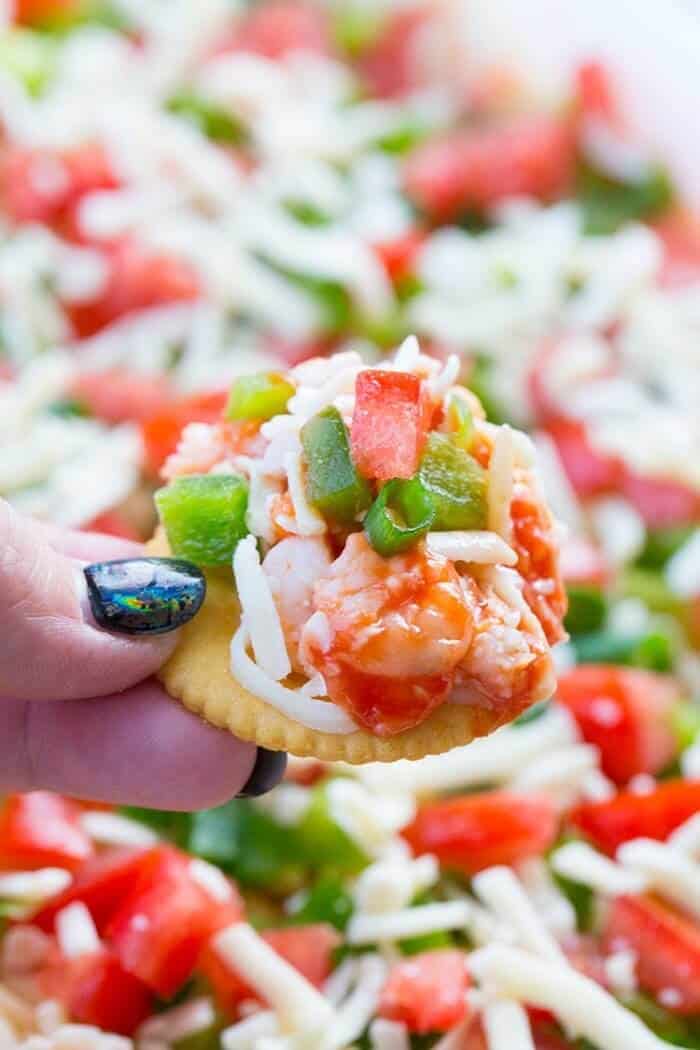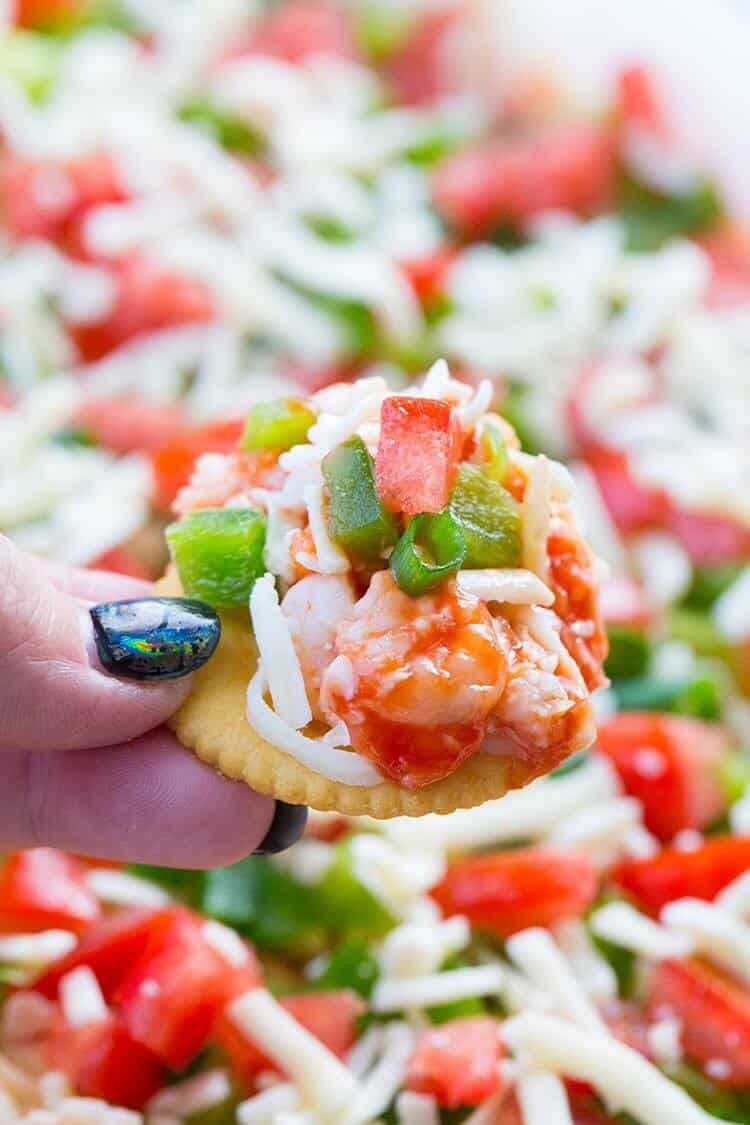 I made it with a cheddar cheese mix, with plain mozza and I like both, to be frank but I *might* like it a little better with the plain mozzarella. That might be because I love the seafood sauce flavour so much that I don't want anything to interfere with it! I have also seen it with red or yellow sweet peppers if that's something you'd like to try as well, but the green pepper is my favourite.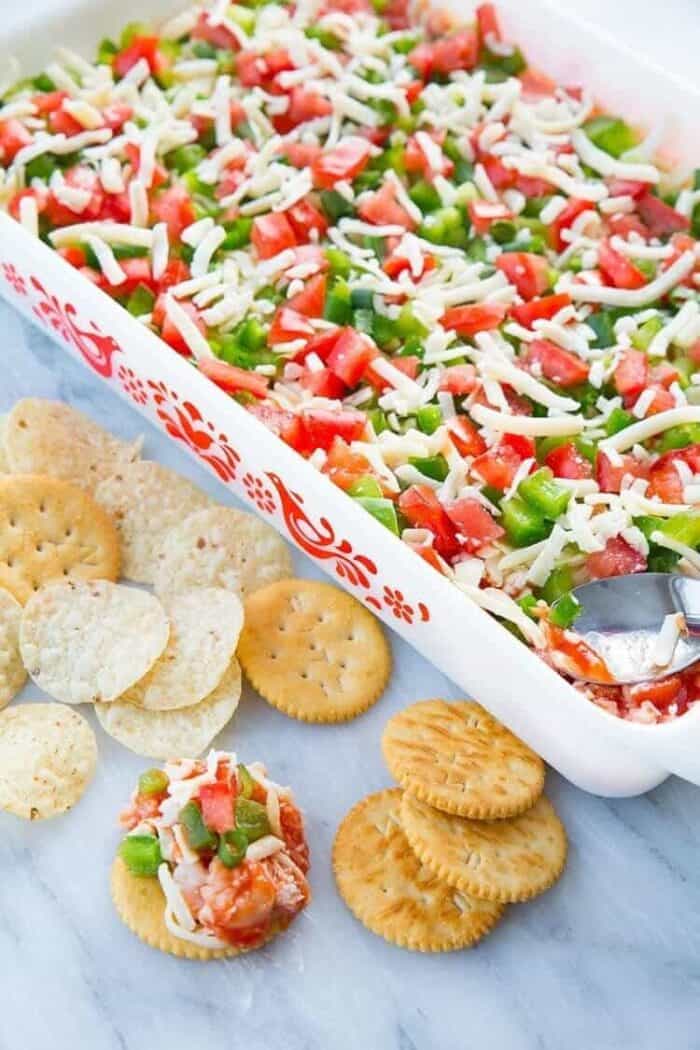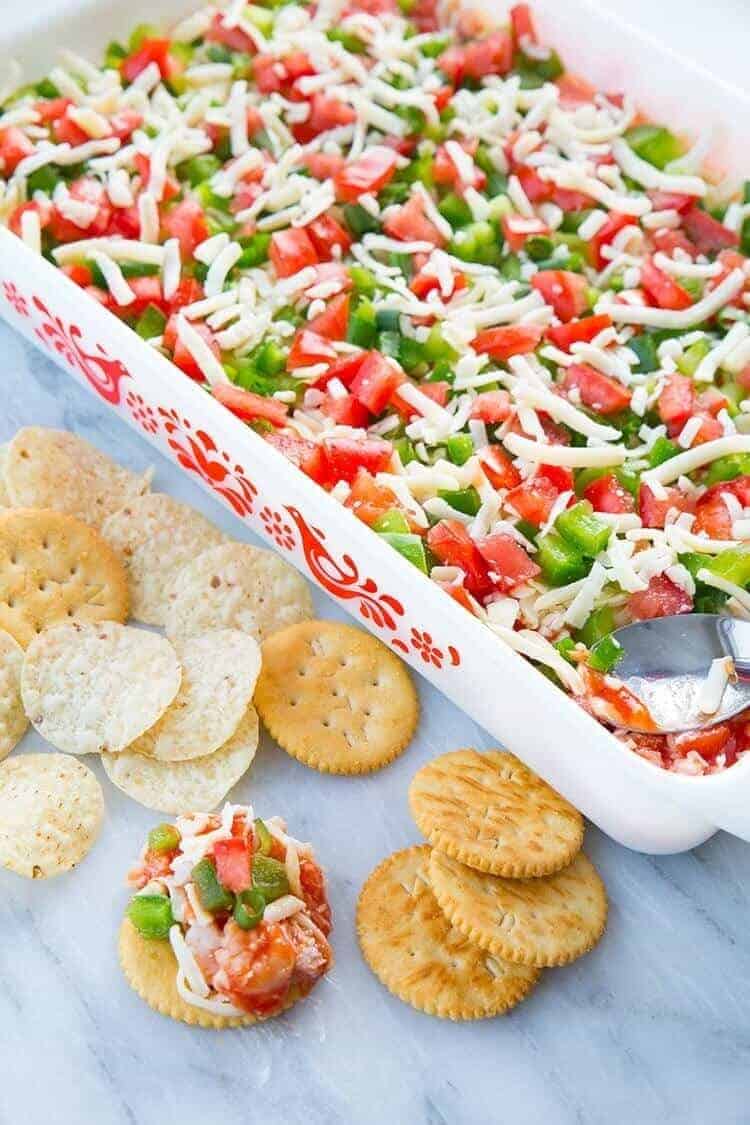 Before eating it this past summer  at the BBQ I honestly can't remember the last time I had Surprise Spread. I know that I've eaten it before but man, has it been maybe since my 20's when everyone got married and had babies? It might have been that long, this is very much a Canadian wedding/baby shower dip! As soon as I took one bite last year I knew that I remember it – and that I loved it.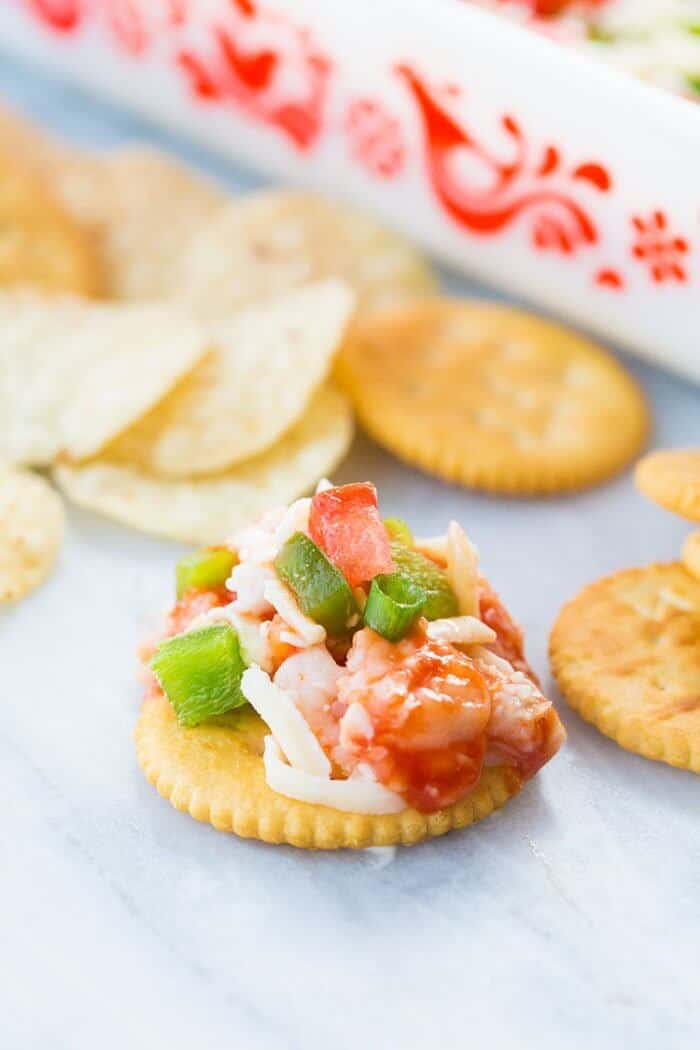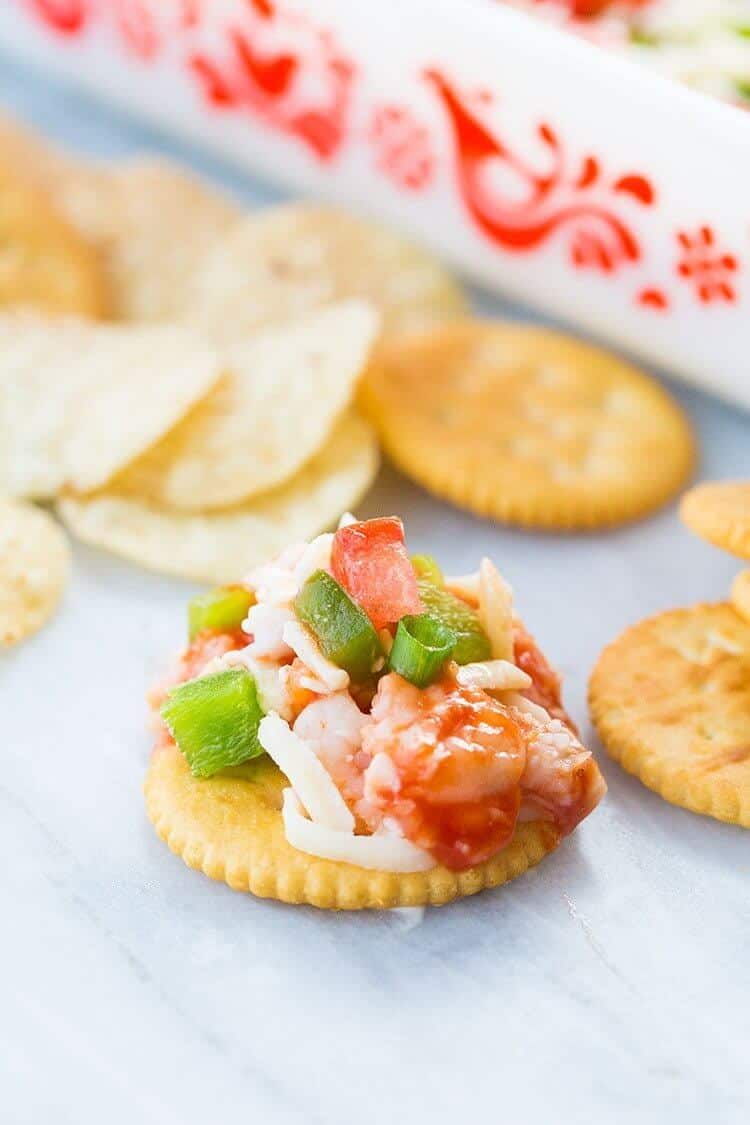 So now, in the dead of winter, I finally got around to making it. You might know it as surprise dip, seafood surprise spread, shrimp surprise dip – basically you can take and and all combinations of those words and it's usually this dip.
Now that I've made it, it's definitely going back into the permanent party rotation!
Who else remember's this dip? When's the last time you had it?
Happy (non) cooking!
Love,
Karlynn
Pin this to you GAME DAY or your APPETIZERS Boards and Remember to FOLLOW ME ON PINTEREST!

Shrimp Dip
Shrimp Surprise Spread - The Best Shrimp Dip Ever! This dip or spread is perfect for entertaining - especially on Game Day!
Course: Appetizer
Cuisine: American
Keyword: shrimp dip
Servings: 16 servings
Calories: 94 kcal
Ingredients
1 8 ounce package cream cheese
1/2 cup sour cream
1/4 cup mayonnaise
2 4 ounce cans small shrimp, drained well
1  250ml jar seafood cocktail sauce
1 green bell pepper diced
4 green onions diced
1 large tomato diced
2 1/2 cups shredded mozzarella or cheddar cheese mixed
Two boxes of plain Ritz Crackers
Instructions
Beat together the cream cheese, sour cream and mayo until smooth and creamy. Spread out on a large plate with an edge or in a 9x13 pan.

Spread the seafood sauce over the cream cheese mixture gently.

Sprinkle the shrimp over top of the sauce in an even layer.

Layer the remaining ingredients however you like. I usually go green peppers, tomatoes, a little cheese, green onions and then the rest of the cheese.

Refrigerate until serving.

Serve with Ritz crackers for the BEST taste, but this also works with tortilla chips!
Recipe Video
Recipe Notes
This is best made the day of or it goes soggy.
Nutrition Facts
Shrimp Dip
Amount Per Serving
Calories 94 Calories from Fat 72
% Daily Value*
Total Fat 8g 12%
Saturated Fat 3g 15%
Cholesterol 20mg 7%
Sodium 145mg 6%
Potassium 62mg 2%
Total Carbohydrates 1g 0%
Protein 4g 8%
Vitamin A 5.7%
Vitamin C 9.3%
Calcium 10.1%
Iron 1.1%
* Percent Daily Values are based on a 2000 calorie diet.
168