This post may contain affiliate links. See my privacy policy for details.
Shakespeare by the Bow(previously known as Shakespeare in the Park) is fun family event in the middle of what I think is Calgary's most gorgeous park; Prince's Island. Talented actors entertain you outdoors by performing a play by Shakespeare and this year was The Comedy Of Errors.
The shows run Wednesday through Sunday at 7 p.m., with weekend matinees at 2 p.m, excepting June 28-30 or anytime during Folk Fest, July 21 to 29, meaning that you still have plenty of time to check out this pay-what-you-can event! (there are no tickets, just show up and pay what you can afford at the end of the show!)
We headed down to Prince's Island last Saturday to check it out and I must admit in all my years living close to Calgary, I have never attended this yet! I was just as excited as the kids to see what it was all about.
There is plenty of parking to be found downtown around the area of Prince's Island Park and we parked at Eau Claire Market easily and with little expense, which I was happy to find out! From there you simply walk over the bridge to the park and straight to where Shakespeare by the Bow is being held.
You are encouraged to bring your dinner and we saw a lot of families snacking away during the performance. However, being a food blogger I knew right away that we were going to "stay local" and not bring any packaged snacks or fast food.
This girl was getting a fabulous picnic from the even more fabulous Charcut restaurant in downtown Calgary. What could be more perfect that watching a local production while eating food from a local restaurant?
Nothing, that's what. I contacted the ever amazing Chef John at Charcut and we had a feast ready to devour at Shakespeare by the Bow! Which Charcut will do for everyone, by the way if you are looking for an amazing picnic (with dessert!).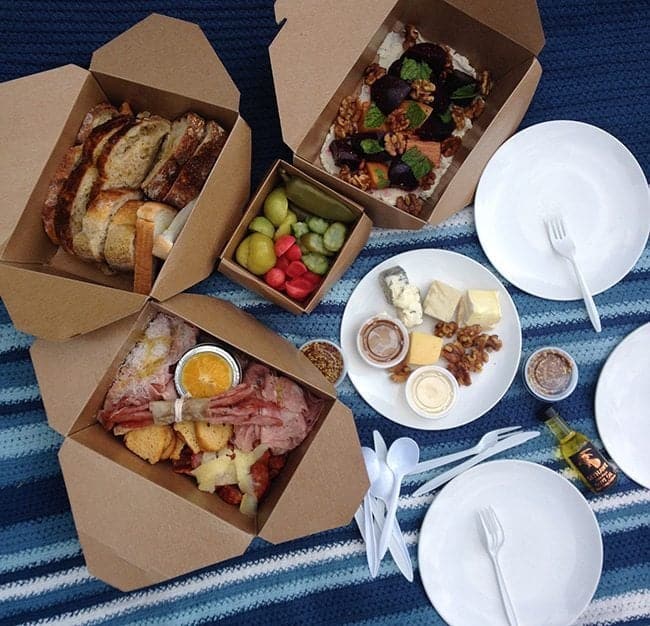 While eating our delectable picnic we immensely enjoyed The Comedy of Errors. The actors are funny, the script action packed and the follies funny enough that the kids really enjoyed it.
The actors are "dramatic" enough with their pratfalls and physical comedy that they were able to capture and hold my children's attention and at ages 8 and 10, that's saying something!
So now, let me address that whole Shakespeare language thing since the play is not modernized at all, but exactly as the Bard wrote it.
Yes, it's true the kids didn't understand all the Shakespearian speak (oh heck, even I don't understand it all) however they knew exactly what was going on, so don't let that stop you from attending. The play is put on so well by such talented actors that the kids completely understood what was happening (and had to fill in their mother once in a while, it must be told.)
This affordable and very family friendly event was a hit with us all. The kids didn't ask to leave and we stayed the entire time, much to our enjoyment. Oh, the joys of having older children who start to love these types of performances!
It truly is an amazing way to spend a summer evening in the most gorgeous area of downtown Calgary.
And for no reason at all, other than the fact that my son makes me laugh, here's a selfie my daughter and I took down at Prince's Island Park where my son totally photo bombed us.
Now, I have a few suggestions for making your Shakespeare on the Bow experience as amazing as ours was!
1.) Bugspray. Don't you even think of leaving home without it.
2) Pack a real picnic or treat yourselves to a lovely take out picnic from somewhere. It will help keep the kids quiet throughout the 90 minute performance (no intermission!) and it was so lovely having a picnic and watching a play. It made the experience complete.
3) Make time to check out Prince's Island Park, either before or after the play. There is a playground nearby that shouldn't be missed and if you go down the steps by the Bow River you might just see baby ducklings like we did!
4) Go early for a good seat. Set up your blanket and relax, bring a book to read or take the kids to the park.
5) Suncreen, a hat and water are a must! It was still hot out when we watched the play so remember your summertime necessities!
Happy Travels everyone! Make sure to check out all the bloggers who are having adventures in Calgary at Momblr.ca! There are so many neat stories on there!
Love,
Karlynn