I tend to bake when I stay at my sister's house while visiting the family in Calgary. We'll get up first thing in the morning and bake Flapper Pie – the catalyst for an entire cookbook, as it turned out! – or coffee cake, like this one.
We love digging through old cookbooks and family recipes, and this recipe for Saskatoon coffee cake is a meld of two recipes that we found. One recipe had a great topping, the other one, not so much.
Of course, being the prairie girls that we are, it goes without saying that while we don't have blueberries on hand, we always have frozen Saskatoon berries. Oh yes, there's always a bag or two in the freezer, doled out slowly and carefully for the next 6 months until it's time to forage a new batch of berries and freeze them again to last us through the winter.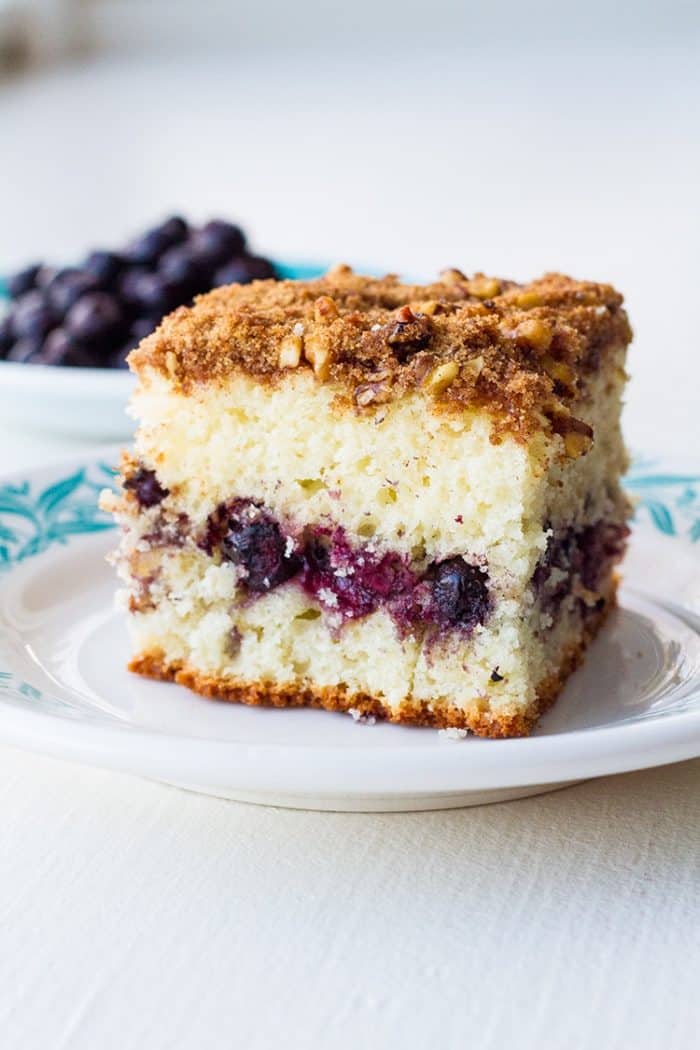 The other trick we tried with this Saskatoon coffee cake is putting the berries in the middle, in one lovely layer. It worked like a charm – as you can see- to keep the berries from ending up on the bottom of the cake.
Coffee cakes are so dense that every time I make them I am reminded why they are called coffee cakes. You absolutely need a cup of hot coffee to help wash down these heavy, thick crumbed cakes.
There's just nothing like them with a cup of coffee for breakfast. Which is exactly how my sister and I ate it. Coffee, cake and a side of scrambled eggs for protein, which of course, made it healthy, right?
There's nothing like a hot, fresh Saskatoon coffee cake for anytime of day, to be honest.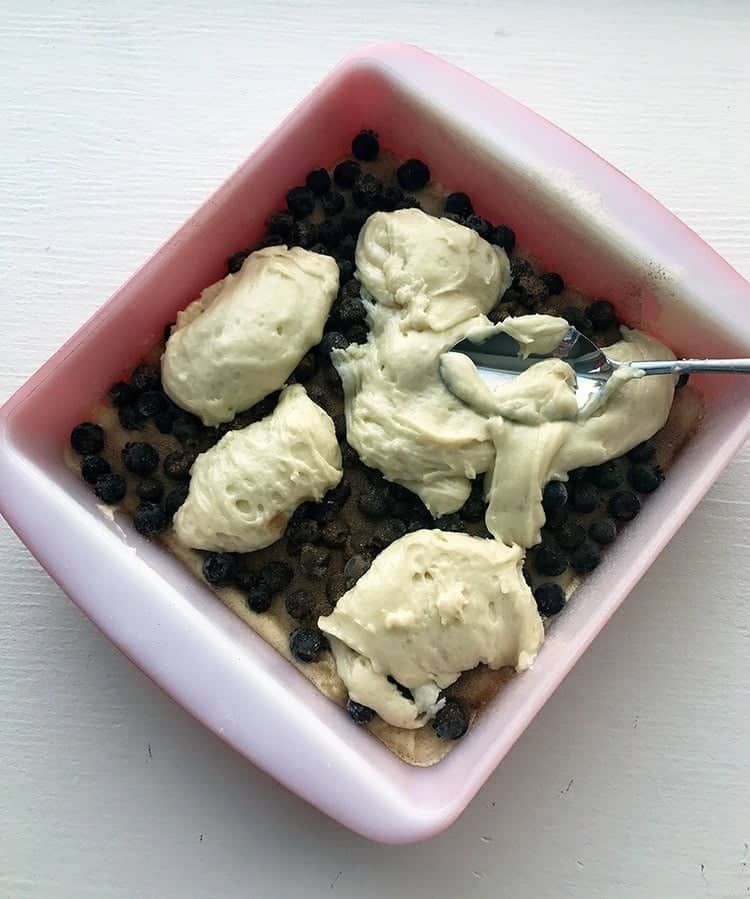 We also figured that a Saskatoon coffee cake simply screamed out for walnuts on top. I love a coffee cake that has a thick, buttery crumbly layer of streusel on top and with walnuts? Even better.
The problem with this Saskatoon coffee cake is that I am SO READY FOR SPRING.
Sorry, I didn't mean to shout that. What's really crazy is that we've had a great winter so far – it didn't really snow until the very beginning of December – and only a few really deep cold spells. However it doesn't take long for me to be ready to see the green grass and start planting my garden again. I'm already thrifting planters and pots in anticipation of the coming summer, I have so many plans for this year, seeing how we are home for most of the summer.
I'm ready for strawberries and Saskatoon berry picking and my garden and camping…
Ok, I'll stop before I depress myself that we are still in January.
Happy baking babes!
Love you more than summer,
Karlynn

Saskatoon Coffee Cake
Ingredients
3/4

cup

milk

1 3/4

cup

flour

3

tsp

baking powder

1/2

tsp

salt

2

cups

blueberries or choice of fruit

3/4

cup

sugar

1/4

cup

butter

1

whole egg

1

tsp

vanilla

Topping

1/2

cup

brown sugar

1

tsp

cinnamon

1

tbsp

flour

1

tbsp

butter

1/2

cup

walnuts or choice of nuts
Instructions
Mix sugar, melted butter,egg vanilla and milk.

Mix flour, baking powder and milk in bowl with whisk.

Blend the dry ingredients into the milk mixture.

Pour 2/3 of the batter into a 8X8 or 9X9 pan.

Spoon the blueberries evenly onto the batter.

Pour remaining batter over the berries and spread to cover evenly.

Sprinkle topping mixture on the cake.

Bake at 375 degrees covered half way through.

Topping

For the topping: add all ingredients together and sprinkle over the batter
Nutrition Facts
Saskatoon Coffee Cake
Amount Per Serving (9 g)
Calories 0
* Percent Daily Values are based on a 2000 calorie diet.
0