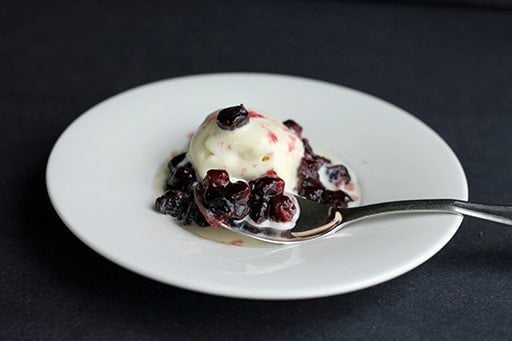 Happy Saskatoon recipes week! Here, as promised, is the very first recipe of 5 that I am going to post this week. The whole concept of this week came about yesterday, while I was in the middle of making this very sauce for dessert. I have ample Saskatoons to use up from my trip to BC last week and while whipping up this sauce was concocting all the various ways I was going to use up these beauties. I had a good 3 recipes planned in my head and decided to challenge myself by trying to get them out all in one week.
Not only is this a challenge for me but it also helps everyone who has been asking what to do with their Saskatoon berries. If I get them out in a timely manner, then hopefully my lovely local Edmontonians can bake, cook or sauce up a Saskatoon storm!
This is also featured in my Attainable Eats category because really, anyone can make this sauce. You can substitute any other berries and it's the same deal but why would you if you can get your hands on Saskatoon berries? A simple Saskatoon sauce and you look like a culinary genius at dessert time!
My love of traditional Saskatoon pie has no contenders for first place in my heart,  but a sauce to enjoy on top of ice cream comes a close second, mainly because it's like pie filling without the crust. On top of ice cream. Win!
Ingredients Needed for Saskatoon Berry Sauce
4 cups of fresh Saskatoons
2 cups of water
1 cup of white sugar
4 tbsp cornstarch
2 tbsp lemon juice
Combine 1 3/4 cups of water, the sugar and the Saskatoon berries and boil for 15-20 minutes, until the juice is very dark and rich with flavor, like the picture below. Some of the berries will start to break down and this is a good thing. Saskatoons aren't the most sauce friendly berries, they can be seedy and tough.
I use lemon in my sauce even though I don't in my pie because there is nothing tangy to compliment it elsewhere. With my pie the lard pastry uses vinegar and the tang adds another dimension to the dessert.
The sauce should stand alone flavor-wise and this burgundy beauty certainly did.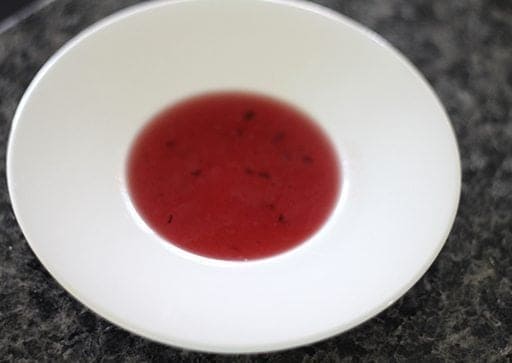 Stir the cornstarch into your remaining water add the lemon and then cook 5 minutes more or until the Saskatoons are the texture  you want. This sadly involves a lot of taste testing, poor you.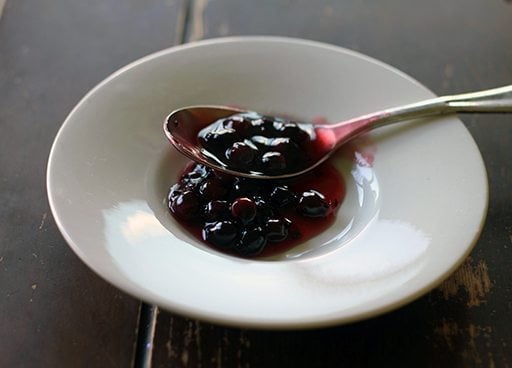 This is a large amount of Saskatoon berry sauce mainly because I wanted to have jars on hand for the fall/winter.  This recipe yields 4 cups of cooked product by the end, meaning that I have 3 jars of sauce to seal up and place on my shelf for when we are jonesing for a taste of Saskatoon berry. You can half this easily and also add more sugar if you are inclined. This is not a super sweet recipe, I prefer to let the Saskatoon flavor shine rather than smother it with too much sugar.
It was mentioned by Michelle that it would make a lovely savory sauce and perfect on pork chops and because my version isn't too sweet, I readily agree.
Also, it is beyond fabulous on turkey. I've had it. It's to die for on a piece of juicy, hot from the oven turkey breast.
Get our your canning gear and tuck away some jars of this to gift at Christmas or merely to enjoy yourself instead of cranberry sauce.  Be a rebel;  let Saskatoon sauce grace your Christmas table and bring a taste of Edmonton summer to your wintertime dinner plate!
Love,
I Love Saskatoon Season in Edmonton Magpie
16