This post may contain affiliate links. See my privacy policy for details.
I'm back from my glorious week spent on Vancouver Island and trying to get out of vacation mode (mainly by going back to eating vegetables and not having afternoon tea daily. Sigh.) For those of you that are just tuning in, I spent a week travelling to Vancouver Island and staying in the capital city Victoria, thanks to Esurance.
Now, because I'm a local Alberta girl that travels all over, I was chosen to introduce you all to Esurance, an online auto insurance company that launched in Alberta in 2015 – and Alberta is the only province in Canada where Esurance is available! Esurance is all about providing insurance for the modern world, taking care of people the way a modern company should. Esurance works hard to continually innovate, leveraging the latest technology, offering competitive prices and a simple, efficient experience, while providing customers with personal care from knowledgeable experts. Albertans can now save time and manage their insurance easily and efficiently – online!
The fine folks at Esurance sent me on a week long road trip to Vancouver Island and while I was enjoying myself, you all got to enter the Fabulous Esurance Hit The Road Giveaway. The giveaway is live for a while longer, so make sure to enter! The prize is a Smart Driver Care Package that's worth around $400 and includes a 4G Cell Booster!
I've also written about my 8 Tips For the Perfect Summer Road Trip, which includes a lot of my favorite tips and tricks to making a road trip a safe and successful journey. We road trip all the time – we're actually heading out to Salt Lake City in three days – so over the many years, and many kilometers of travel, I've learned a few things. Most of them the hard way, actually.
The week in Victoria was so amazing that while I will be writing about the individual parts in the weeks to come, I want to do a quick recap for everyone to enjoy.
Here's what I look like at 6 am, ready to rock and road trip. Tired. I look tired. This was pre-coffee at Tim Hortons.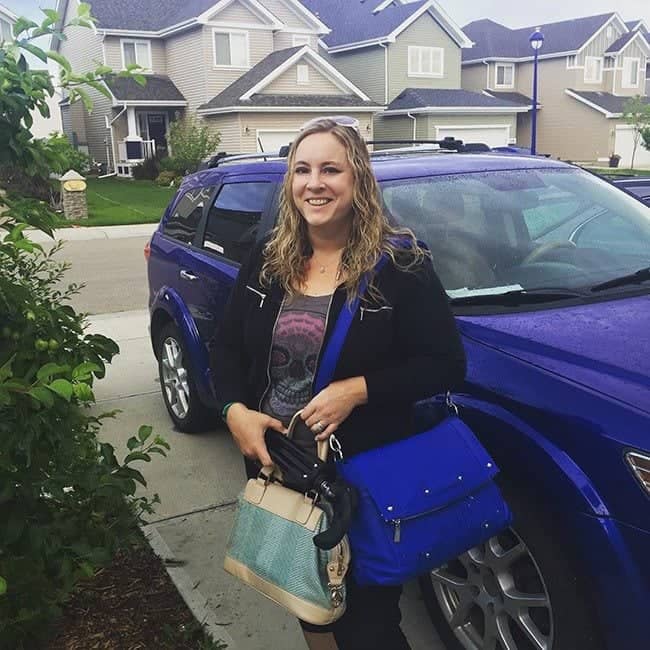 I picked up Kandice in Carstairs and we were off! The trip took us through our amazing Rocky Mountains, which can be a really long trip. I knew that there was no way that I was making it in one day – not when you add in a ferry to an island- so we took our time and enjoyed all of the gorgeous scenery.
We safely rolled into Victoria the early afternoon after two days of travel and checked into our hotel, The Best Western Inner Harbour. Overall, I loved this hotel and would stay there in a heartbeat again. We could walk to the Fisherman's Wharf or downtown easily and the view was of a beautiful park with the harbor peeking through.
With only five days in Victoria, we threw our suitcases into our hotel room and took off! When we found out that the world famous Butchart Gardens was open until 11, we went straight there. The gardens are simply stunning at twilight and we were told that it was the best time to attend, as you miss the daytime crowds. There are plenty of lights and since the sun sets around 9/9:30, you have plenty of time to see and photograph everything in the magical "golden hour" for photographers.
Also of note, after driving for two days it was amazing to walk around for 3-4 hours.
The next day I went thrifting, which should surprise no one and went for high tea at the Fairmont Empress, which again, should come as no shock to anyone who knows me. Tea at the Empress is a must, at least once in your life.
The following days were a blur of activity. This was not a relaxing beach vacation; this was an explore-everything-you-can vacation, which is my favourite kind.
We visited Craigdarroch Castle, a gorgeous castle that you get to tour and is one of my favourite things to see in Victoria.
We took yet another road trip within a road trip and drove through:
Cowichan Bay, the adorable fishing village with an amazing bakery…
Duncan, with its world famous totem poles walk….
And all the way to Coombs to see the famous Goats on Roof! They are as cute as they are claimed to be!
One entire day was spent on a wine tour. We hopped on a tour with a local company and went all through the wineries in the Cowichan area. It was a very rainy, bleak day, which was perfect for a wine tour.
We managed to sneak in a walk down to the Fisherman's Wharf area, famous for its fish n' chips, ice cream and adorable seals that wait for fish treats to be tossed to them. Sadly, the place that sells the fresh fish that you can feed the seals was closed, but there were a few hopeful seals giving us some sad eyes, wanting food.
Was there ever any doubt that I would find the ice cream?
Now again, before we went back, I made sure that the car was ready to go. We filled the tank with gas, checked the tire pressure and made sure that everything looked good for a trip back through the mountains again.
While it is commonplace that we all like to hurry back at the end of our vacations, I think that it's a completely overlooked part of your trip. We made a slight detour to visit Davison Orchards in Vernon, BC. I had met Tamra and Leah at Christmas in November almost two years ago and final wanted to pop in and meet them. So I made the plan to stop on the way home. I knew that it was going to take two days again and that we may as well have some fun on the way home instead of rushing back.
What could be better than a trunk full of fresh fruit?
The trip back was rainy. The entire trip through the mountains on our last day it poured and poured. We had to drive so slow in some places, as the car would have hydroplaned in an instant. There's that solid reasoning why you need to make sure that you are filled up with gas for travel in the mountains and check your tire pressure before you go. I needed every single ounce of performance from my tires that day! There were areas that had water running across the road like a river!
Esurance has an excellent article outlining tips for stress free mountain driving. There are some really great points in it, I highly suggest you give it a read if you are thinking of a mountain trip. It's basically everything my Dad ever taught me about mountain driving, I'm sure he'd approve of the list!
Remember that Esurance commissioned research I talked about in an earlier post? I understand now why Albertans are more prepared than most Canadians. Our top destination is the mountains. So we understand better, we Albertans, why it's so important to be prepared. The mountain weather can be crazy and you have to be ready for it!
If you forgot, those stats were:
45% of Albertans get oil changes done compared to a 35% national average. We are also more prepared for emergencies.
44% of Albertans make sure our road emergency kits are up to date and fully stocked, compared to only 1 in 3 Canadians overall.
67% percent of Albertans plan our route, 66% of us stock up on food and drinks and 47% pack up the car with entertainment such as music, books and movies.
Thankfully we took it safely and slowly and arrived home in one piece, safe and sound!
Now, I am off to pack for another road trip this week, but I'll be talking some more about my road trip advice! I learn more and more every trip, it seems!
Thanks for coming with me virtually!
Karlynn
DISCLOSURE: This post is sponsored by Esurance. All opinions and language are my own.