There are some people that prefer Rhubarb Crisp made with only rhubarb. No strawberries, just plain rhubarb straight from your spring garden. My Dad would definitely fall into that group and while I do love a good strawberry rhubarb combination, there is nothing like a purely rhubarb crisp first thing in the summer. Also, my strawberries aren't ripe yet…soooo..rhubarb it is.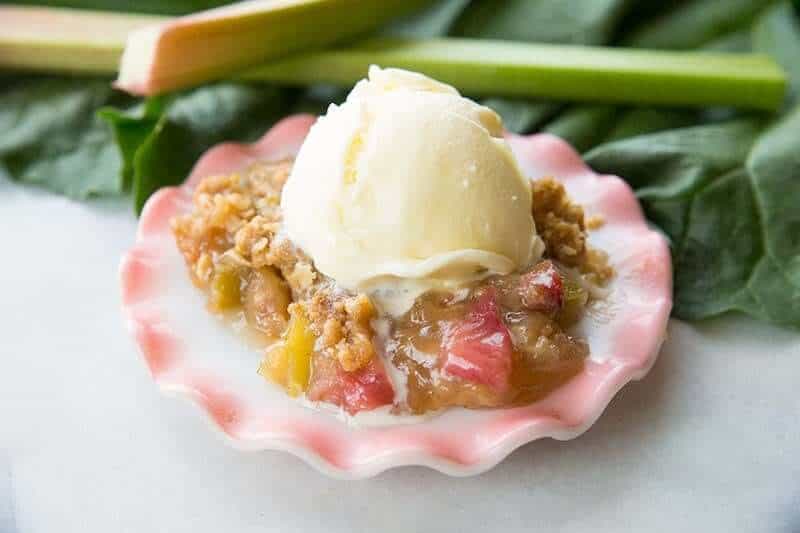 Simple & Easy Rhubarb Crisp
Rhubarb has a special place in our household come springtime, it's a childhood favorite of mine – raw dipped in sugar to take the edge off- and it is my husbands number one pie/crisp/dessert filling.My children really don't care what I bake, as long as it's sweet, comes covered in ice cream and they get to have it after supper.The kids always love helping me harvest the rhubarb, running amok playing with the elephant ear leaves, whacking each other with them of course and every year, still trying bites of the stalks even though they were warned how sour it is.
I have never introduced them to dipping it in pure white sugar as I did. I might create monsters. There's no going back from that one!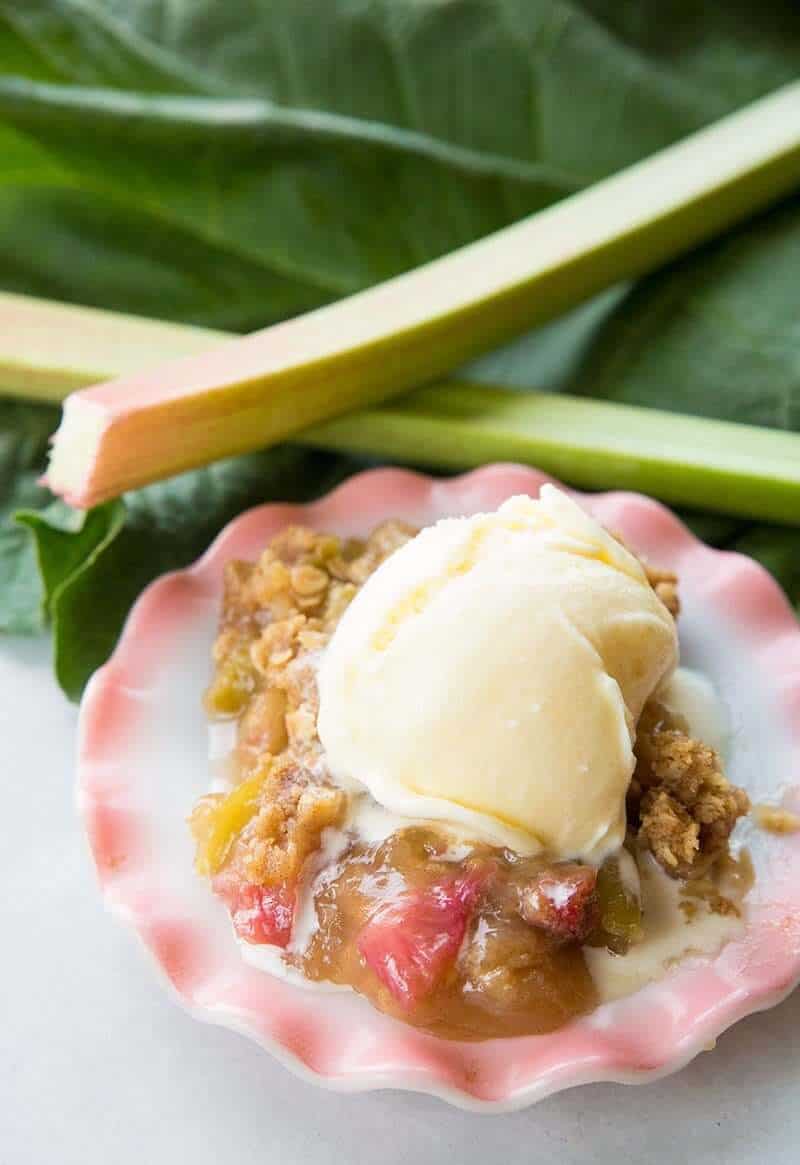 Can I make rhubarb crisp with frozen rhubarb?
For my recipe, you bet! Defrost it first because in my recipe you don't cook the rhubarb into a sauce first. In order for the rhubarb to cook and break down properly it will definitely have to be at room temperature when you place it into the dish. The best way to freeze rhubarb? Cut it into 1 inch pieces and place them in one layer on a parchment lined baking tray. Freeze them solid – this can take a good 3-4 hours- and then place them all together in a large sealing freezer safe bag. They will keep for months and you can have rhubarb crisps in the middle of winter!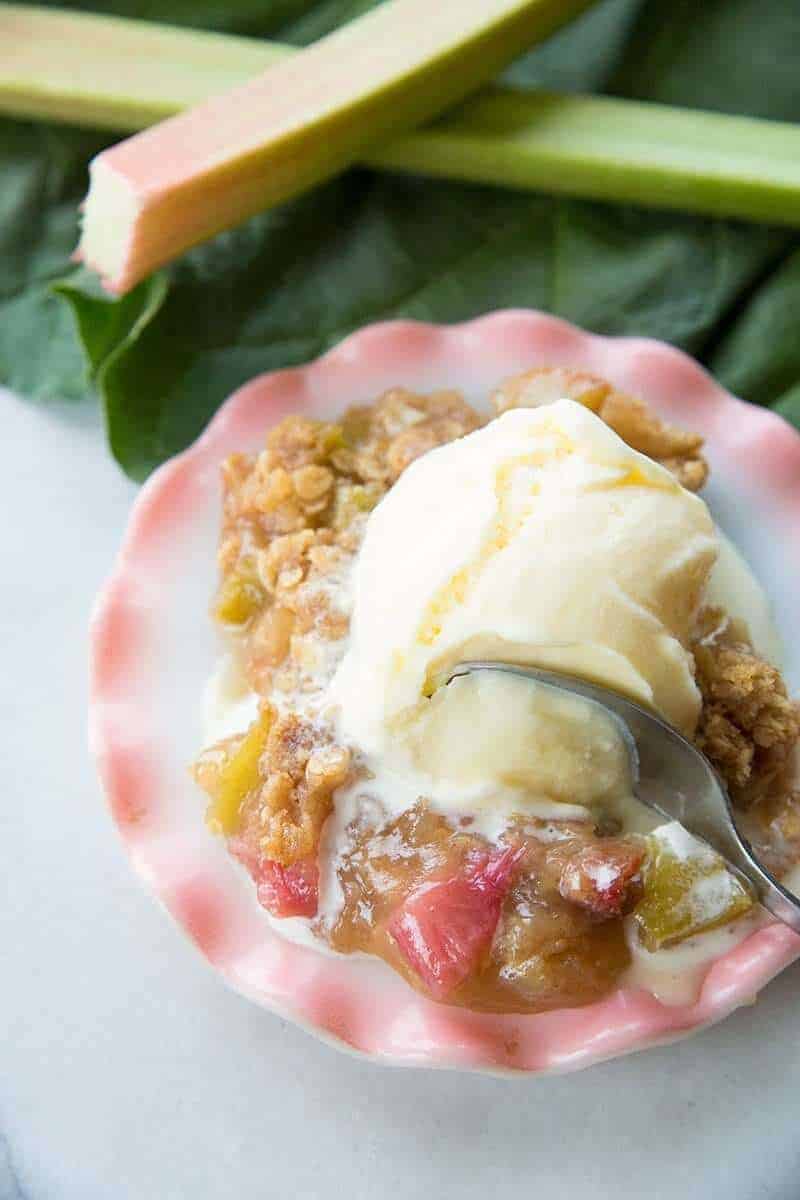 Karlynn's Baking Tips & Tricks for Making a Great Rhubarb Crisp
Use salted butter in the topping! Oh, what a taste difference it makes when you add in that salt. You all should know by know how I preach the virtues of using salted butter in topping and sauces to cut the sweetness and add depth of flavour. The topping here is no different!
Cut your rhubarb into 1/2 inch pieces, this is a great size that will break down nicely in the crisp.
I don't cook the rhubarb beforehand as I like to have some pieces that are a little "together" in the mix. They hold their shape slightly and it's a better texture AND presentation.
It doesn't matter if your rhubarb is red or green they are both ripe and the same. Read my Rhubarb 101: How to Grow Rhubarb, Cook with Rhubarb and Rhubarb Recipes. That post is chock full of great rhubarb information!
If you are looking for some more rhubarb recipes, try these:
Happy baking everyone!
Love,
Karlynn
Pin this recipe to your Desserts Board and Remember to FOLLOW ME ON PINTEREST!
Rhubarb Crisp
Rhubarb Crisp is the best way to use up springtime rhubarb! This recipe is my family's favorite and you do not cook the filling ahead of time with this recipe!
Ingredients
Topping
1

cup

all-purpose flour

1

cup

brown sugar

3/4

cup

oats

1/2

cup

melted salted butter

1

teaspoon

ground cinnamon
Rhubarb Filling
4

cups

diced rhubarb

1

cup

white sugar

2

tablespoons

cornstarch
Instructions
Preheat your oven to 350 °F. Grease a 9x9-inch baking dish and set aside. ( 9x9 makes a much better crisp, nice and thick!)

Mix the flour, brown sugar, oats, butter, and cinnamon together in a bowl until crumbly. Press half of the oat mixture into the bottom of the 9x9 pan.

Add the sugar and cornstarch to the rhubarb, toss to coat evenly. Place on top of the oats in the bottom of the pan, making sure that the sugar is dispersed evenly throughout so it's not all in one place.

Sprinkle the remaining oat mixture over the rhubarb.

Bake in the preheated oven until crisp is lightly brown and bubbling, about 1 hour. You might have to cover the pan with tinfoil if your topping starts to brown too quickly, simply remove the last 10 minutes and make sure that the topping crisps up at the end.
Recipe Video
Recipe Notes
You might have to cover the pan with tinfoil if your topping starts to brown too quickly, simply remove the last 10 minutes and make sure that the topping crisps up at the end.
Nutrition Facts
Rhubarb Crisp
Amount Per Serving
Calories 409
Calories from Fat 108
% Daily Value*
Total Fat 12g 18%
Cholesterol 30mg 10%
Sodium 112mg 5%
Potassium 256mg 7%
Total Carbohydrates 73g 24%
Protein 3g 6%
* Percent Daily Values are based on a 2000 calorie diet.
28