As I'm sure you know by now, I am a big fan of using whole wheat or grain-filled pasta whenever you possibly can in dishes. Sometimes you do need a glorious white pasta (decadent mac n' cheese is a perfect example of this) but most times a dish and your health can benefit from substituting in a whole wheat or whole grain based pasta. We have been avid whole wheat/whole grain pasta lovers for over a decade now, starting our own conversion over when my 12 year-old was young. The kids now actually prefer whole grain pastas, as do Mike and I. There's something so toothsome about them that I really enjoy.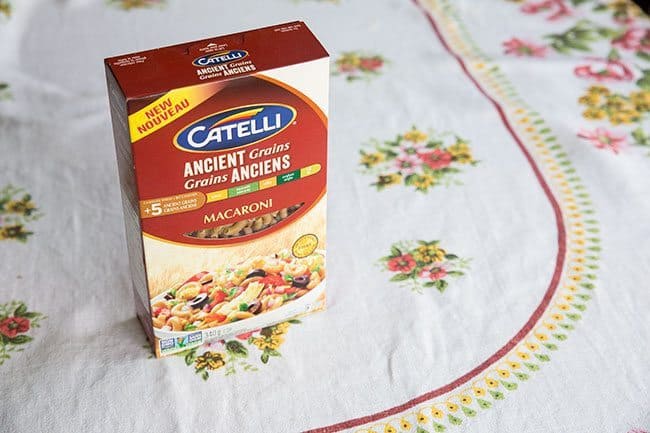 Summer time is on the way and I've oddly been dreaming about making a retro tuna macaroni salad. I love an amazing picnic salad and a tuna macaroni salad has been on my to-make list for as long as I can remember. What better time to try out new Catelli Ancient Grains macaroni than with my own twist on this time-tested classic –  retro tuna macaroni salad? Catelli Ancient Grains is the only 100% whole grain pasta of its kind, with a deliciously different, yet mild flavor. The five grains included in the pasta are quinoa, teff, amaranth, millet and sorghum. It's also made with 100% all-natural, whole grain Canadian wheat, which as you can guess is very high in healthy fiber for us all! This line of pasta is only available in Western Canada right now.
Catelli Ancient Grains is a nice light colored pasta and to be honest, you can barely tell that you aren't using a white flour pasta in the recipe.
Now, does the sight of this bring back memories of church picnics and potlucks of your youth? Oh, it sure does for me!  Tables groaning under the weight of delicious delights and there were always at least four or five different pasta salads! I would usually look for the tuna one, for even as a child I absolutely loved tuna in all forms.
Now, I do make mine a little different. I think tuna always needs some dill pickles to cut the richness of the fish itself, not to mention in a mayo-based salad you definitely need the acid in there.
I also have another secret to this salad's success – and this is a family trick for sure- use half mayo and half whipped salad dressing. The tuna needs the tangy dressing, absolutely. While I am usually a mayo purist, in this salad, whipped salad dressing is the only way to go. Well, at least for half of it!
You can customize the salad any way you like, from adding olives – which is the ultimate retro tuna salad!- which also add that acidity to cut through the richness. I added a lot of green onions since I love them, around 2 stalks of celery because I wanted a lot of crunch…the possibilities are endless. Mix, match and customize until you have a salad that you love!
Happy cooking everyone!
Love you more than chocolate!
Karlynn
Retro Tuna Macaroni Salad
Ingredients
1

g

box of Catelli Ancient Grains Macaroni 340

3-4

hard boiled eggs peeled and chopped

8

stalks of green onions chopped

1/3

cup

celery chopped finely

2

medium dill pickles chopped finely

2

oz

cans of tuna drained well

8 .

¾

cup

light mayonnaise

¾

cup

light whipped salad dressing

3-4

tbsp

. sweet relish to taste

1

tsp

black pepper
Instructions
Cook the pasta according to package instructions. Drain and set aside to cool.

In a large mixing bowl, combine the pasta, eggs, celery, pickles, green onions and tuna. Toss with a fork to combine.

In a measuring cup, mix the mayo, whipped dressing, relish and pepper Taste and add more relish or pepper as needed.

Pour the dressing over the macaroni and stir gently to combine.

Refrigerate for a few hours or overnight.

Serve and enjoy!
Nutrition Facts
Retro Tuna Macaroni Salad
Amount Per Serving (12 g)
Calories 0
* Percent Daily Values are based on a 2000 calorie diet.
6