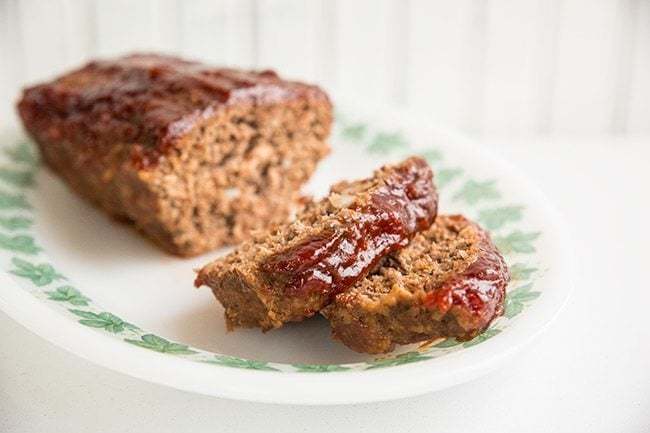 Let's start with first things first. I was craving an awesome, retro-licious sweet and sour meatloaf. In August.
You can TOTALLY eat sweet and sour meatloaf in the summer. Winter doesn't get to have all the good food.
Season's aren't the boss of me. I'll eat in, around, over, out of, and under season if I darn well want to.
Because you know what? Edmonton is cold somedays, even in the summer. Today we are under a heavy rainfall warning here in parts of Alberta, and let me tell you, it's cold and POURING RAIN. Bah. We get so little summer as it is here in Alberta, and this week looks like it's going to be absolutely crummy. Here's hoping that fall treats us a little better than the past week has.
Because I also ordered 8 new trees that we have to plant in the backyard before we head out on a trip soon. That's my style. Oh, you're heading out on a trip Karlynn and you have to pack, clean the house and make all sorts of plans? I think you should order some new trees to plant in the backyard as well. Who needs sanity?
Not me. Sanity is totally overrated. And dry weather to plant your new trees in? That's completely overrated as well, right?
Sigh. Season's may not be the boss of me, but the crazy Alberta weather sure is. Here's hoping that it clears up for a couple of days so that I can get those dang trees planted.
This is the view out of my bonus room window today. Crazy rain and my beautiful blue carnival glass to cheer me up.
Let's get back to talking about retro meatloaf.
I really, really wanted to make meatloaf, dang it. I've been meaning to turn on the furnace because it's cold  make an awesome retro meatloaf. (Oh, and I totally had to turn on the furnace back in June this summer. Sigh. Has anyone turned theirs on yet today? I swear I'm getting close!)
I wanted a meatloaf that had that awesome ketchup based sweet and sour sauce on top. You know then one, it has tangy mustard, brown sugar, white sugar and basically was the topping for every meatloaf that our Mom's made in the 1970's/1980's. It's the mustard that does it. It adds that little tasty touch to the sauce that just says "Moms meatloaf".

Unlike most recipes, I whisk my ingredients together and pour it on top and THEN bake the meatloaf. Why on earth would I want to cook something on the stove, in another pot, halfway through the meatloaf cook time and then pour it on top to cook?
Save a pot. Bake it all at once.
On another note, how can summer be almost over? How can it be time to get into meatloaf and pumpkin and everything Autumn? How can it be time for my kids to NOT go back to school? Remind me again why we are homeschooling this year for a second time as I listen to my children fight while cleaning their rooms.
How many more days until the 2017-2018 school year when I send them back?
Love you more than chocolate,
Karlynn

Retro Sweet & Sour Meatloaf
Fabulous retro meatloaf with a sweet and sour sauce on top! Reminds me of the 1970's SO much!
Ingredients
1 1/2

pounds

ground beef

1/2

cup

minced white onion

1

cup

dry bread crumbs

1/4

cup

ketchup

1

teaspoon

salt

1/4

teaspoon

ground black pepper

2

eggs
Sweet n' Sour Sauce
1

cup

ketchup

1/4

cup

water

2

tablespoons

mustard

2

tablespoons

brown sugar

2

tbsp

white sugar or to taste when mixing in

2

tablespoons

white vinegar
Instructions
Pre-heat your oven to 350F.

Combine the beef, onion, bread crumbs, ketchup, salt, pepper and eggs; mix well. Press into a 9x5 loaf pan.

Whisk the sauce ingredients together.

Pour over meat loaf; bake 60 minutes or until a meat thermometer inserted into the middle reads 165°.

Remove, slice and serve.
Nutrition Facts
Retro Sweet & Sour Meatloaf
Amount Per Serving (6 g)
Calories 0
* Percent Daily Values are based on a 2000 calorie diet.
3