This post may contain affiliate links. See my privacy policy for details.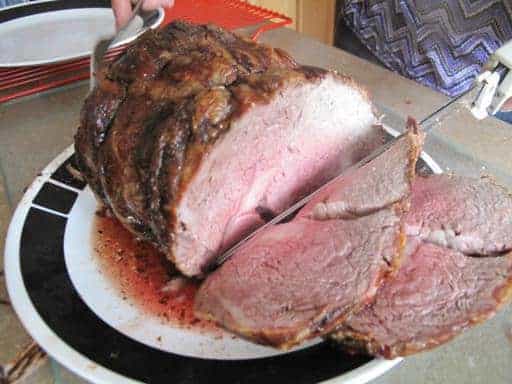 With Christmas almost upon us, I am going back and bringing forth from my archives some of my more helpful or popular posts, and how to cook a prime rib roast is one of them.
Prime is the "grade" given to the meat, most roasts are actually just rib roasts, which on their own are delicious.
In Canada, we have Canada Prime, AAA, AA, and A. In the United States, they have Prime, Choice, Select and Standard.
It goes without saying that not all of us can get to a real butcher, so when looking for a roast, look for one that is well marbled, bright red meat and calculate one rib per two people (or 1/2 pound of meat). We always go slightly more because the leftovers are amazing.
Ingredients Needed:
prime rib roast
butter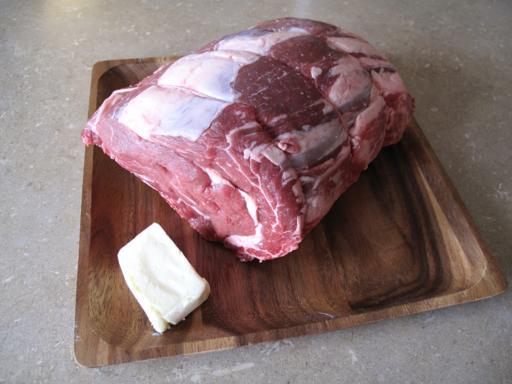 Yup, that's it. I don't like any flavoring, salt, (which, by the way, can dry out the meat you are cooking, big no-no so you add it after) garlic rubs or the like. The butter has some salt in it of course, but the purpose is to actually help sear the meat at the beginning of the cooking process. You can search and try some rubs or toppings, there are a few out there, if you so desire.
Remove your roast from all its packaging and let it sit out for an hour until it's about room temperature. Never, ever, cook a roast from frozen. The outside will be overdone and the inside will be raw. Absolutely a mess.
Take the butter and cover not only the ends, but if you don't have a layer of fat on the top, cover that as well. When choosing prime rib, you actually want a layer of fat on the top. This helps make the roast oh-so tender. This roast didn't have a layer, it was butchered too close, so I put a layer of butter on top.
Preheat your oven to 450 at this point.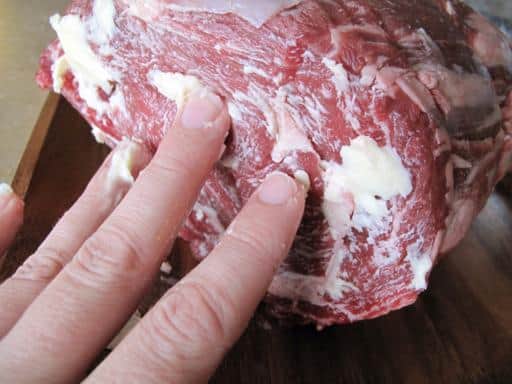 Once it's covered, place on a wire rack in a pan deep enough to catch the drippings.
Now we want to sear the roast. Place it in the 450 degree oven for about 20 minutes. This picture reminded me that *embarrassed cough* I need to clean my oven.
It should be nicely browned (seared) on the outside now. This in theory seals in all the juices, and to be honest, when I do it this way I hardly have any drippings for gravy. So it really must do something to hold in the juices. Now you can turn the oven down to 325 degrees and roast.
You cannot cook prime rib without a meat thermometer. You can't. This masterpiece depends on a precise temperature, with it being pulled out of the oven at the exact right moment. This can't be achieved without a thermometer. And to be honest, if you spend $50 on a roast, why on earth wouldn't you pick up a $15 digital thermometer?
I measure on the outside where on the thermometer it will hit and put my fingers there.
Then keeping my fingers on the same spot, I put the thermometer in the middle of the roast until it reaches to where I measured. Make sense? Probably not. I usually just pretend I know what I am talking about.
Now place in the 325 degree oven for baking. Below are guidelines for roasting a prime rib roast. I wouldn't waste the roast by going beyond medium rare personally. You want to pull the roast out a minimum of 10 degrees BEFORE you hit these temperatures. Once the roast is out, tent it with foil, and let it sit for about 20 minutes. The temperature will rise at least another 10 degrees if you cover it in foil. It also lets the juices set and flow back to the meat.
Prime Rib Roasting Internal Temperatures
Blue in the middle– 110 degrees – when the middle of the roast still "quivers"
Rare- 120 degrees in the middle
Medium-rare– 125- 130 degrees in the middle
Medium – 140 degrees in the middle. You don't want it cooked this much.
Well-done– Don't make me slap you for ruining a prime rib roast
So, you have pulled it out 10 degrees before it's ready and tented it in foil for 20 minutes, right? Now it's time to remove the bones. You want to slice along the curve of the bones just like below. I apologize for the poor, flashy picture. My husband isn't that adept at my camera. It could be because I don't share well. And definitely not my camera.
I know you all are wondering why I can't do this and take a decent picture at the same time. I don't know. I'm sorry. FAIL COOK.
And once again, not top quality pic. Good help is so hard to find these days. I mean honestly, I feed the man, make him do the dishes and his own laundry, don't share my camera or my chocolate, and am nice to him, and nada on the good pictures. Sigh.
"You can see though, how pink it is in the middle. This was actually done to between Blue and Rare in the middle, for the first time ever, and it was fantastic. But I like rare. For the average person, I would cook it to rare to medium rare and no more.