This post may contain affiliate links. See my privacy policy for details.
Pepperoncini peppers seem to crop up in all sorts of different recipes. However, the isn't really any description for what these strangely yellow-green, pickled peppers actually are. Let's take a look at what Pepperoncini peppers are and what you should use them for.
For some great recipes to use with Pepperoncini peppers, why not try this recipe for Instant Pot Mississippi Pot Roast? Or maybe this Antipasto Platter Recipe?
Pepperoncini Peppers
Pepperoncini peppers are the small, delicate peppers that you usually find sold in jars after being heavily pickled.
Their main use is in adding a kick of spiciness, especially in dishes with long cooking times like pot roasts, as well as giving plenty of sweetness from the pickling liquid. They are also sometimes served as garnishes in certain takeout restaurants to both provide color contrast and to offer a big kick of spice if eaten directly.
Their strange, yellow-green color comes from the pickling liquid used, as the peppers themselves can actually turn a bright red when they are fully mature.
But what kind of peppers are they? How hot are they?
What Kind of Peppers Are Pepperoncini's?
While the name of Pepperoncini might imply that they are simply just a tiny pepper, they are actually their own distinct type of chili pepper.
Also commonly known as Italian chili pepper or the Tuscan pepper, Pepperoncini's come in two different varieties depending on where they come; Italy or Greece.
They are typically sold interchangeably, however, despite the fact that the Italian version is noticeably longer, whereas the Greek version is a bit more naturally yellow and a touch sweeter.
You can actually find Pepperoncini's that aren't pickled, but they are mostly only available when sold as a Tuscan Sweet Pepper and are a bit rarer. Their taste is somewhat bland, and a bit uninteresting if they aren't pickled, which explains why they are a popular pepper picked for perseveration in pickling.
Something to keep in mind, however, is that not all Pepperoncini peppers sold in jars are exactly as they appear. While good quality brands will only use real Pepperoncini's, some cheaper companies might resort to using other types of peppers instead, such as Jalapenos or even bell peppers.
This is why it is important to always check the ingredient labels of what you're buying – if the label just says "chili peppers," you might not be getting real Pepperoncini's.
One common substitute is the Banana Pepper, mostly because Pepperoncini's and Banana Peppers seem super similar.
What Is the Difference Between Pepperoncini's and Banana Peppers?
Banana Peppers are frequently confused with Pepperoncini's, mostly because they are both peppers sold in jars as a pickle.
However, Banana Peppers, also known as the Yellow Wax Pepper, are quite different from Pepperoncini's – for starters, they have almost no heat whatsoever. Maxing out at around 500 Schoville units at best, these Banana Peppers only exist to provide a sweet, mild taste in pizzas, salads, or alongside cheese and salsa.
Make sure that you don't accidentally confuse Pepperoncini's and Banana Peppers when you're buying them – if you're looking to use Pepperoncini's to add some much-needed spiciness to your dish, you're going to lose all of that if you accidentally get Banana Peppers instead.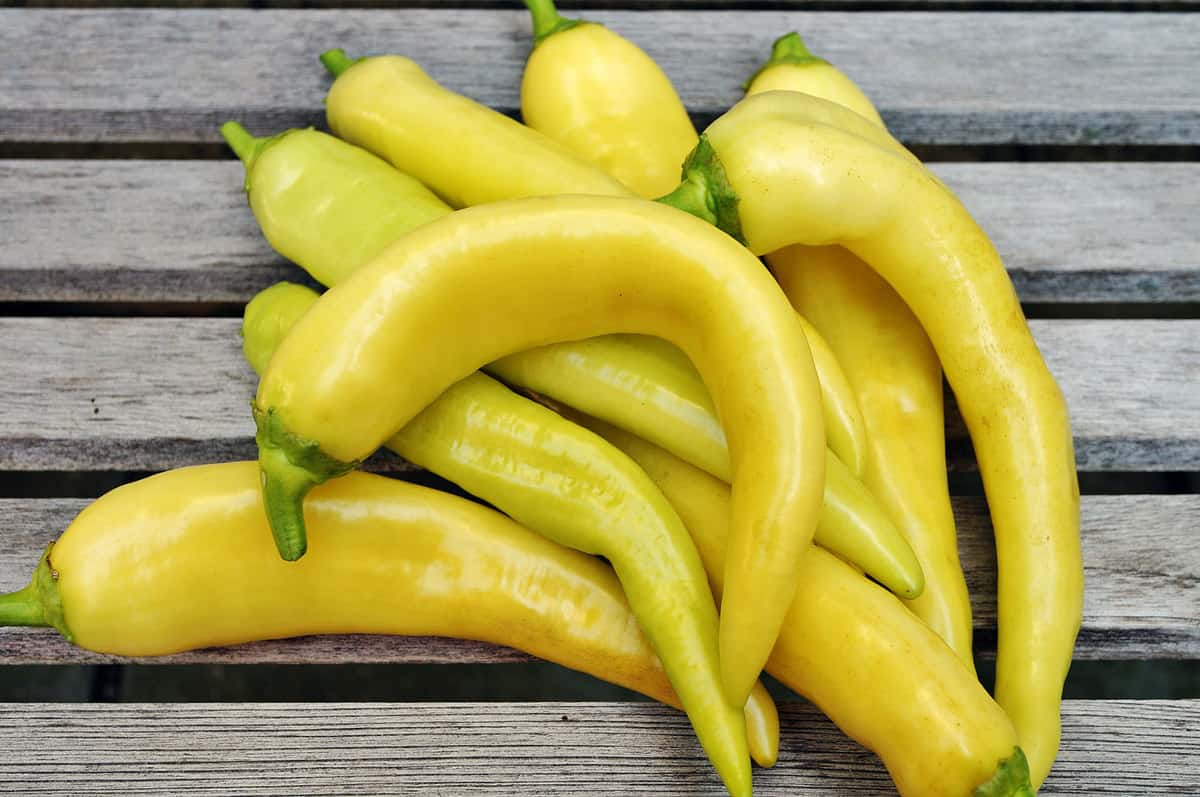 How to Use Pepperoncini's
Pepperoncini's are a great addition to all sorts of different recipes, as they offer plenty of spicy zing alongside a lot of sweetness from the pickling juices.
Alongside recipes where Pepperoncini's are the star of the show, like the Mississippi Pot Roast or some pizza recipes, Pepperoncini's are a great addition to things like soups, salsas, and sandwiches. Just dice them up, either into rings or chopped fine, and add them into any recipe that needs a touch of sweet acidity and spiciness.