This post may contain affiliate links. See my privacy policy for details.
The last day of our fabulous trip to Calgary, Alberta a couple of weekends ago saw us heading to Calaway Park, which is just west of Calgary on the Trans Canada highway. It's a hop, skip and a jump away if you are already visiting Calgary and I highly suggest that you make sure to check it out.
The kids started with a game, right at the beginning and a certain little Miss won herself a stuffed panda. This kid has the magic touch. No matter where we go and what games we play, she manages to win herself a big prize.
The rides, of course, are our favorite part at Calaway Park. I have a couple of thrill seekers, that's for sure, and it's so funny how my daughter turned from a child who didn't like any rides at all that were scary to a girl who loves roller coasters, dropping rides and more. Granted, I still can't get her on anything that's visually scary,like a haunted house, by herself, but thrill rides? She's in love.
The Free Fallin' ride is one of her favorites at Calaway Park. As someone who is scared of heights, let me tell you how much I love having children that are tall enough to go on the rides themselves now!
Look at that face of pure joy!
As much as they love scary rides, these two will also ride anything. Calaway Park has a ton of rides for all age and thrill levels. The U Drive- Safety School of Motoring is still, to this day, another favorite of theirs. Little motor cars putter along a 1/8th of a mile track and the kids love it.
While I don't like heights, you can get me on relaxing rides such as the Balloon Ascension.
The Balloon Ascension is a great opportunity to sit and chill out, take some pictures and take a load off your feet.
You also get some fantastic views of the park. You can see the roller coaster, The Vortex, which was my son's first upside down roller coaster ever! He still remembers this fact, every time we visit Calaway Park.
The other view is of The Air Gliders and the Berry Go Round. What is it about those berries that children love so much? It still is one of my kids favorite rides to go on.
Now, that weekend we were also filming, so the kids took the cameraman Shaun on the ride with them. The spinniest ride of all, The Samba Spin!
I might have been egging them on to spin Shaun as fast as they could..and they might have made him a little bit green by the end of it.
One of the things that I love most about Calaway Park is how affordable it is. We travel a lot and we go to carnivals and theme parks everywhere and I can truly say that Calaway Park has a lot of affordable options.
Games such as this one, for a toonie where the kids are guaranteed to win something, whether it's a pop or popcorn or even a round of mini golf. It's inexpensive and the kids love spinning this wheel. Even the games in the carnival area are all still affordable.
We took a break from the rides to explore the rest of what Calaway Park had to offer.
Glitter tattoos were a hit with both kids.
My kids cannot walk past a shooting range without wanting to try it and the one at Calaway Park is one that is easy enough that most kids can play it as well.
My kids can also never walk past one of these photo boards. Ever. My son is begging me to go back for when the newTimber Falls opens and I admit it, I can't wait! The renovation sees a continuous loading dock which will make waiting in line for this one a faster experience! Not only that, there are more thrills and splashes awaiting riders on the new version!
No trip to Calaway Park is complete without a visit to the Haunted House!
We made sure to catch one of the stage shows at the Celebrations Square stage, The Storybrook High Talent Show. This 25 minute show is full of entertaining songs and dancing and also pulls some children from the audience to participate.
The Rose was one of the kids chosen to go up and dance and she had a great time! The last dance was a Conga line through the audience and it was so cute to watch her with the performers!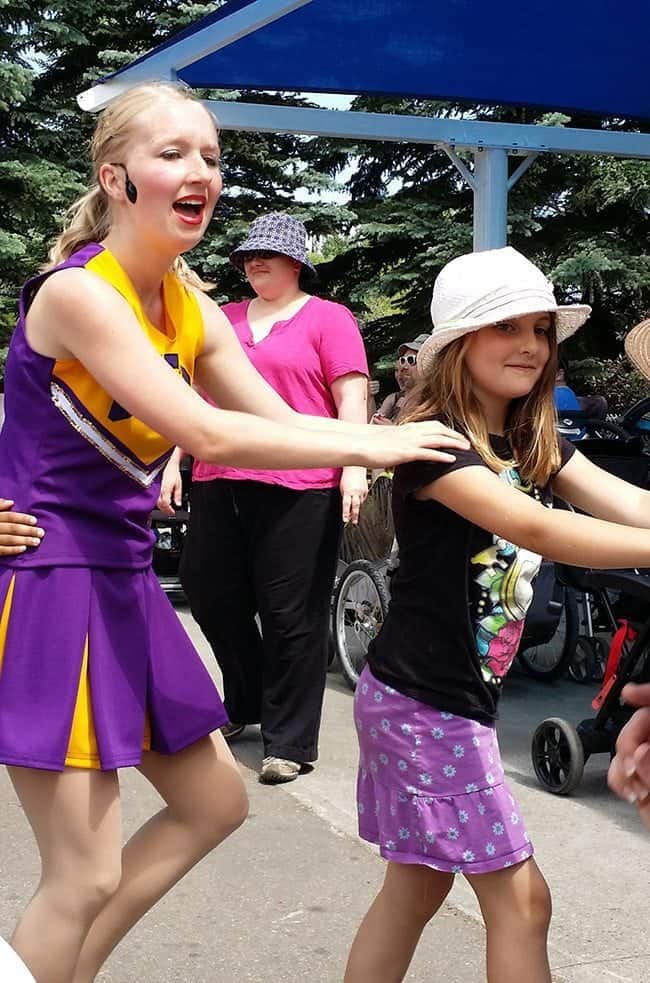 Big smiles from the little star!
So now my tips and tricks to Calaway Park!
Go right for opening to make the most of your day.
Hit your favorite rides first, I suggest making sure you go on The Vortex first thing!
Make sure you have sunscreen, water and hats for everyone!
If you are playing games, I suggest the one that I mentioned above in the photos.
Make sure to see a show! Take a load off your feet, relax and enjoy the entertainment for 25 minutes! Come early to get a good seat though!
To see all the other posts by all seven of us Moms travelling and exploring the Calgary area, visit Momblr! There are lots of adventures to read about!
So, what's your favorite ride at Calaway Park?
Love,
Karlynn
I am part of the Calgary Hotel Association Blogger Campaign and I receive special perks as part of my affiliation with this campaign. As always, my opinions and photos on this blog are my own.