This post may contain affiliate links. See my privacy policy for details.
Our Alaskan Explorer Cruise on the Holland America ms Oosterdam.
Are you starting to think about summer yet? Maybe considering an Alaskan Explorer Cruise when the weather warms up? I haven't stopped, to be honest. I am constantly planning my next cruise, even if I just got off of one! This summer Mike and I went on an Alaskan Explorer Cruise on the Holland America ms Oosterdam. (ms Oosterdam is the name of the ship.) It was a very last-minute decision and due to that fact there were deals galore to be found online. We decided that since we usually forget our anniversary that we should finally do something after 17 years. I'm not kidding about the forgetting part either. We are NOT that couple that has a big romantic bash every year. We usually look at each other in August and go " Huh. Happy belated Anniversary hon!"
So we found the best deal, booked it, asked my parents to watch the kids are we were gone!
Let's start with our cabin and a look around. We had actually booked an ocean view room, not a balcony, but the day before we were setting sail we received an email telling us that WE HAD BEEN UPGRADED to a balcony room! Yes, it actually happens! If you've been cruising before you'll always hear of people getting upgraded but it had never happened to us.
Well, it happened and on our anniversary cruise and it was perfect. A huge thanks to Holland America for the amazing treat!
Mike had ordered flowers for me and there was a bottle of bubbly waiting as well to toast the start of our adventure.
The balcony rooms are very nice with the perfect amount of space. You don't need huge rooms, although if I win the lottery I am absolutely going to try out the big suites! One day maybe!
The room was clean and had tons of storage space under that bed and in the closets. The mattress was comfortable and we slept well. We packed our own pillows and that always helps us sleep well. Does anyone else do this? My parents taught me this from a young age and now no matter what we pack our pillows. I could sleep anywhere as long as I have it!
The bathroom for those of you that want to know what they look like on cruise ships. Tiny but completely functional!
Now, let's get on to the ship! I have a few photos for you.
First, the pool area. The very smart design had a retractable roof so that you could enjoy it the entire Alaskan cruise. Very smart!
The main dining room. Mike and I ate there most of the time and thoroughly enjoyed it. We usually do take advantage of the formal dining room so that we can have a nice leisurely meal.
The buffet was good as well however! Lots of protein packed options for breakfast!
The only real feedback that I would give is about the small noodle counter portion of the buffet. It was the best food on the cruise and it was SO busy! The chefs would rotate through curries and Thai food and everything was fresh and fantastic. I think that they should have at least two of these areas in the buffet.
Now, on to the ports! On this cruise we visited:
Juneau. Absolutely gorgeous and you have to either fly in or take a ship in there are no roads! A cruise is the nicest way to get there in my opinion.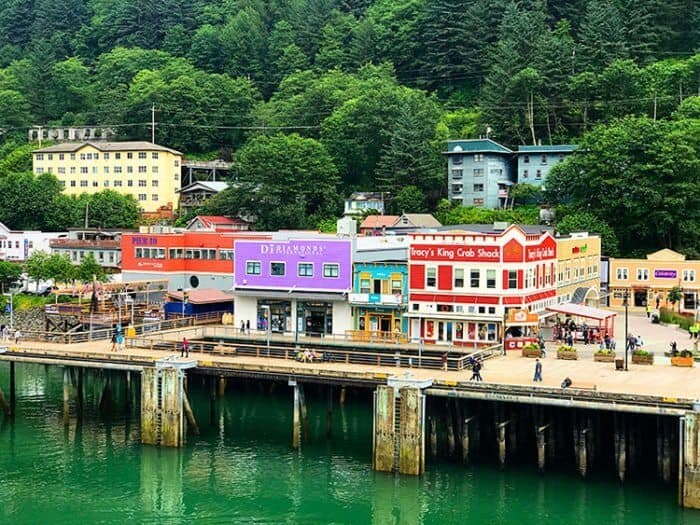 What should you do in Juneau on your time there? You need to make sure to hit Tracy's Crab Shack.
They DO have the best legs in town but I will warn you, they are expensive. It was worth every penny though to eat these freshly made King Crab Legs. I have never eaten fresher than this!
Then you must head to the Red Dog Saloon and have a Duck Fart.
The what did you say Karlynn?
The Duck Fart.
It's a shot that they are famous for ( probably because of the name) and it's just something you HAVE to try. It's like going to Paris and not visiting the Eiffel Tower. Sure, it's touristy. but you just gotta.
The next day was the Hubbard Glacier. It's a chilly day so make sure to pack your toques and mitts for when you are standing outside!
On to Sitka! Sitka was probably my favourite port. You got off the ship and you could walk everywhere. We took the trail that led us past the fish hatchery ( very cool, you can pay and just walk through you don't have to take a tour)…
And all the way down to one of the most beautiful forests I have ever been in.
This was worth the walk ( maybe 30 minutes easy walking to get there) and then some. Once you get to the historical park there is a large trail that takes you around to all the totem poles in the woods. It's an easy walk and well worth spending the afternoon or morning there.
The next day was Ketchikan, Alaska and that's where we did our Bering Sea Crab Fisherman's Tour.
This was by far the BEST excursion I have done on any cruise line ever. This was so much fun and worth every penny!
And last but not least, Victoria, British Columbia. I love that the cruise line stops in one of my favourite Canadian cities and everyone is off to explore it! Mike and I have been there before so we walked from the terminal down to the little fisherman's wharf area. It was very smoky from the forest fires when we were there. The wharf is quite a walk from downtown ( downtown is still another 15 minutes from this wharf) and if you don't know where you are going or have younger kids, I would catch a cab. Mike and I know our way around that area so we happily just walked out.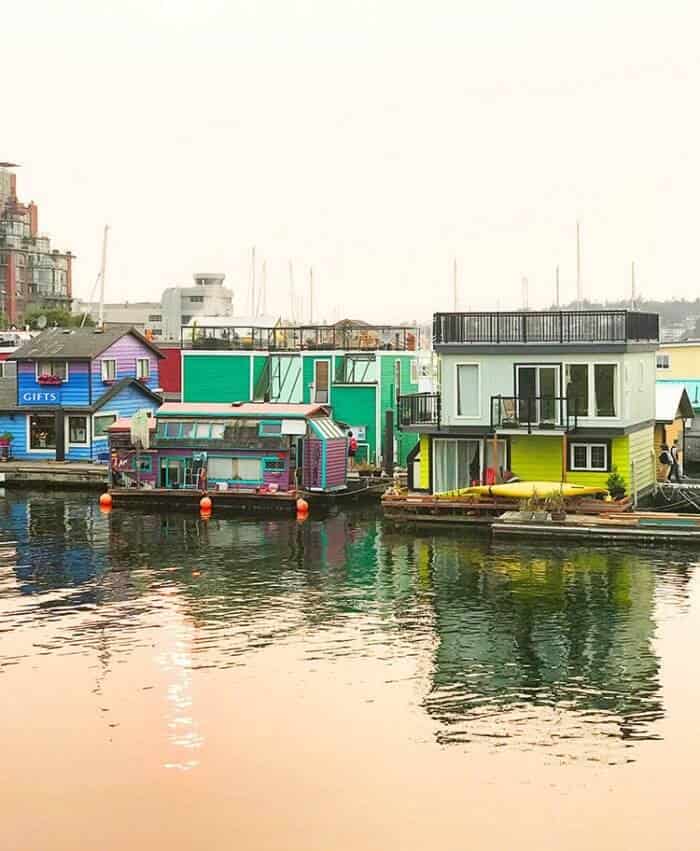 And there you have the highlights! Mike will be writing about the cocktails on the cruise and I might get a little further into what the cruise is like, there's just not enough room in one post to write about it all!
Stay tuned for more crusin' posts!
Love,
Karlynn