This post may contain affiliate links. See my privacy policy for details.
Happy Christmas Eve! I decided to forget about recipes today and give you all a little tour of my main floor vintage room that explodes when we are home for Christmas! We do go away often for Christmas so I kinda ( absolutely) go overboard with the Christmas stuff when we are home for Christmas. I always happen to host Christmas as well for my entire family so I like to make sure everything is out!
So here is what the room looks like. My Pyrex collection really needs a good straightening up, so just ignore that. I bought the vintage silver pom-pom aluminum tree this summer off of Ebay ( if you want one, buy it during off Christmas season, you will save a ton of money!). I had promised myself the tree as a reward when I turned in the manuscript for my second cookbook and searched for a couple months until the right one came around for the right price.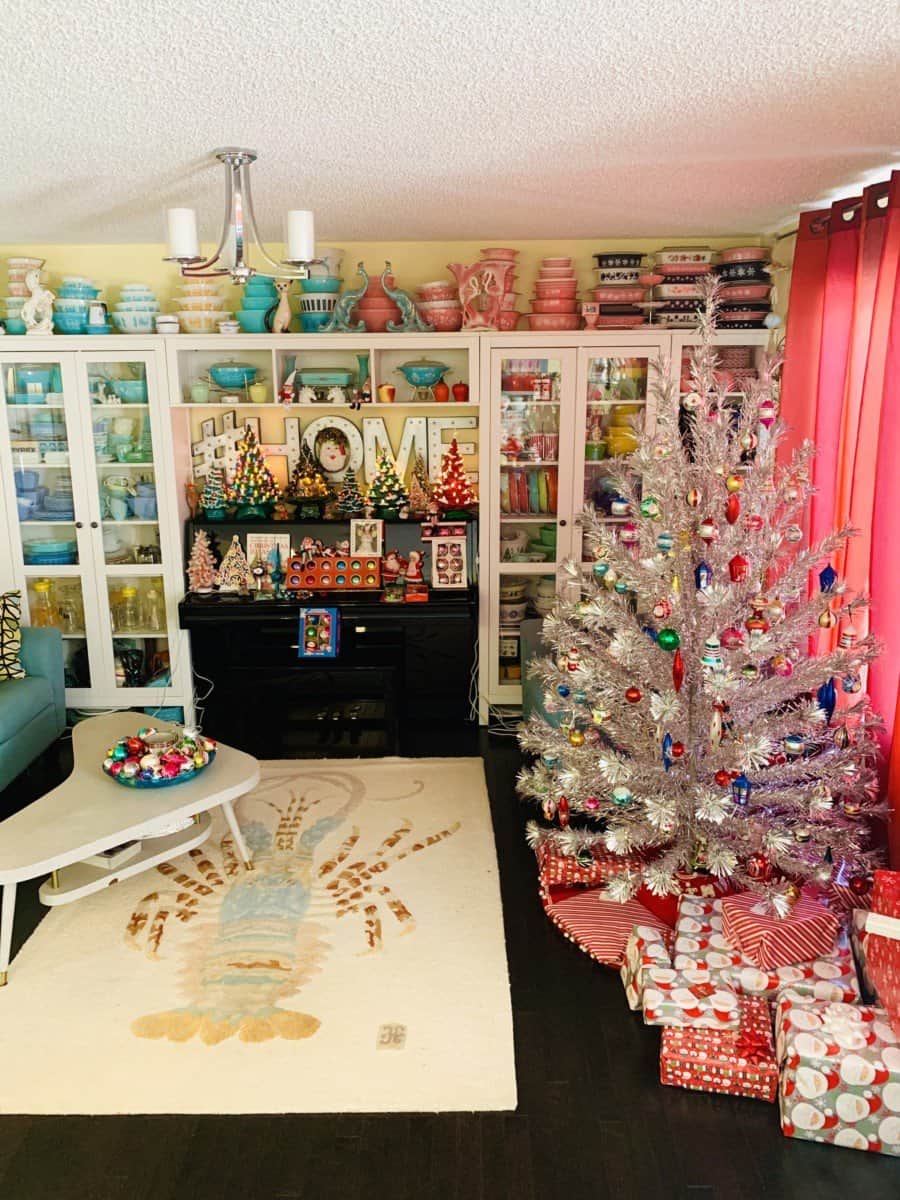 If you remember my vintage Christmas 2016 post from two years ago, you will see that I had my ceramic trees at the front door and a real evergreen tree for my vintage ornaments. Now they are all on my tree – and I have even more thanks to my Christmas 2018 Thrift Haul. I started looking in November for any vintage ornaments I could thrift and definitely found enough lol.
This year I moved all of my ceramic trees to the top of my piano. They JUST fit, which means that either I need a bigger house or I have to stop buying vintage ceramic Christmas trees. Guess I am moving.
All of the ornaments in boxes were thrifted this year, I didn't want ( or need) to use them on the tree and instead used them in my display.
Santa's little vintage elves hang around my Pyrex starburst space saver during the holidays.
I found the far right red ceramic tree at Value Village in early December and was soooo excited to add a coloured tree finally! The person that made this went all out : there is white snow AND they embedded miniature Christmas decorations into the snow. So cute!
The nativity scene ceramic tree was an awesome find, I didn't even know that they existed. They don't have plastic pegs for Christmas lights, the tree has no holes in it excepting the front cut out. There is a light bulb behind Mary and Joseph that illuminates them from behind. It is honestly so cool.
The little dancing red flocked Santa was another great thrift find in a bag for $1.99. He looks like he's had many martinis, so he fits right into my house during the holidays!
A closer look at the ornaments and other finds. This area is more cluttered than I would like, I need to figure out how to display the retro plastic corsages that are in the packages. ( the two boxes lying down.) Those are from the days that you would actually wear a corsage to church or holiday dinners! I'm just going to pack it up and figure out what to really do with them the next time they are out!
Now, on to some of the ornaments I have found this year! The tree is backlit at my window so it's hard to get a really good photo of it, but here is a closer look at the pompom ends of the tree. They were called " The Sparkler" and you could get tree branches without the pompoms or with. Of course, I hunted down one WITH! It also has a base that revolves the tree and it comes with a color wheel that lights up the tree. You don't hang lights on these trees, they were meant to use with a color wheel. The branches are not sturdy enough at all. Man, they were seriously extra in the 60's, weren't they?
These plastic lanterns (around 7 of them) were in a bag at Value Village for $2.99. I love them! They either have a candle or a bird in them and are red and blue, and one yellow one I think.
GIVE ME ALL OF THE INDENTED ORNAMENTS! Oh, these are my favourite to find. They were made for a few decades so you can find really old ones or newer ones ( I'd guess these are 1980's) like these. The indented ornaments are so pretty!
This one is older ( look at the silver top on it and you can tell it's old compared to the newer gold top of the one above) and has a stunning indent, so bright and colourful!
And I found a box of ornaments that have THREE indents! These are so cool, I hadn't seen ones with three indents before. I'll be looking for some more!
My favourite ornament of all. I had two pine cone ornaments and I sadly broke one, if anyone ever finds these, let me know please! I love it so much!
Now for the rest of my ornaments! Is anyone shocked that I found so many ornaments that I didn't have room on the tree for them.? I didn't think so. I took one of my large shallow bowls and put my favourite Bath and Body Works Candle in it ( if you want to know it's called Balsam and Firewood and it's sold out everywhere because it smells like a winter lodge.To be precise, to me it smells like the Fairmont Jasper Park Lodge in winter and it smells like happiness as we have had some amazing times there. I bought 12. I kid you not, because every time I love something it sells out OR they stop making it. Sure enough, it's sold out entirely but I am STOCKED UP! )
I digress. Some of these I didn't want to risk on the tree- the red one in the forefront is a real Shiny Brite, which are harder to find in Canada and the collectors dream ornament! The glass birds were another awesome score but they lost their clips to go on the tree sadly. However they are adorable in this!
Some other random cute finds were a box of these bells….
A lonely Jack Frost ornament. Sometimes, you pay for the entire bag of ornaments ( $2.99) and then take one, and donate the other ornaments back again. Jack Frost was a must have for me and $2.99 was cheaper than the antique mall!
And a gratuitous shot of my hutch display. This is how it looks in real life. When I take a nice shot for my cook book or Instagram, I clean it up. This is my day to day look, my files for recipes to write up or cook and fruit that my kids ignore.
And that's all she wrote folks! It's hard to really make sure that I captured everything but if you have any questions, leave them in the comments below and I will do my best to get back to you!
Happy Christmas Eve! What are you leaving out for Santa tonight? Santa at my house has asked for a Vesper Martini and a couple of whipped shortbread cookies, for sure!
Love,
Karlynn