This post may contain affiliate links. See my privacy policy for details.
This trip to Disneyland brought something new with it: my daughter entered the land of Princess. My daughter's nickname is The Princess in our house, which initially one would think is merely a cutesy girlie nickname. Those who have known us a long time know other-wise: that nickname came out of sole parenting survival skills.

The nickname came about during one of my daughters long, never-ending colic screaming/crying/inconsolable fits that she had for the first few months of her life. Real colic. Not the fussing times that most babies have that is regarded as colic, but hours on end in the evening screaming. I didn't know "colic" until we had her. I still can't believe we survived it.
So while walking the floors for hours on end – and I mean hours, this could run from 5-10 every evening we would joke about "The Princess" and how she had us all wrapped up in her demands. We'd laugh as we called her that – maybe want to cry a little with exhaustion then pass her on to the next pair of arms that would try to console her and keep the crying to a bearable decibel.
To this day, she's still The Princess and still just as demanding.
Other than her nickname, princess's have always been a non-issue in our house and by that I mean they just hardly exist. I find that with most people I know that have girls in the households are usually one of two ways: either the girls are obsessed with princesses and their house looks like a Disney store threw up in it or the parents fight the princess syndrome tooth and nail and there's nary a princess object to be found.
We don't fall into either of those categories. We are an animal household. We don't watch princess movies, we live on a steady movie diet of Rio, Lion King and a healthy dose of Bolt now and then. Sure, my daughter can name all the Disney princess's but it's the same as naming the seven dwarves to her.
My daughter is always an animal of one kind or another, either she's crawling on the floor barking or she's rubbing her face on mine as a cat.
I'm quite serious about that last part. She rubs her cheek on yours and purrs.
So we were all a little taken aback when she decided that her one big purchase of the trip- they've been saving their pennies since Christmas and their Uncle Bob helped fund this purchase as well- she wanted a Merida dress. For those who don't know, she's the newest princess in the upcoming movie Brave.
She bought the dress.
She wore it. The child who won't get dressed in anything in the morning without something not fitting right, thinking the shirt's dumb or my socks aren't on right!!!! wore a princess dress into Disneyland.
We barely get her into a costume for Halloween most years.
Then she stood in line to see Princess Merida.
The day before we had walked by Princess Merida meeting the other kids who wanted to see her. My girl watched….thought about it a while….then announced that she wanted to buy the Merida dress and see Princess Merida the next day and wear her dress.
You could have knocked me over with a feather.
Because she did exactly what she said.
This also never happens with my kiddo.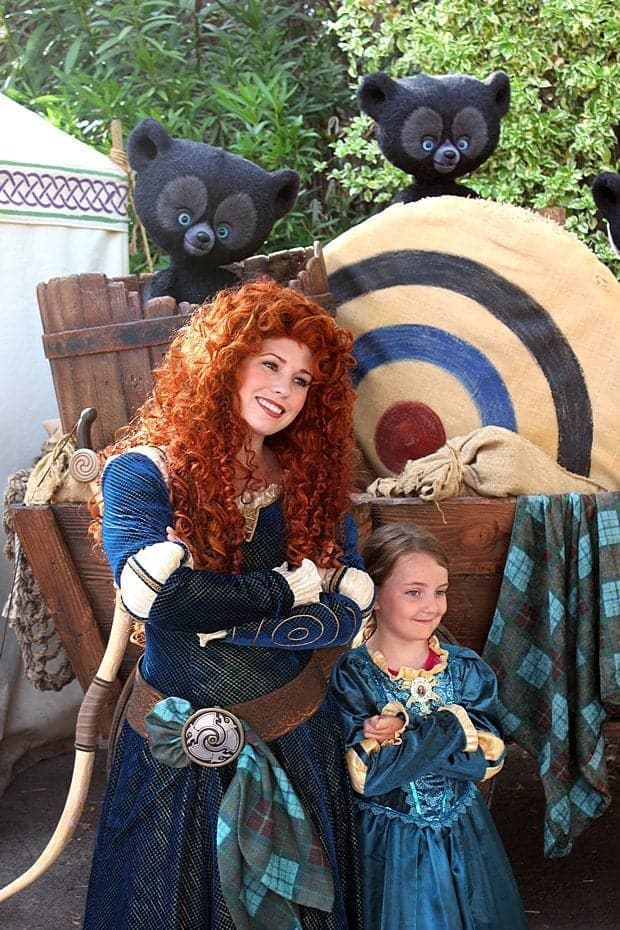 When I asked her why she liked her so much I received the answer:
"Because she rides a horse and shoots a bow and arrows. And she doesn't listen to anyone. And Mommy she's so braaaaaave! There's 3 bears in the movie too! AND she has a green dress!"
Ah, Disney marketing. Smart, smart people with many degrees, selling those princesses to small girls. You did it.
You made a princess just for my Princess.
She doesn't listen to her mother.
She kicks butt on a horse.
She has an obsession with bows and arrows which apparently my daughter does now too. She did some target shooting at Disney – very cute- and was so excited.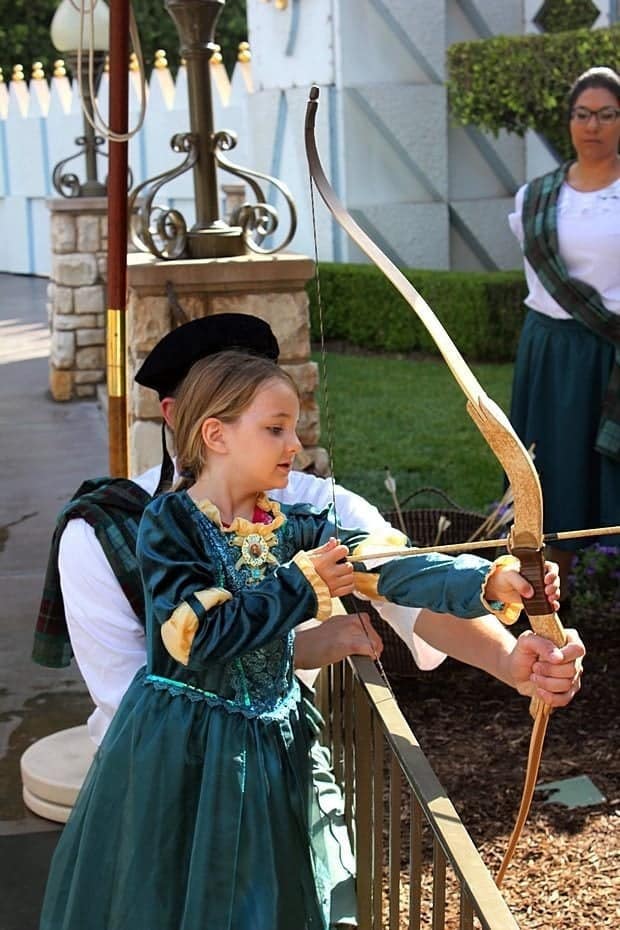 I love how she closes her eyes when she shoots the arrow.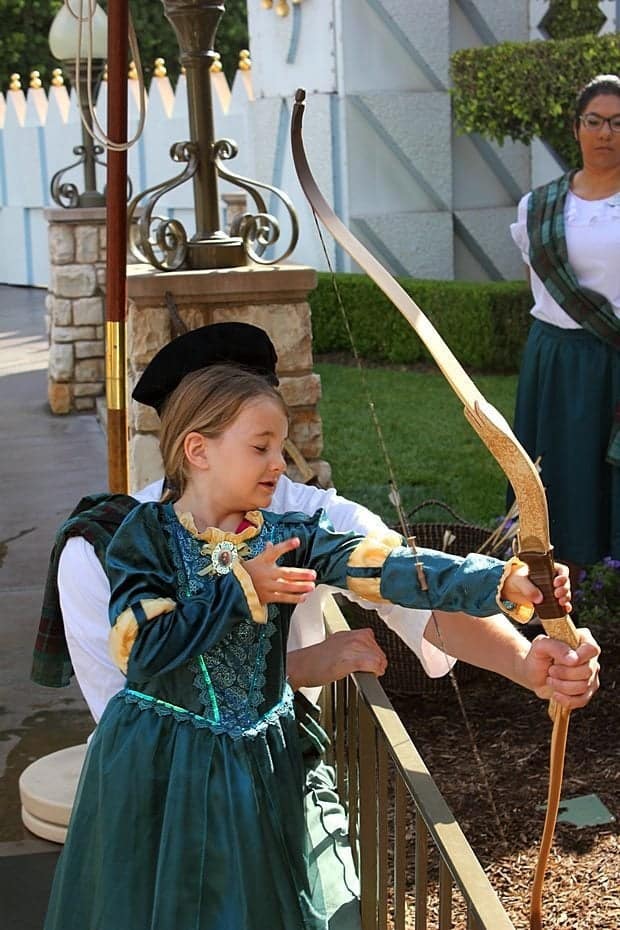 She even has her own bow and arrow set now.
Why do I have such a strong premonition that her brother is going to be a target as soon as we get home?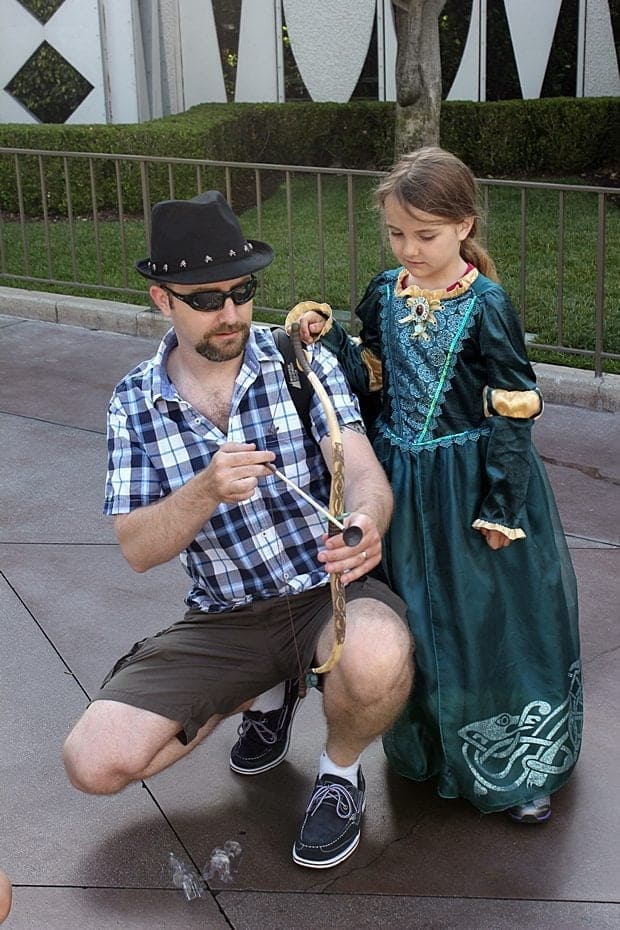 Oh and she knows the story too.
We stopped in the middle of Disneyland to look at the book from the movie. We have read it many, many times since we bought it.
She's informed me that she's wearing her dress to the movie when it finally comes out at the end of June.
Oy.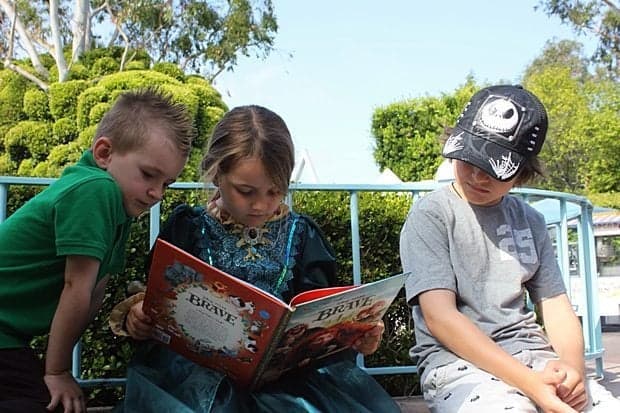 She wore the dress for hours after meeting Merida, wandering the park, being all shy when people told her how cute she was.
I suppose that if we had to sucked into the Disney princess machine, out of all the princess's Merida isn't that bad.
She doesn't want to get married, fall in love or end up married at the end of the story -hallelujah!- and instead it's a story about mending her family ties.
She breaks the rules when she's thinks they are unfair.
She has a bow and arrow. (Hello Mama looooves the Hunger Games!)
And Mama, there's 3 bears in the movie!!!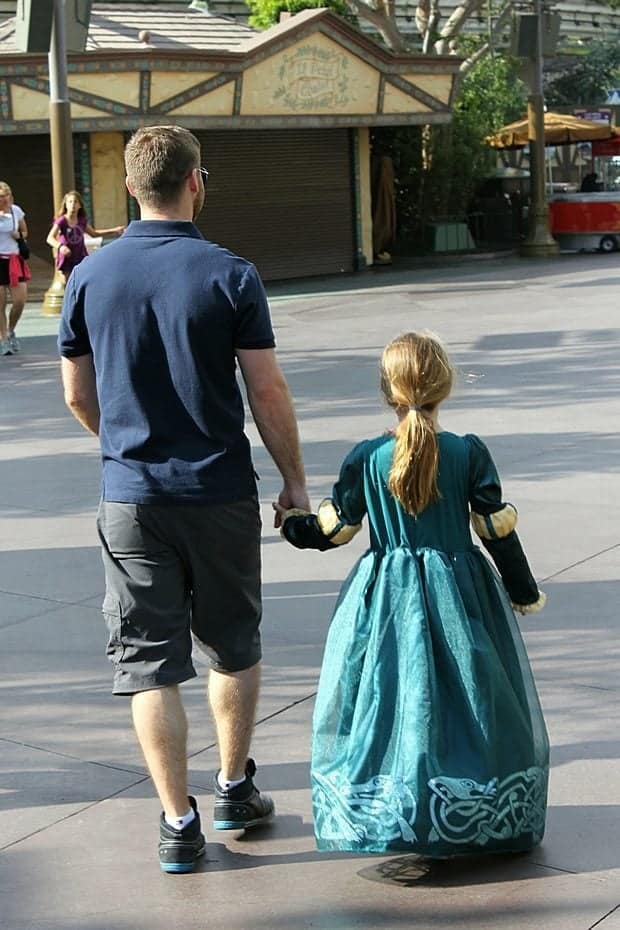 I'm still waiting for her to chuck the dress and become obsessed with learning how to ride a horse and shoot a real bow. You just wait. It's coming. I'm going to catch her in my parents pasture trying to climb on Arthur with her new bow and arrow.
Love,
Into The Mass Marketing Princess Machine We Go Magpie