This post may contain affiliate links. See my privacy policy for details.
If you ask most people about eating in New Orleans, even those who aren't big food people, most likely they will have heard of Cafe du Monde, the most famous beignets in North America. This girl is no exception and for years now it has been on my food bucket list to get myself to New Orleans and try those tasty little delights.
The menu is beyond simple, as the picture below can attest. You eat beignets with a drink.
Period.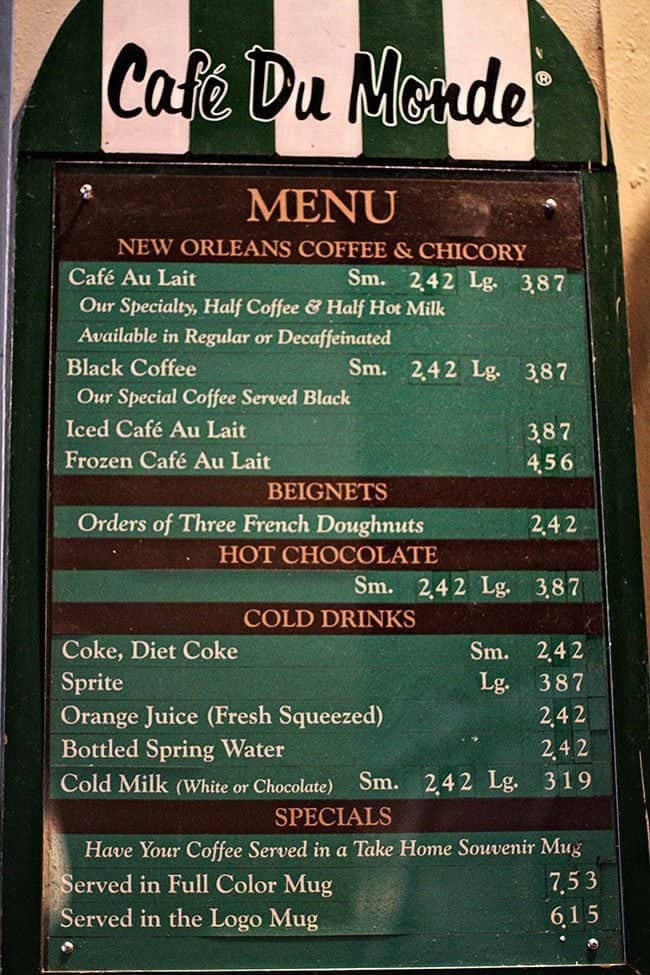 The cafe is large but is always busy unless you are a smart cookie and get up early to visit. We got in around nine in the morning – that's early for those Bourbon Street peeps who were out the night before- and slid right into a table.
The cafe is divided into two parts; an inner sanctum that is warmer and cozier and an outside area that while covered and enclosed, is a mite bit chilly when it's cold outside.
We are hardy Canadians and didn't care that we had to sit in the outside area. As you can see, it's open a bit but most certainly not the warmest of places. I didn't care. We had a seat at the busiest place in the French Quarter without waiting a single minute. I should have bought a Powerball ticket as well.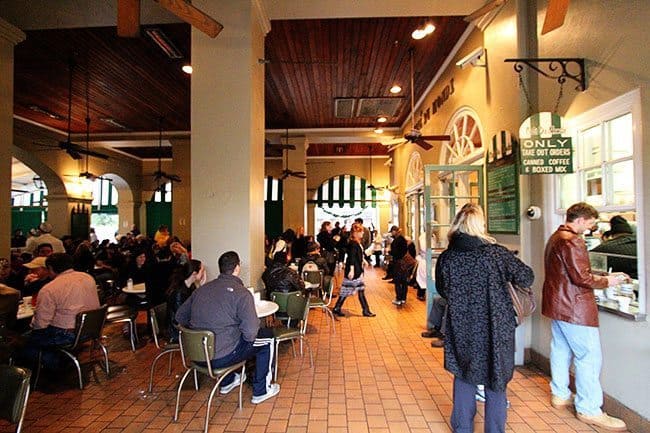 The inside is adorable but with a lot less seating.
Stop looking at me and my camera, warm people.
Now, the food.
I think that Cafe du Monde has become more of a tourist attraction for its history more than the constant quality of food it churns out. I say this because we had 4 orders of beignets, with only one being mind-blowing. The first three were good, don't get me wrong, but when I ordered a fourth trio because somehow mine had disappeared off my plate unbeknownst to me, that second order was so hot, so fresh and delicious it was like I had eaten at two different restaurants.
The second order would be why the cafe is known for their beignets. Out of this world, peeps, out of this world.
My cafe au lait – half coffee and half milk – was deliciously strong. I have just delved back into the world of coffee this vacation and what a way to do it! Strong, sweet and full of caffeine power, I was ready to tackle the Aquarium of the America's with the kids after that!
So with beignets ranging from good to amazing, cafe au lait and strong coffee that rocks your socks off, I would certainly make sure that you hit up the Cafe du Monde your next visit to New Orleans. There's something about sitting in the middle of all the history that adds to the charm of the location, right in the French Quarter.
If you are looking for the coffee or the beignet mix, it is much cheaper at the actual Cafe than in all the other stores that sell it, by the way.
Thanks for stopping in everyone! Have you ever eaten at Cafe du Monde and if so, what did you think?
Love,
Karlynn