This post may contain affiliate links. See my privacy policy for details.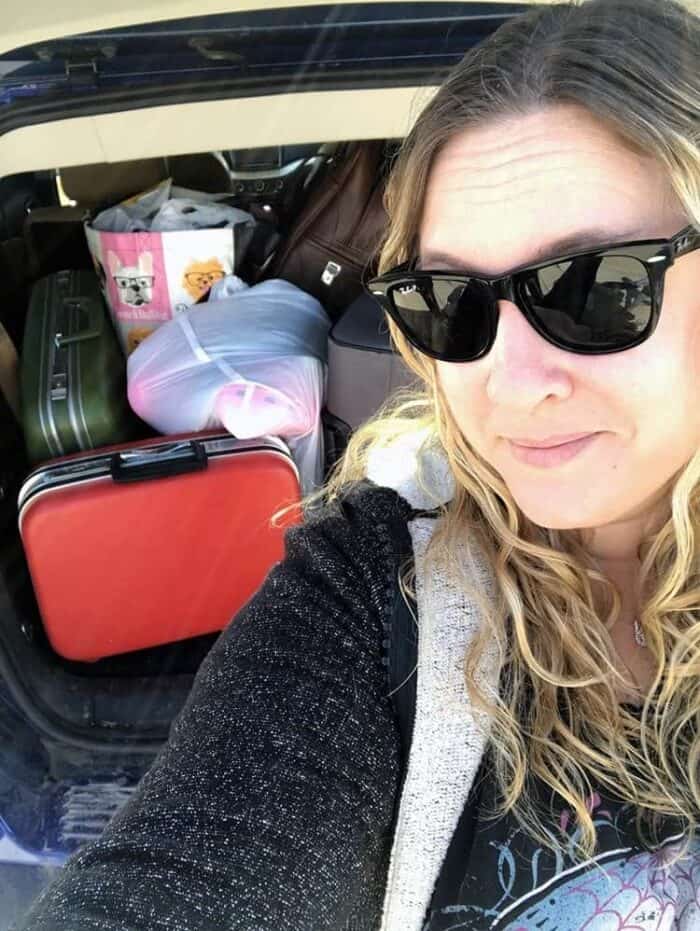 Staycations in your own city are vastly underrated, in my opinion and staycations where you stay at a hotel in your own city are even MORE undervalued! The traditional staycation is staying in your own house and exploring the attractions in the city and perhaps staying a night or two in a hotel to really mimic that "vacation" feeling. While we didn't spend the entire week having a staycation, we sure did sneak away for a quick weekend in the west end of Edmonton! That, in my opinion, is the perfect staycation. We live in the very south end of Edmonton, so the west end of Edmonton is actually a good 30 minutes away from us. Having a hotel to stay at
The Holiday Inn Express in the West Edmonton Mall area was our host for our fabulous staycation weekend and what a gorgeous hotel it was! I am sure that you can imagine how excited the kids were when they found out that there was a pool AND a hot breakfast both days!
We packed up our gear, took Root Beer to doggie daycare ( though the hotel IS pet friendly, Root Beer loves to go hang out with his furry friends and play all day instead of a hotel room) and drove to the west side of Edmonton.
We checked in and went straight to the room to check it out. The kids have learned at this point that Mom needs to take her photos of the room as it appears when we first walk in, because man oh man, once those kids take over the room will never look the same again!
The rooms was HUGE! There is so much space for everyone and it included a pull out couch. The bathroom was also large, super clean and very spacious!
Toiletries! These are always my son's favourite thing to check out. I have to make sure that he uses them during the trip or he loves to bring them home. With the amount that we travel, I had to stop him from keeping them all, it was getting out of control!
Can you take one guess as to what my kids wanted to do first?
Of course.
The pool!
These two little fish could live at the pool if they were allowed to. We let them change into their swimsuits and off they went.
We settled into our room later on for a relaxing Friday night, which included a WiiU party. Yes, we took our WiiU with us! We actually DON'T get much time to play together as a family, so what better time than when we are taking a break at a hotel?
The next morning was the kids favourite time, breakfast! They love checking out the hotel's breakfast and when they heard that there was their favourite machine there, they were stoked to go!
Yes, the pancakes in a minute flat machine!
We love the pancakes from this. I don't actually know what we love more, the fresh, hot pancakes or the fact that these machines are seriously SO much fun to use! I wonder if I could order one for my kitchen?? I'd never have to feed my kids again!
The breakfast area is super clean, bright and full of delicious choices that will suit everyone's breakfast needs.
These cinnamon buns were insanely good. The best I have ever eaten from a hotel breakfast buffet. Both Mike and I ate these with eggs for breakfast – on both days!
After we had eaten our fill, it was time to head to THE MALL.
That's what people who live in Edmonton call West Edmonton Mall. When you live here, it's just the mall. Or West Ed. How could we stay on the west side of Edmonton and not make the mall the central part of it? Not only that, the Holiday Inn Express West Edmonton is mere minutes away from the mall, making it a perfect place to stay. The Holiday Inn Express even provides a shuttle for people who need a ride to the mall, how awesome is that?
Saturday was spent wandering around and shopping, generally enjoying the mall – which is something we rarely do, to be honest. The kids don't look impressed here, but that's probably because I had to stop and sign 55 of my cookbooks that were in the West Edmonton Mall Chapters. (I like leaving signed copies whenever I am at a store, they sell lickety-split!)
The next awesome thing about a staycation in your own town is your friends and family are right there with you to join in your fun. Sunday was my niece's birthday and they asked my daughter to come over for the day. I returned back and said why don't you join us at Galaxyland where we will be anyways?
And a plan was born!
The kids love Galaxyland and I suspect that the Sunday was a lot quieter than the Saturday before had been. It was a fabulous day to go and ride the rides and have a fun time as a family, and with our other family!
Staying at the Holiday Inn Express West Edmonton Mall Area made it perfect to spent time at the mall. The hotel had all the amenities and more, and when you add in the shuttle that takes you right to the mall? It's the perfect place to stay in the west end of Edmonton!
I'd like to thank the Holiday Inn Express West Edmonton for having us for the weekend. Mike and I have been pulling 7 day work weeks lately and it was such a pleasure to be able to run away from home, but still be at home!
Who else is up for an Edmonton staycation? Have you done one? How was it and what did you do?
Love you more than travel,
Karlynn
*This post was sponsored by the Holiday Inn Express West Edmonton Mall Area. All opinions remain my own!