This post may contain affiliate links. See my privacy policy for details.
For the next installment of the Canadian Food Project, love is in the air. Love of a Canadian food, to be precise. This was the easiest challenge of all for me, because the Canadian food I love the most was the one I have featured many times before.
Fish.
If you are a regular reader of my blog then you already know the large role that fish and fishing play in my life. We spending the summer fishing and eating our catch. We usually spend all winter ice fishing but travel this year has put a small damper on that for the past 8 weeks.
As I get our gear dusted off today in preparation for fishing tomorrow at our favorite lake and the excitement builds, I knew that fish was my Canadian food love affair.
I have fished from the moment I could walk – and perhaps before since my dad and uncle were avid outdoormen- and pretty much haven't ever stopped. Even in the teen and young adult years when a lot of people tend to put aside the past times of their youth, I fished.
My best friend and I took a trip to Manitoba when we were 19 – oh, that age when we knew everything- and good friend that she was, she came along, later confessing she thought the trip was going to "be lame". We had one of the best trips of our friendship, her catching her first fish ever – a large rainbow trout- and me being able to introduce my favorite pastime to my best friend.
Fishing memories fill my life, seeping into every corner of it somehow.
My first experience fishing brook trout. Here the excitement of catching a new fish and then a gorgeous shore lunch became one of my most precious food memories ever.
Food that we love is almost always equated with a deeper attachment that bonds us to it more than other cuisine does. Fish, for me, is so deeply intertwined with my family life that I can hardly separate the two.
My son's first northern pike all by himself.
Here the love of eating this fish intermingles with pride, shared elation and sentiment.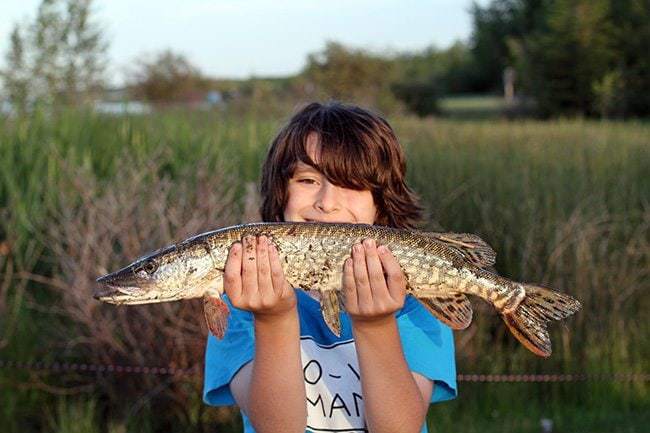 My daughter's first whitefish. Here our love of eating whitefish is mixed in with memories of my own childhood, how much my daughter is like me and of course, pride, joy and everything that you can see in her face.
So today I will prep my ice fishing gear, brush the dust off and ready myself to spend a day with my family tomorrow – on Family Day, fittingly- fishing together. Hopefully dinner tomorrow night sees whitefish gracing my table, with a couple extra in my freezer for a couple of mid-week meals.
What Canadian food do you have a love affair with? I think that Saskatoons came in a close second for me because of all the memories and emotions that are tangled up within those precious berries as well, but fish definitely was the winner.
Have a fabulous Sunday everyone!
Love,
Karlynn