This post may contain affiliate links. See my privacy policy for details.
I've written before about visiting Murrieta's Bar & Grill here in Edmonton, since the chef there is one of my personal favorites, for not only chefs but just people in general. So when Chef Shane Chartrand told me he was finished his new revamp of the menu at Murietta's on Whyte – much needed in my opinion- I promptly told him he'd better be inviting me to any menu launch he had. Or else.
I'm not sure what the or else would have been, luckily for everyone involved he asked me to attend and I didn't need to make good on that threat. Fear not , I do have an arsenal of appropriate revenges when needed. Most of them include a shovel and lime.
Last Tuesday – because I am sure you are all thinking good God, stop digressing Karlynn- Mike and I popped down to Whyte Ave to partake in a much anticipated evening. When I arrived, I snuck back into the kitchen- with permission, since just hopping into a chef's kitchen is like walking into someone's house without knocking – and snooped around to see what they were up to.
Shane was doing one of the things he does the best: teaching about food.Chef Chartrand is a natural-born teacher when it comes to his craft and having the opportunity to watch him in action was a treat. Which reminds me, are cooking classes at Murrieta's in the future? I was sad to have missed all the ones that Shane has done before.
He had the complete and undivided attention of everyone as he created some sushi. The dynamics of all the kitchen staff seemed so in harmony, what a pleasure it was to see it.
P.S. Jesse looks so dapper with his new beard, yes?
Beard:
No beard on the left at the Culinary Arts Cook Off:
Maybe I should start a poll: Should Jesse keep his beard, yes or no?
You know, this is why no one invites me anywhere without me threatening them. Menu launch? What menu launch, Jesse has a new beard!
Fine, fine, I'll get back on task.
Mmmm. Sushi. I wonder if this is the same one I had later on that evening?
Once I had finished making a pest of myself in the kitchen, it was time to head back to the table where I had a lovely wine awaiting me. Murrieta's has one of the largest wine lists in Edmonton and features an astounding 35 wines by the glass, my favorite way to try new wines without commitment. The Whip is from Murrieta's Well Winery and was a perfect start to the evening. An absolutely lovely wine that pairs with anything.
Would you like to know why I am sure this wine pairs with anything?
Because we had it with every….single….appetizer.
Oh indeed, we tried them all.
What happens when you get a table full of food bloggers and writers together for a night out?
Sheer feasting.
Instead of each of us ordering an appetizer we thought, "let's try them all!"
And we did.
The Trio of Dips. Lime pico de gallo. cream cheese and crab, herbed mushroom duxelle and flatbread. The duxelle was my favorite.
Pacific Crab cake with preserved lemon, fried leeks and burnt tangerine sauce. The tangerine sauce was such an unexpected yet fantastic pairing with the crab cake, making this one of my favorite dishes of the night. I took a bite and my eyes widened with slight surprise over how good it was and thought "well hells yes, this works!" I had seconds of this appetizer gladly when it came around again. This I would order again in a heartbeat.
Sushi! The Westcoast "hot and cold" roll to be exact. This was a divine creation of spicy Arctic char, smoked salmon, cucumber ice, pickled ginger and Yuzu marmalade. Perhaps it's even the same one being prepared in the picture above? Maybe Shane will let me know. The sushi was an absolute hit at the table, I heard many "ooohs" and "aaahs" and "yums!" coming from all around. I personally fell deeply in love with the cucumber ice – the cold – and definitely will be back for this one.
It was mentioned at our table that calamari is the true measure of a chef's talent and I strongly concur. Done wrong and you just make me mad when you serve me rubber coated in crusty bits…but done right and you have my love forever. The Tempura flour crusted calamari was superb. Served with cucumber gremolata and spicy lemon garlic sauce it was some of the nicest I've had and most certainly cooked to perfection.
The tempura prawns with coconut jelly, pickled ginger and sachimi aioli were Mike's favorite and he hasn't stopped talking about them since. I was not surprised, Chef Chartrand seems to be the only person who cooks seafood that my husband raves about endlessly. Mike raving about delicious seafood usually has the same rate of occurrence as someone being hit by lightning. The man does not eat seafood yet adores pretty much everything that Shane makes.
As I sit here writing this up I'm getting hungrier just looking at all these pictures, reliving the fabulous food and these shrimp pictures just about did me in. I was ready to just leave and pop down to Murrieta's for a quick bite to eat, that would most certainly include a plate of these.
The steamed P.E.I. mussels with Thai basil, oven roasted tomatoes, lime leaves in a lovely coconut broth surprised me the most out of all the dishes due to its mildness. The mussels were so mild and delightful in this dish that I couldn't believe that I was eating them. Mussel dishes aren't known for their "delicate" flavor, which is why I usually pass on them, the sauce and broth usually overpower the flavor of the mussels themselves. This dish was a perfect balance.
The mussels also had an utterly fabulous presentation, it's amazing how good something looks when served in a beautiful, simple bowl. It brought forth a mental image of two people sitting in a romantic, candlelit room, sharing wine over a fabulous silver bowl of mussels.
I think that Chef Chartrand has an absolute knack for seafood and that's not just because Mike raves about it. He seems to truly have mad skills for preparing it and all of the seafood appetizers were my favorites of the night.
Yes, I totally just said mad skills. I can. It's my blog and I can write what I want to. Really, I think the world of food writing would be vastly improved by more people using terms like that.
Though you would think there was no room for main courses, we truly only had smidgens of the appetizers betwixt us all.
Unless you are Mike and then we had to drag the shrimp away to share with everyone else.
I ordered the lamb duo, composed of roasted rack of lamb with merguez sausage, black pearl medley and wild blackberry chutney. The presentation was stunning as you can see. Valerie said it should be called Girl in a Mini Skirt and I had the ZZ Top song Legs going through my head looking at it. Leggy, gorgeous, beautiful and a work of art all apply here.
This was amazing. The lamb was like butter, beautifully done and had only the most delicate taste to it that would differentiate it from other meat. I shared a bite with a table companion who doesn't like lamb, telling her that this was some of the least strong I've ever had and she concurred. The sausage was just as tasty and I almost finished every darn last bite, but knew dessert was coming.
We all shared bites of everything we tasted so I was lucky enough to sample a lot of the main course dishes. Sharon Yeo of Only Here For The Food was a delightful dinner date and had the pickerel with béarnaise. This was divine. Again, there's Shane's talent with seafood shining through.
Mike had the Apple wood smoked chicken supreme with bacon lardons, sautéed kale and Israeli couscous. The couscous was amazing and the apple wood flavor was very intense, making this an incredibly enjoyable dish.
Other mains I tried that aren't pictured are :
– The ancho glazed veal shank with house made spicy cream corn and charred cippolini onions : The Star Of The Show. Everyone at the table tasted this and thought it was absolute perfection. I want to order this dish next time I go and visit Murrieta's, I adore veal shank and this was some of the best I've ever had. If Valerie shares a picture with me, I will be putting it into this post, because it's a shame I can't share it with you all!
– Ash Crusted Tuna with mushroom mashed potatoes, peas, fried leeks and lime salsa : fabulous. Melt in your mouth, beautifully flavored tuna. Some diners thought it was perfect and raved about it, some people thought it was overcooked. I think perhaps on this dish one might ask the person's preference, tuna can be done so incredibly rare but the texture of the basically raw inside bothers some people (my husband for example). I enjoyed it as is but I usually enjoy tuna less cooked. When ordering this dish – and any tuna perhaps- a good thing to keep in mind is letting the server know your preferences which hopefully would result in getting the dish you want.
– House made gnocchi with arugula,tomato,crimini mushroom and gorgonzola herb sauce : Half of the table loved this, half of the table didn't. I loved it, the flavor was reminiscent of my grandma's perogies, which reminds me I have to ask Shane what he puts in these. My grandma's perogies have a secret ingredient and I wonder what he uses to get the same unique flavor.
Oh, dessert.
I love thee.
I couldn't resist the chocolate lava cake, with Grand Marnier Raspberry Coulis and Butterscotch Gelato. It was absolutely amazing, rich, decadent, chocolate bliss. The only thing I would change is leaving the blueberries out. No berries, just the cake, coulis and gelato.
I adore the presentation of this in the jar, adorable. It also is smart, it forces you to dig deep for a bite of the cake, thus ensuring that you get a spoonful of cake, coulis and gelato all at the same time.
The white chocolate creme brulee. I thought the creme brulee was absolutely divine, very rich but opinions varied on it. However, I am not a really big creme brulee fan, so I might not be the best judge of this. I loved it because it was decadent and white chocolately, not because I was expecting creme brulee. The berries again I would leave out. By now you must be asking what my beef is with berries and to be honest I love them, just not with chocolate.
The tableside torching of the creme brulee was a lovely touch.
I had also noticed at the beginning of the evening this handsome gent sitting at the other table.
It was Craig Simpson, former #18 Edmonton Oiler. I knew exactly who he was the moment I saw him.
Because when I was 12 I was totally marrying him. As was every single teenager in Edmonton when he was on the Oilers in the glory days of the Stanley Cup residing in Edmonton.
What a cutie patootie. No wonder half the female population in Edmonton had a crush on him.
If you don't know who the Edmonton Oilers are, they are our hockey team and shame on you for not knowing. There's just no excuse. 😉
He's now a wine rep for Murrieta's Well Winery which is why he was at the dinner. He was more than happy to oblige all us crazy ladies with pictures that night. Pictured is Judy who came with Liane Faulder, Craig Simpson, myself and Sharon Yeo.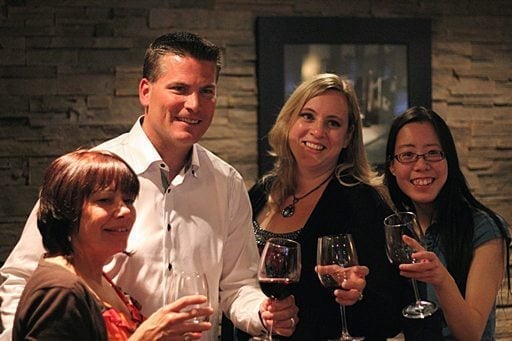 He also was happy to pose with Chef Chartrand and Cameron, the owner and sommelier of Murrieta's.
Two of my favorite people in one picture, the lovely Valerie from A Canadian Foodie – who is always fabulous dinner company- and Chef Chartrand.
And my favorite chef and I.
I'd like to thank the entire staff at Murrieta's for putting on such an amazing evening for us with some of my most favorite people on earth. It was one of the nicest events I have been too, the food was superb and I am so excited to see such amazing changes to the menu.
A big thank you and a rousing congrats to Chef Chartrand for putting together a spectacular menu, I look forward to trying out the new lunch one very soon!
Love,
My "Job" Rocks My Socks Most Days Magpie